Champagne Bollinger
R.D. 2008
Champagne, France
A small revolution in the world of Champagne. In 1967, Bollinger releases R.D. 1952.  There is no comparable Champagne on the market at the time. This bold and brilliant Champagne takes the pillars of what makes Champagne Bollinger so unique, and pushes them to their ultimate level. It is, very simply, a masterpiece.
R.D. stands for "recently disgorged." The majority of Champagne Houses have always kept a collection of old wines in order to share with their family, close friends and special guests. The custom was that these old wines were especially disgorged only a very short time before being tasted, so that those invited could share a perfect moment when the wine, disgorged just recently, would offer an extraordinary contrast of freshness and complexity from age.
Bollinger is the producer most associated with a single grape variety in Champagne, namely Pinot Noir. This more demanding grape to grow makes up a minimum of 60% of all of Bollinger's Champagne, and for R.D. is truly the backbone that allows the Champagne to age. The harmony of Pinot Noir's richness and elegance becomes ever more complex with the time this Champagne sees before release.  Then there is the other association that Bollinger is so well known for: winemaking in barrel. As virtually every Champagne producer in the latter half of the 20th century moved to fermenting in large lots in stainless steel tanks, Bollinger persisted to oversee fermentation barrel by barrel for all vintage Champagnes. Another peculiarity of Bollinger's vintage Champagnes is the aging under cork rather than crown capsule, to allow oxygen to continue to slowly work its magic on the development of the wine. Why do other producers not do this? Because every single bottle must subsequently be riddled by hand and then hand-disgorged. Lastly, this wine is is typically aged 10-15 years before release, with an aging potential that if not quite immortal, will outlast all of us. 
Lastly, we have to say it – it's no wonder R.D. is the Champagne of choice for James Bond.
Vineyard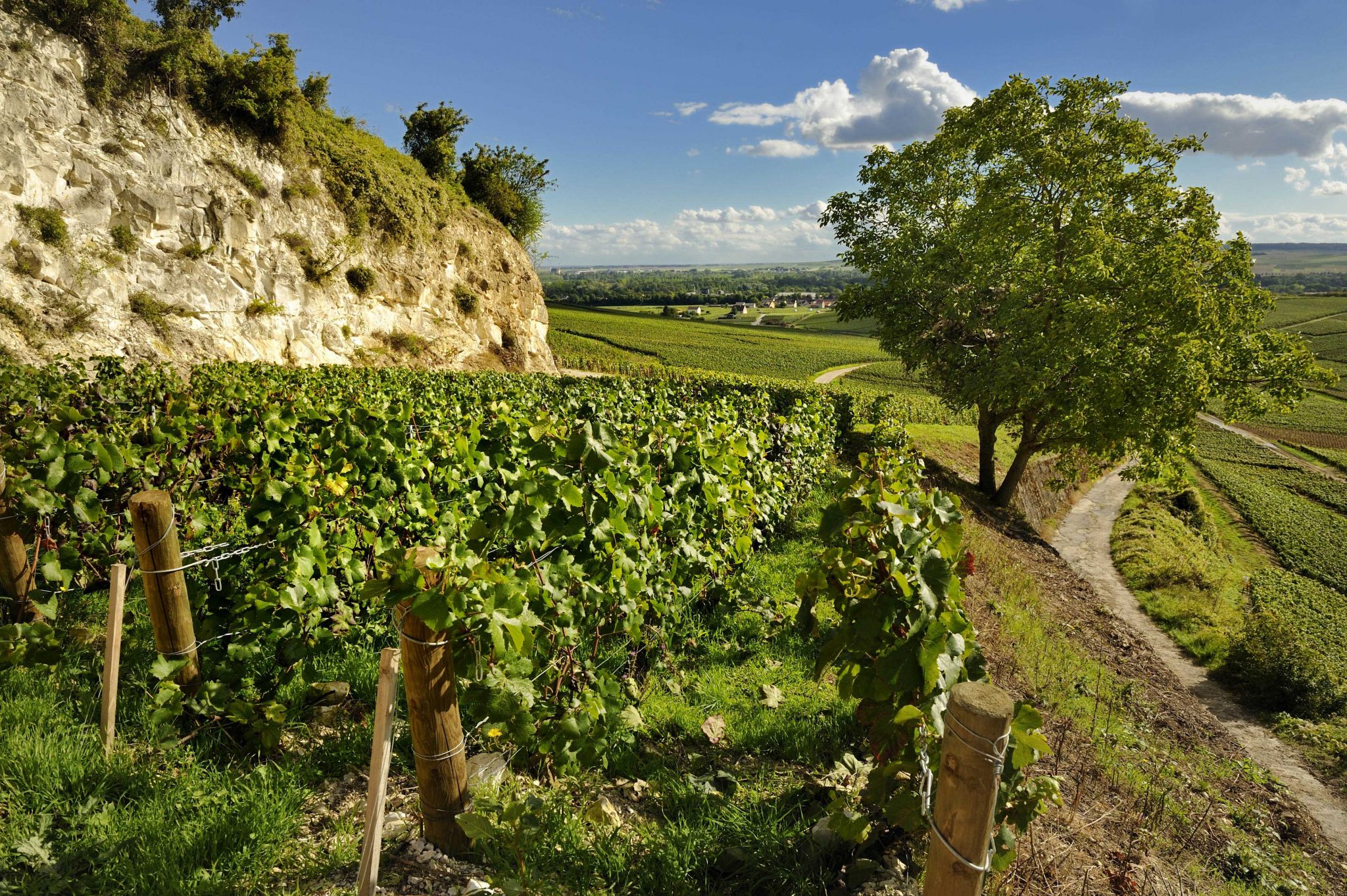 R.D. 2008 is sourced from a total of 18 crus, 84% of which are Grand Cru and 16% of which are Premier Cru.
Additionally, Bollinger was accredited with a "High Environmental Value" certification in 2012 (more here).
Winemaking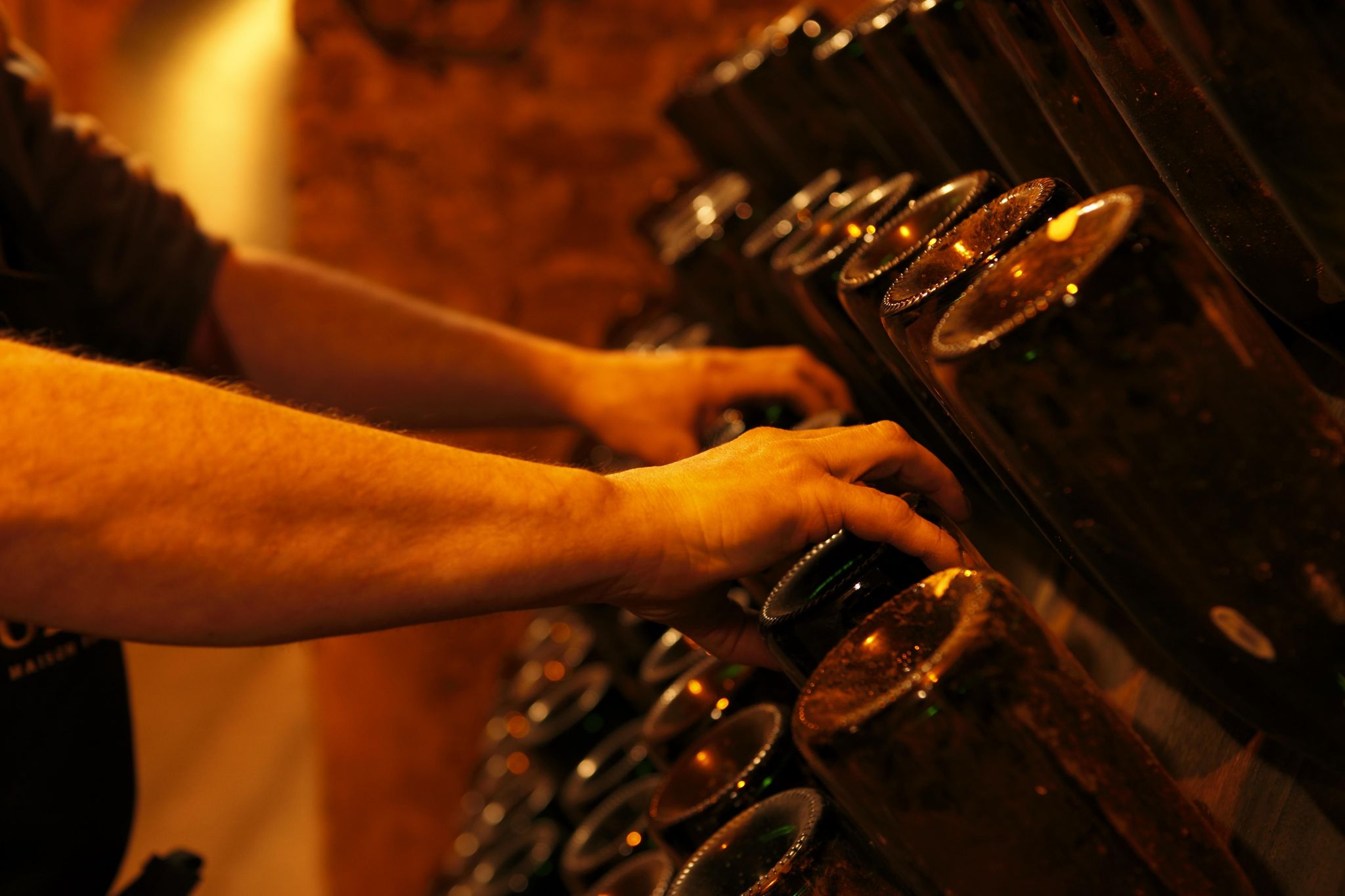 The 2008 is a blend of 71% Pinot Noir and 29% Chardonnay from 18 Crus: Predominantly from Ay and Verzenay for Pinot Noir, and Le Mesnil-sur-Oger and Cramant for Chardonnay. 84% of the vineyards are Grands Crus and 16% Premiers Crus. Only the cuvée or first press is used. R.D. is vinified 100% in older oak barrels, specifically used 228 liter barrels and 400 liter casks that are up to 40 years old. The wine remains in barrel for 6 months, undergoing both alcoholic and malolactic fermentation in barrel, a point of distinction from the minute remaining producers who do ferment in barrel. The wine is then bottled under cork to undergo its secondary fermentation, rather than crown capsule. As a result, every bottle has to be hand-riddled and hand-disgorged.
After 14 years on the lees, the wine is given a dosage of only 3 grams per liter, making it Extra Brut.
Vintage
Only the greatest vintages are elevated to the level of Bollinger R.D., and 2008 was an exceptional year marked by a bountiful yield of Pinot Noir and magnificent Chardonnay. The wines were richly aromatic from the start, the Chardonnays lively and powerful, and Pinot Noirs expressive and balanced. Unanimously acclaimed by the team as one of the best vintages ever produced of R.D. The first release will showcase the disgorgement date of October 28, 2022 (hence the name 'Recently Disgorged'). The second and third releases will happen in 2024 and 2025.
For the first time with the 2008 vintage, R.D. will be sold in Bollinger's signature bottle shape, used throughout the range for all wines since the 2008 vintage. Like the R.D. 2007, the 2008 vintage continues to feature the same material and design as the original 1952 front label, with the disgorgement date displayed prominently on the front label, a nod to the fact this inaugural R.D. was the first Champagne released to specify a disgorgement.
Tasting Note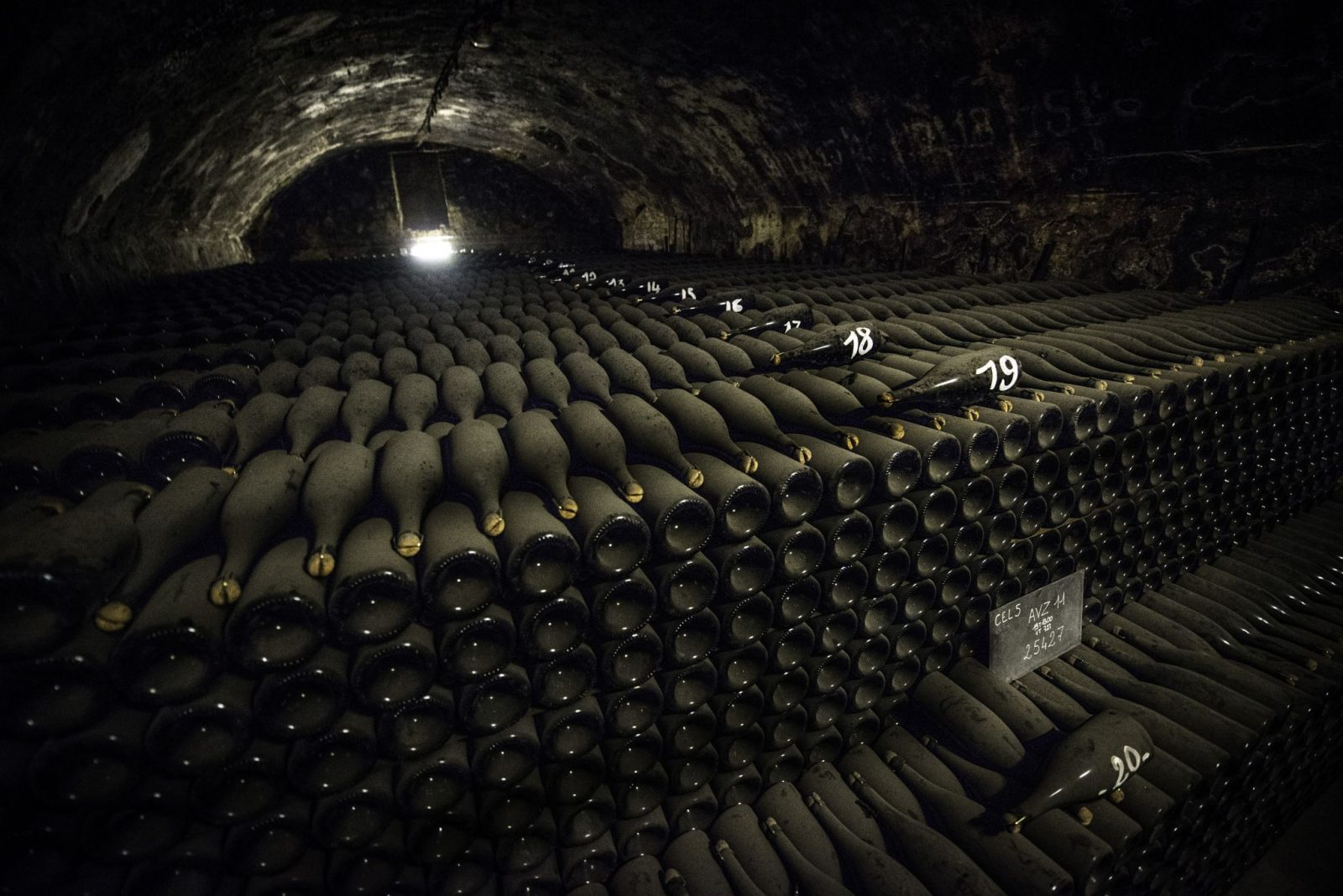 "A rich, precise mousse. Citrus notes are followed by flavors of Mirabelle plums and vine peaches. A very vivacious wine which unfolds to reveal exceptional complexity. Notes of fresh hazelnut and salinity combine to create an extremely long finish." – THE BOLLINGER TEAM
Food Pairing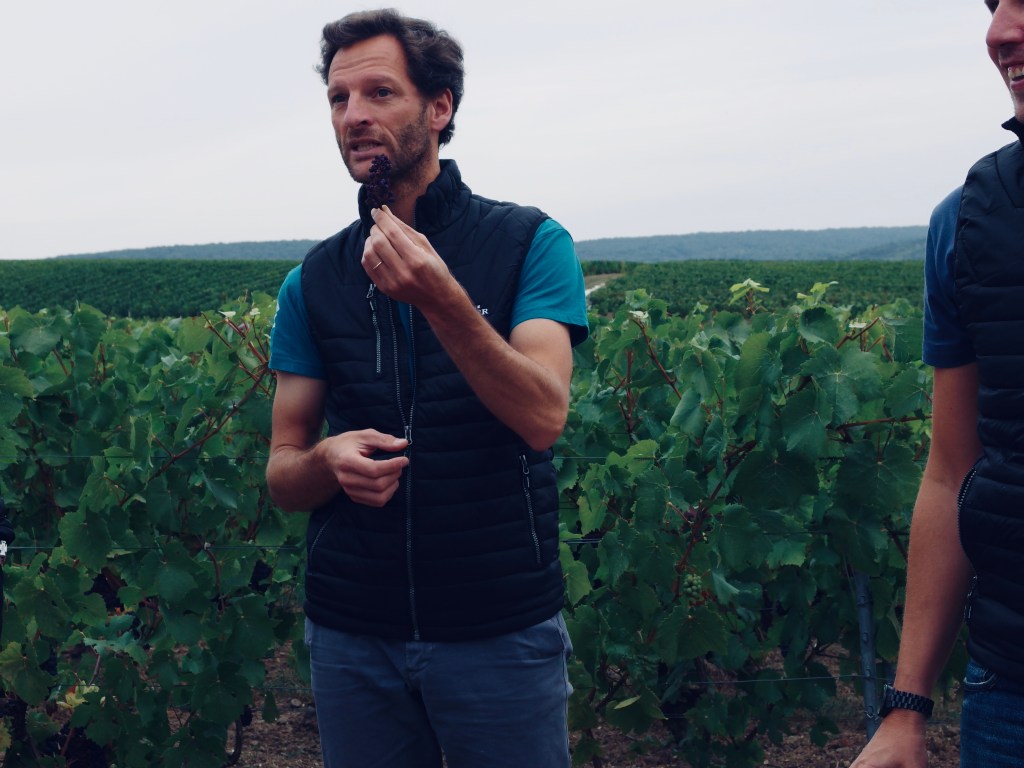 Sometimes you come across a match that brings together complexity of flavors, textures and even stories in a memorable way to create the ultimate pairing.
The 14 years that Bollinger R.D. 2008 spent aging on the lees results in an extraordinary range of primary, secondary and tertiary characteristics that come in a frame of almost unimaginable tension of developed richness and freshness.
In their quest to find the best way to serve Bollinger R.D. at the estate, the food-obsessed team at Bollinger came to the conclusion that pairings based on hazelnut offers extraordinary pleasure and an array of both complementary and supplementary flavors and textures to R.D. Gruyere cheese is another exceptional suggestion.
Grape Varieties
Chardonnay, Pinot Noir
Appellation
Champagne, France
Farming
Champagne Bollinger supports sustainable wine growing by grassing over the ground, using biological pest control, reducing the use of herbicides, recycling pruning waste, and planting hedges and orchards to encourage biodiversity. The Côte aux Enfants vineyard is managed organically.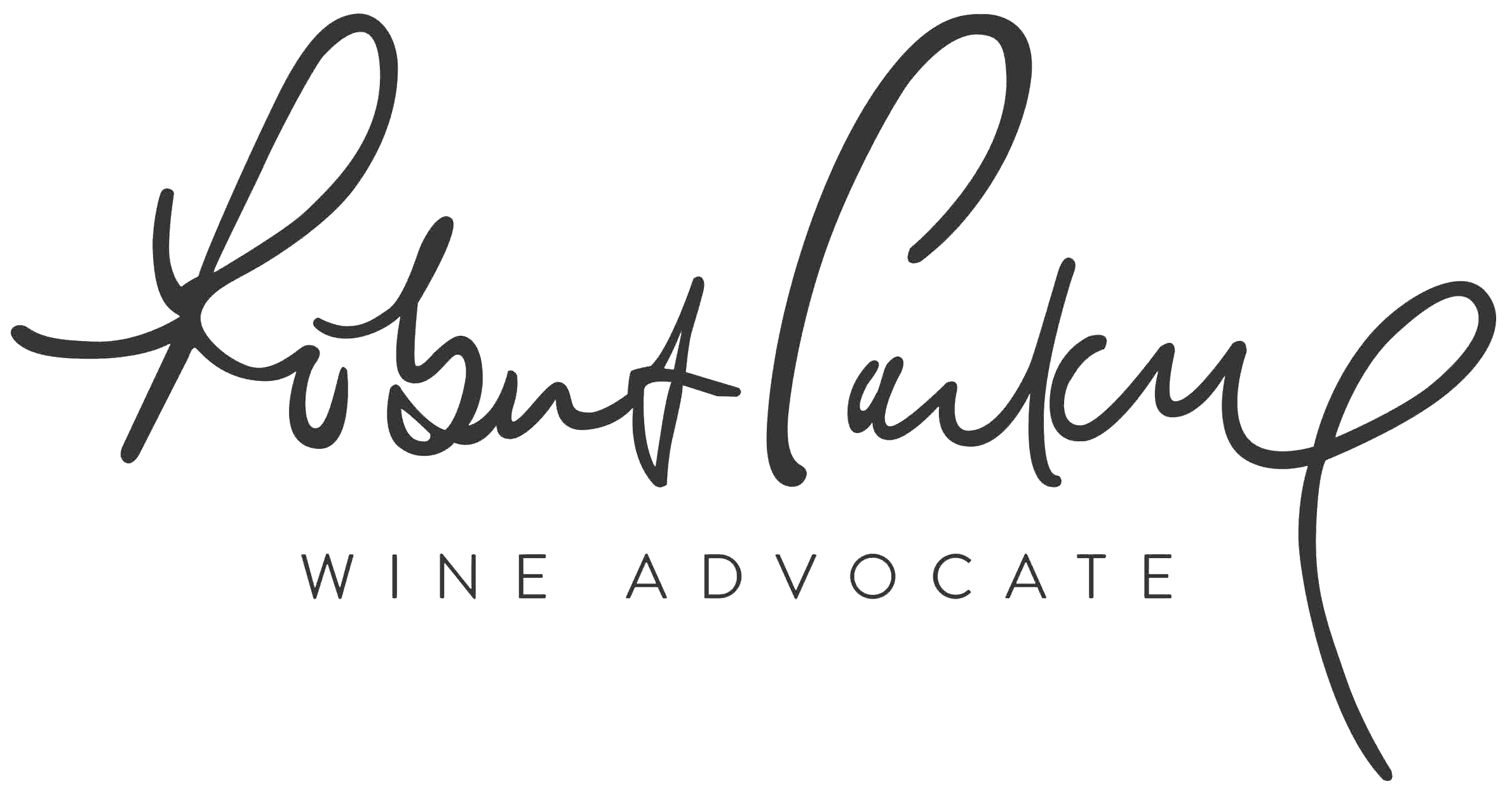 Wine Advocate (98+) - March 10, 2023 "When I was tasting Bollinger's brilliant Grande Année in this vintage, I was trying to imagine how good the 2008 Extra-Brut R. D. would be, as the style of the vintage seems almost perfectly adapted to this cuvée. Four years later, we have the answer, and the wine is brilliant. Disgorged in 2022, it's more reserved out of the gates than the dramatic Grande Année was on release, unwinding in the glass with notes of crisp orchard fruit, orange peel, freshly baked bread, subtle hints of fino sherry, wet stones and macadamia nut. On the palate, it's medium to full-bodied, with a deep core of fruit that's animated by racy acids and a refined pinpoint mousse, concluding with a bone-dry finish. Extremely harmonious and full of youthful energy, it's the finest R. D. of the decade and one that will richly reward a bit of additional age on cork. In style, the most obvious comparison is with the 1996, but the 2008 is more integrated and harmonious on release. These bottles were disgorged late last year with three grams per liter dosage." -W.K 3/23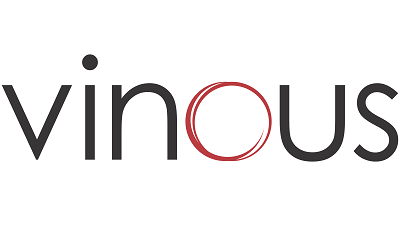 Vinous - March 10, 2023 "Bollinger's 2008 R.D. is a powerful, vinous Champagne. Apricot, dried pear, tangerine oil, hazelnut, dried flowers, chamomile and brioche all race across the palate. The 2008 boasts notable depth and textural intensity, with a feeling of phenolic, almost tannin-driven grip from the Pinot that propels the finish. At times the R.D. is quite exotic, even if there is a good kick of energy from the bright, salivating acids and low dosage. The 2008 R.D. is very much a Champagne for the dinner table, a wine that benefits immensely from aeration. In 2008, the blend comprises fruit from 18 villages, 71% Pinot Noir, mostly from Aÿ and Verzenay and 29% Chardonnay, mostly from Mesnil-sur-Oger and Cramant. Dosage is 3 grams of dosage. I would give this a few more years in bottle to fully come together." -A.G 3/23

James Suckling - March 16, 2023 "Amazing aromas of sweet uncooked pie crust with almonds. Then you smell dried apples, apricots and pineapple. Grilled fruits, too. Full-bodied. So tangy and energetic with sizzling acidity and creamy tannins. Flavorful and lightly oxidized at the finish. Smacking my lips. Agile. Ginger and spices. A touch of bitter complexity with some salinity. Extreme character that grabs your attention. 13 years and six months aging on the lees with cork. 3 grams dosage. 71% pinot noir and 29% chardonnay." -J.S 3/23

Wine Spectator - September 22, 2023 "This focused Champagne is all about the graceful definition of power, with an up-front, austere edge to the steely acidity, which is softened by the fine, plush mousse and well-integrated with the rich profile. Reveals toasted hazelnut, crystallized honey, peach skin and nectarine flavors that expand on the palate, accented by hints of ground ginger, oyster shell, preserved lemon and a racy streak of salinity that drives the mouthwatering finish." -J.S 9/23
More on Champagne Bollinger R.D. 2008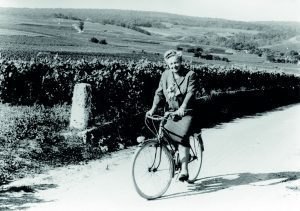 March 10, 2023 - Forbes recently published a story, titled "Hats off to Champagne's Historical Women" features Champagne Bollinger's Lily Bollinger, highlighting the history of R.D. and her impact on the champagne industry. "Madame…
March 10, 2023 - Forbes contributor Jillian Dara recently published an article, titled "A Conversation With Bollinger On Their Newest R.D. Champagne" features Bollinger's R.D. 2008 highlighting the story behind the Maison and champagne,…
Other Wines by this Producer

Champagne, France
This limited edition cuvée celebrates 2 important milestones. Firstly, it celebrates the historic partnership between Bollinger and Bond. Bollinger has been the exclusive Champagne partner of Bond since 1979, so 2019 marks the 40th anniversary of their relationship. Secondly, it celebrates the release of the upcoming movie, No Time to Die, which will be the 25th movie in the series (and Bollinger's 15th Bond movie since the start of the partnership).
Champagne, France
Lily Bollinger agreed to a Bollinger rosé under one condition, it had to be extraordinary, and that is how La Grande Année Rosé was born. A blend like no other, the wine is as an extension to the House's prestige cuvée, La Grande Année, as is the subtle marriage between this great vintage Champagne and the addition of red wine from a unique plot, the legendary Côte aux Enfants.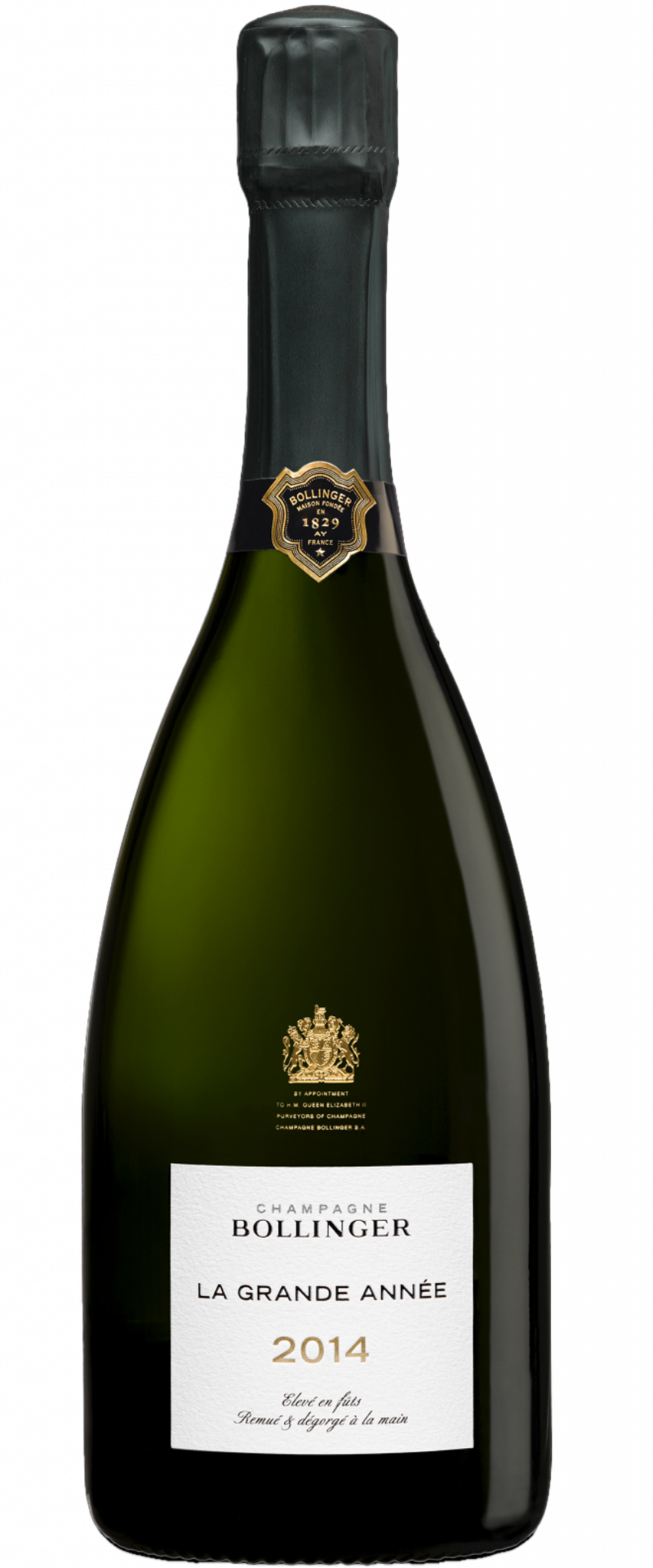 Champagne, France
La Grande Année: The Great Year. This Champagne is the embodiment of everything that makes Bollinger the producer that stands apart in Champagne. La Grande Année, or LGA, preserves the traditions of the past and symbolizes the word "hand-crafted" so strongly that an overused word suddenly becomes the only appropriate definition.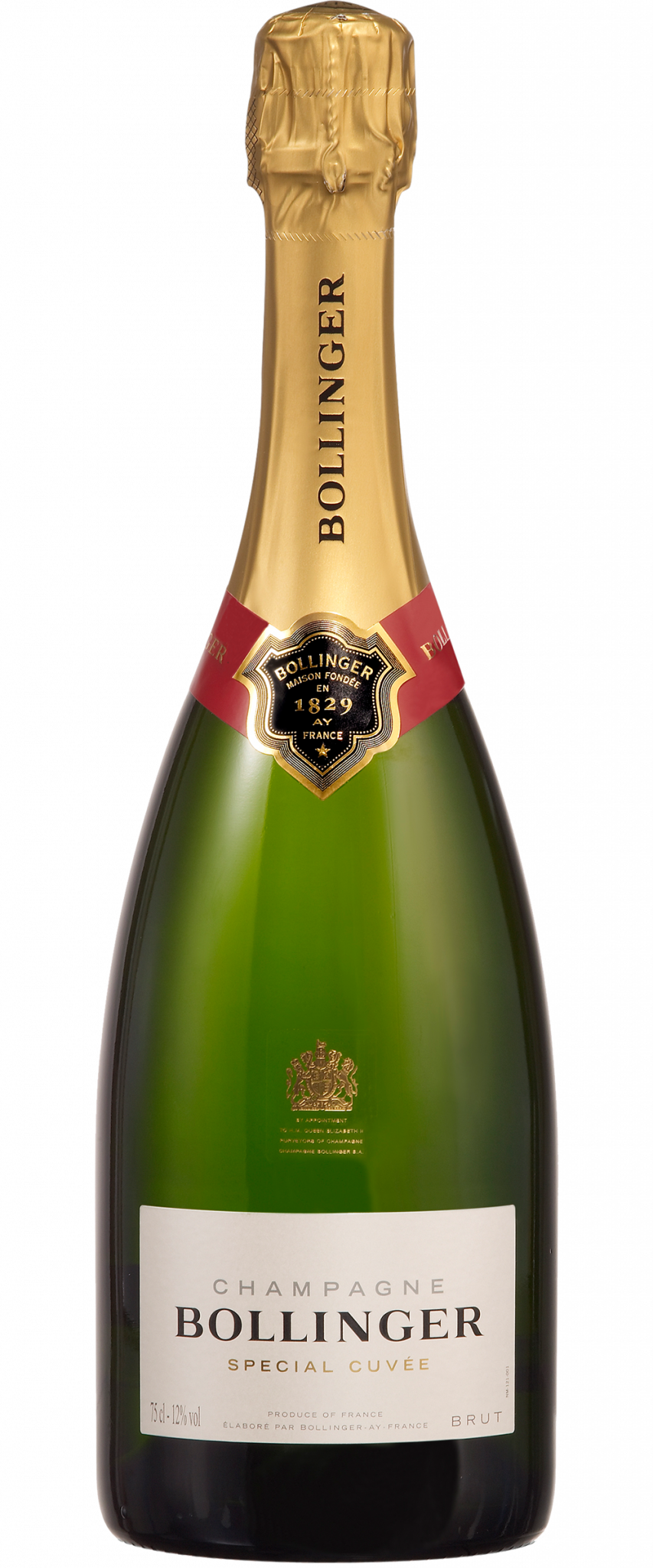 Champagne, France
From vineyard to bottling, Special Cuvée sees such an extraordinary level of care and attention, it is difficult to place within the non-vintage or, really, any Champagne category. It is a Champagne that stands apart.  Within one bottle, all the complexity of flavor, texture and pleasure that Champagne can offer.  Special Cuvée is truly a journey of devotion from Bollinger.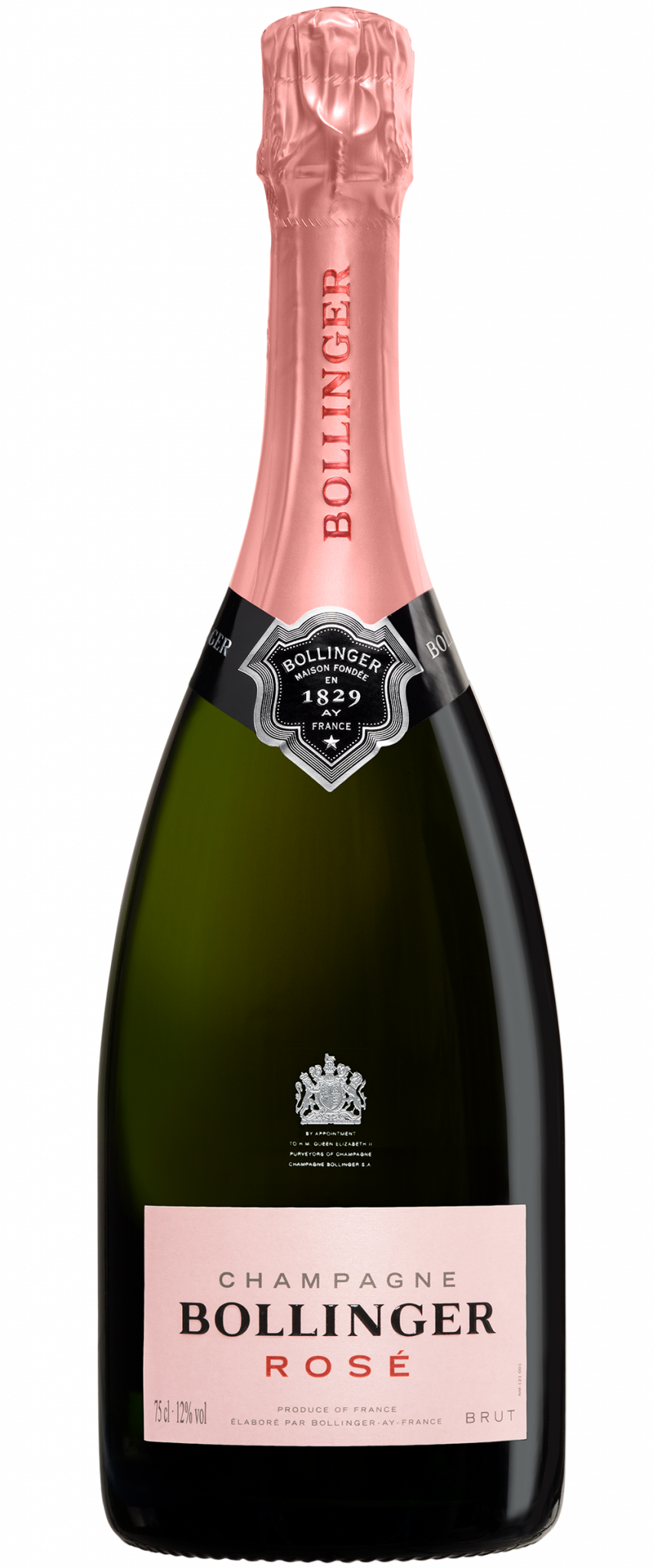 Champagne, France
In the same way that Special Cuvée stands apart from non-vintage Champagnes, Bollinger Rosé is an exception for Rosé Champagnes. What is more, it is a relative secret, as Bollinger did not release a non-vintage Rosé until 2008 and the quantity produced is quite limited. The wine begins as Special Cuvée and then Bollinger's specialty as the Pinot Noir producer in Champagne takes center stage, as the red fruits that join the conversation dance vibrantly, the finish has just a hint of perfectly ripe tannin, and the deep complexity of the wine shines through transparently.
Champagne, France
PN, made entirely from Pinot Noir to underscore the very essence and DNA of the House style, is the first new cuvée added to Bollinger's permanent range since rosé in 2008. Each release of PN, developed as a series to bring Bollinger's unique vision of Pinot Noir to light, will showcase a different cru from the base year that highlights its distinctive terroir and taste.

Champagne, France
Vieilles Vignes Françaises is one of Champagne's most mythical cuvees, produced from miraculously preserved and ungrafted 100% Pinot Noir vines. Phylloxera destroyed the vines of Champagne in the early 20th century, but amazingly enough two of Bollinger's classified Grands crus plots, Chaudes Terres and Clos St. Jacques, survived and are still grown the traditional way. Madame Lily Bollinger first had this wine produced in 1969 as an anniversary cuvee to commemorate her 70th birthday. Following the wine's launch in 1974, Vieilles Vignes Françaises promptly became a collectible and a symbol of a bygone era. Over the decades, its uniqueness and scarcity have made it one of the most sought-after and expensive Champagnes.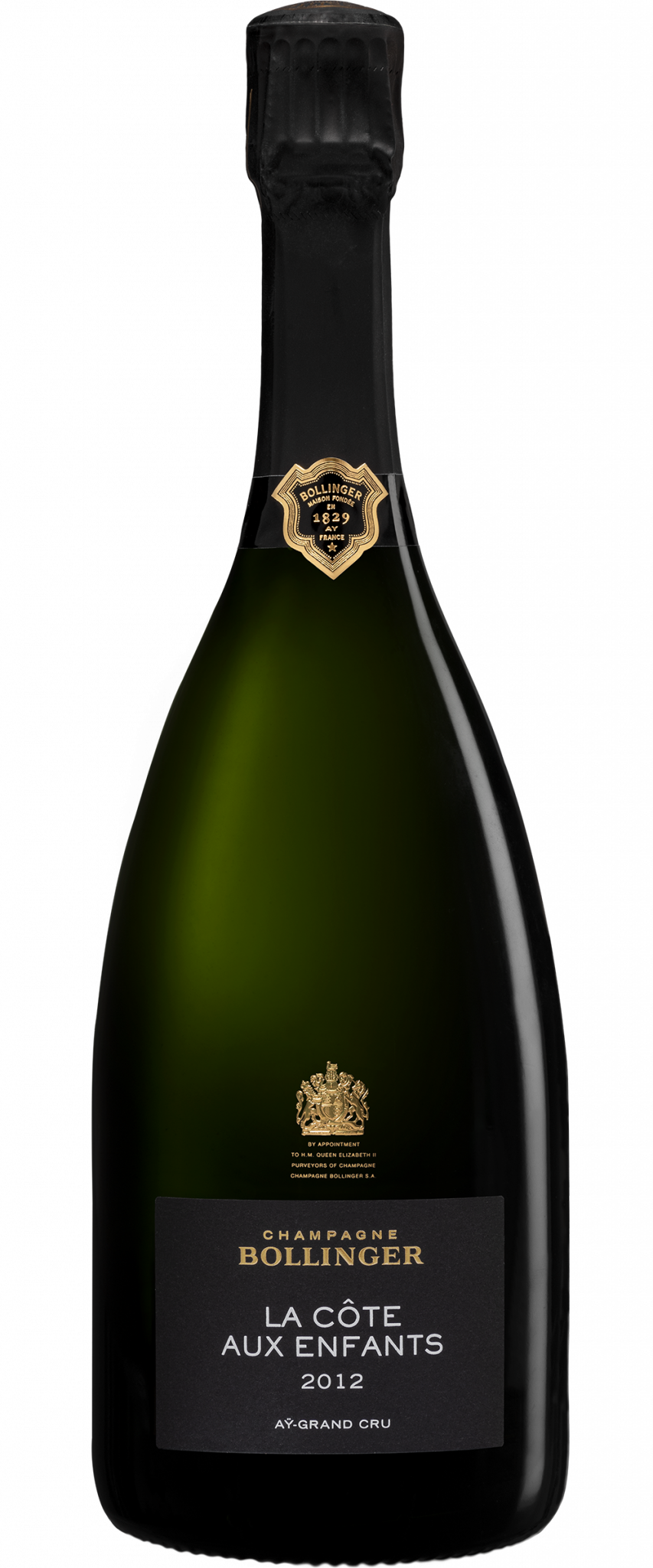 Champagne, France
Established by Jacques Bollinger between 1926 and 1934, La Côte aux Enfants is a steep hillside vineyard located on the outskirts of Aÿ.  This unique parcel has been a source of endless fascination, producing some of the most highly prized Pinot Noir in the region. Aware of its potential, it became Champagne Bollinger's ambition to produce a great vintage Champagne exclusively from this vineyard, with 100% Pinot Noir. The fruit comes from the north-west side of the hill, revealing a particularly refined expression of La Côte aux Enfants vineyard.

Champagne, France
A stunning and extremely rare, still red wine produced only for the greatest vintages. This wine harmoniously combines 100% Pinot Noir Grand Cru fruit from an exceptional vineyard with traditional Burgundian style winemaking. Historically, Pinot Noirs from Aÿ were the most popular wines of the French court, specifically a favorite of King Henri IV, and La Côte aux Enfants comes from a steep plot just outside of the village. This wine is the purest expression of Pinot Noir, offering a fine, delicate texture in the mouth, and a tautness giving it a beautifully long finish.