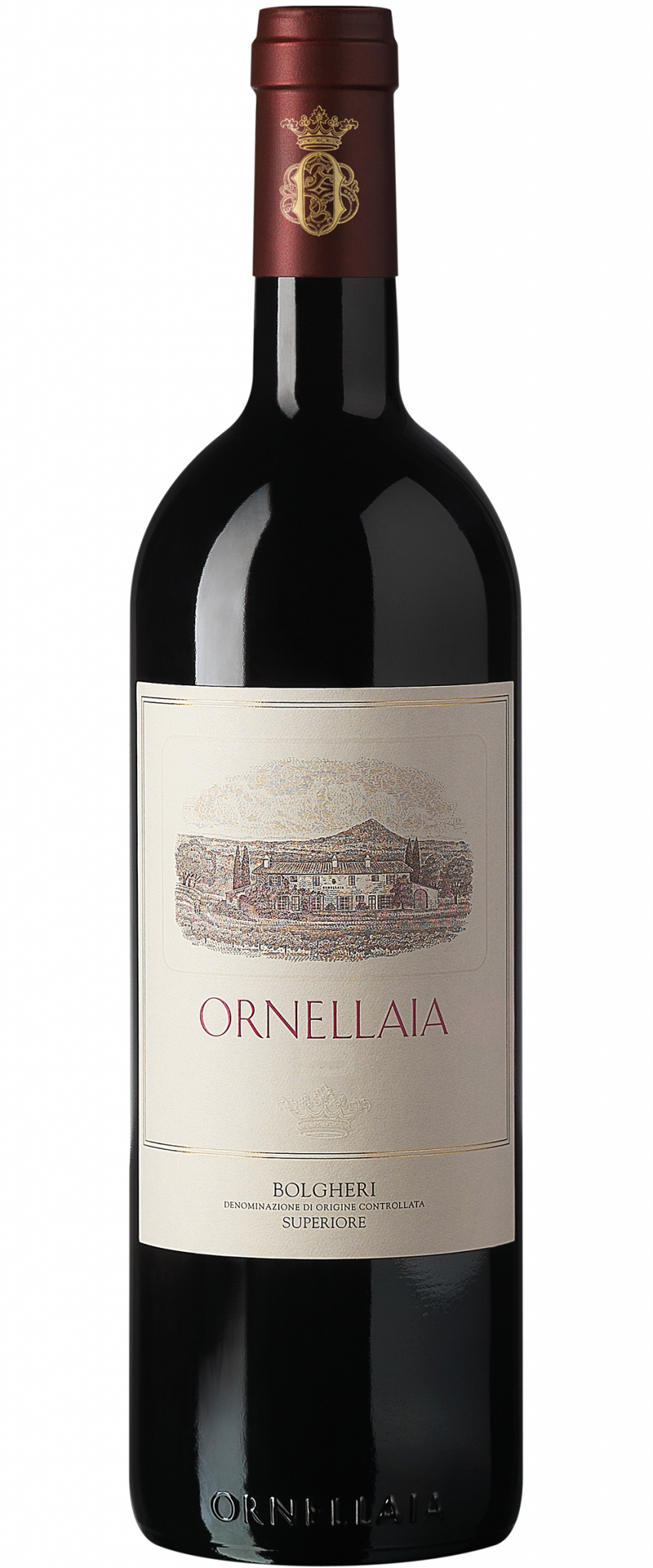 Ornellaia
Ornellaia 2020
Bolgheri DOC Superiore
Ornellaia is the estate's "Grand Vin," with exceptional balance, power, elegance, and great aging potential. It faithfully reflects, in every vintage, its nature, site, and distinctive Mediterranean personality, and has established itself as one of the most iconic wines in Italy (and beyond).
Vineyard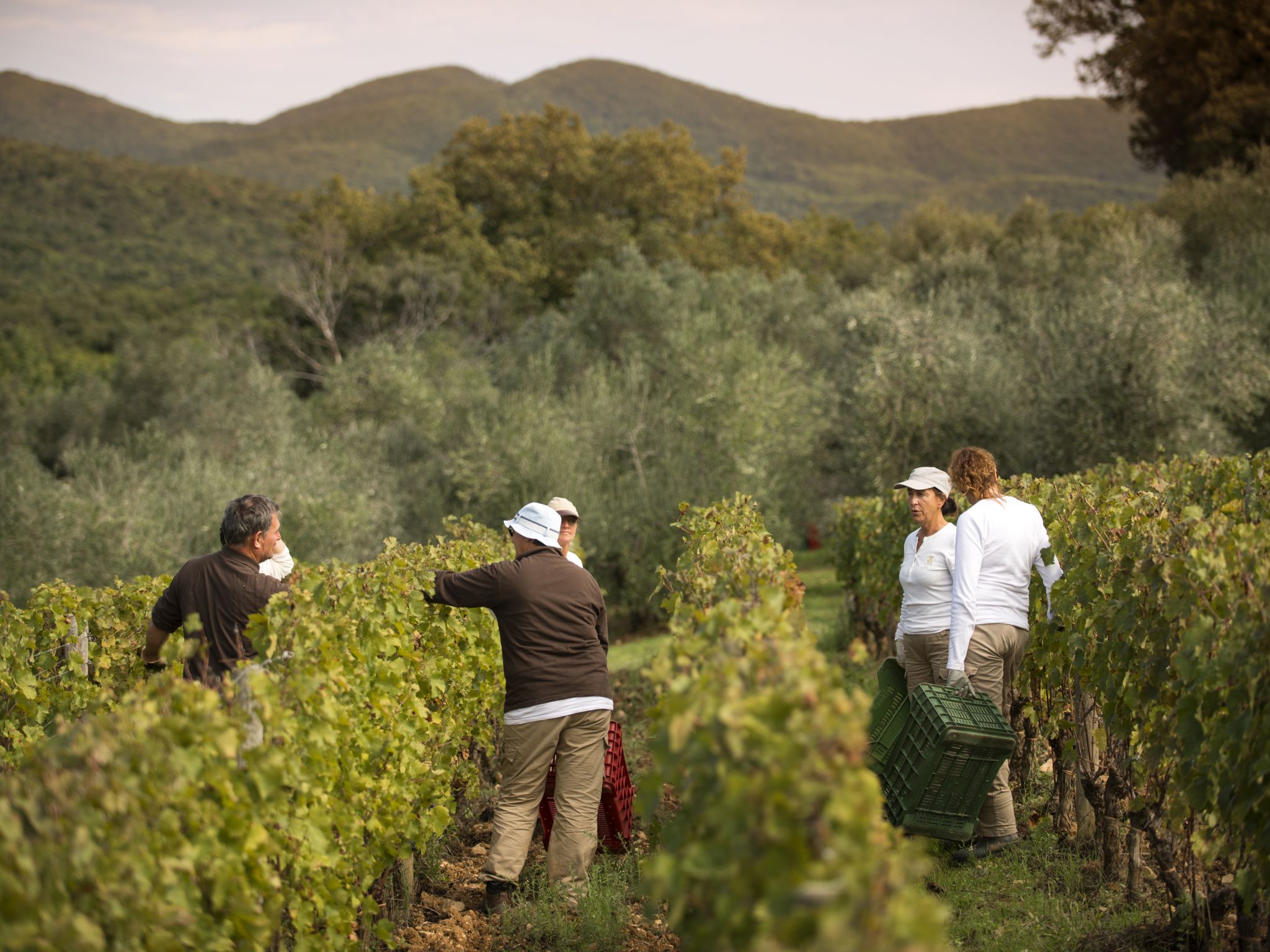 The Ornellaia vineyard totals 280 acres that are divided into more than 70 vineyard plots according to soil type, exposition and varietal. There are three major soil types: marine (sedimentary deposit from the sea), alluvial (marly, sandy clays with mineral veins), and volcanic (schist, gravel and porous soils). All the vineyards are about 3 miles from the Mediterranean shore. The mild maritime climate features sea breezes that keep the sky clear, low rainfall, and long summers that favor the development of aromatic compounds.
Vineyards are planted at high density, from 5,000-8,700 hl/ha, and feature several training systems – spur-pruned cordon, single Guyot, and head-pruned vines.
Winemaking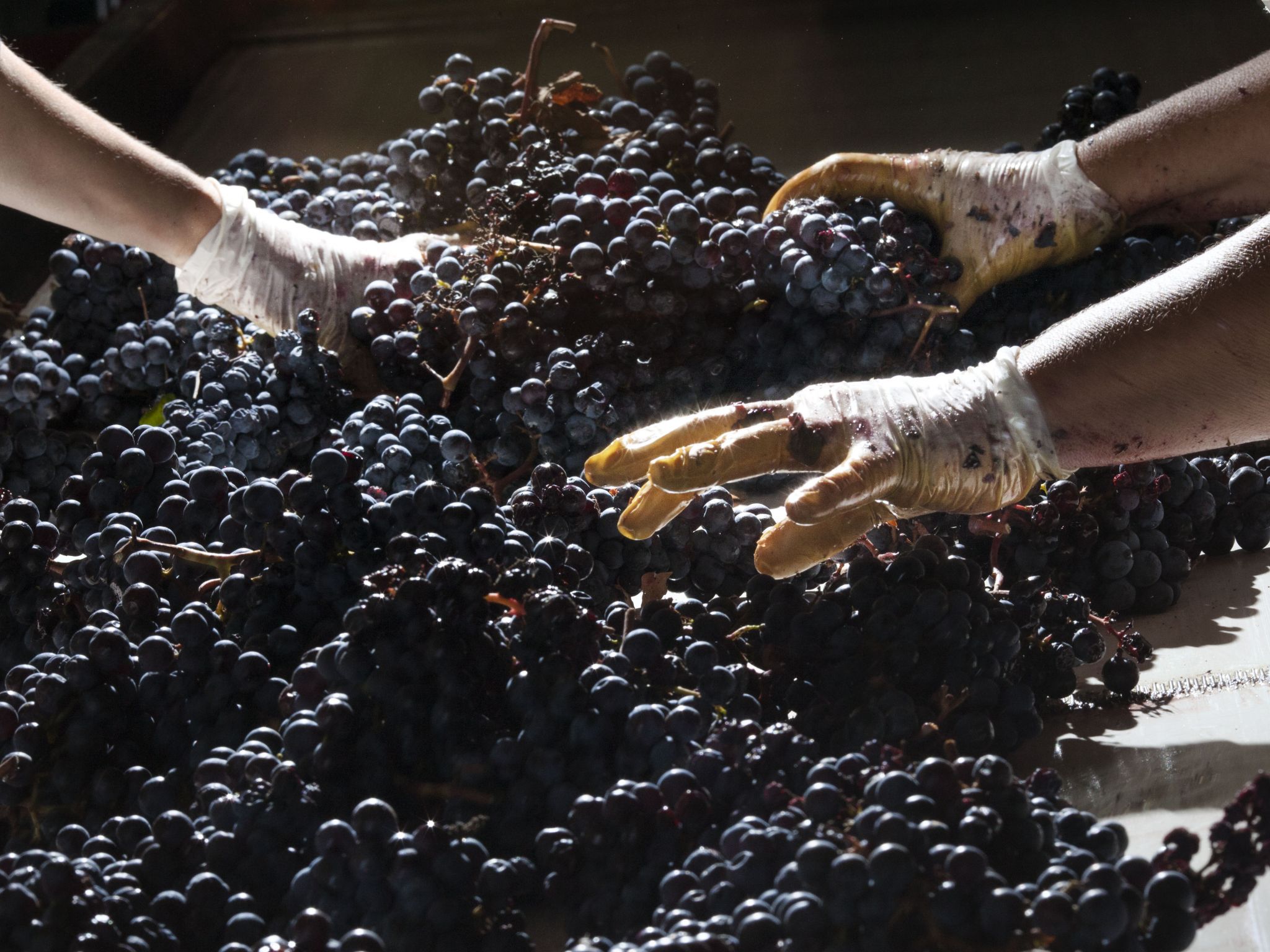 The clusters were hand-picked into 15 kg boxes and then selected by hand on a double sorting table, before and after destemming, and finally softly crushed. In 2016, optical sorting has been introduced in addition to manual selection, in order to further increase the quality of selection.
Each grape variety and single vineyard block was vinified separately. Fermentation took place in stainless steel and concrete tanks at temperatures between 26°C and 30°C for a week, followed by maceration for about 10-15 days, for a total time in the vat of about three weeks. The malolactic fermentation took place mainly in oak barrels, 70% new and 30% once-used. The wine then remained in barriques, in Ornellaia's temperature-controlled cellars for about 18 months. After the first 12 months of maturation, the wine was assembled and then returned to the barriques for an additional 6 months. After bottling, the wine aged a further 12 months prior to release.
Vintage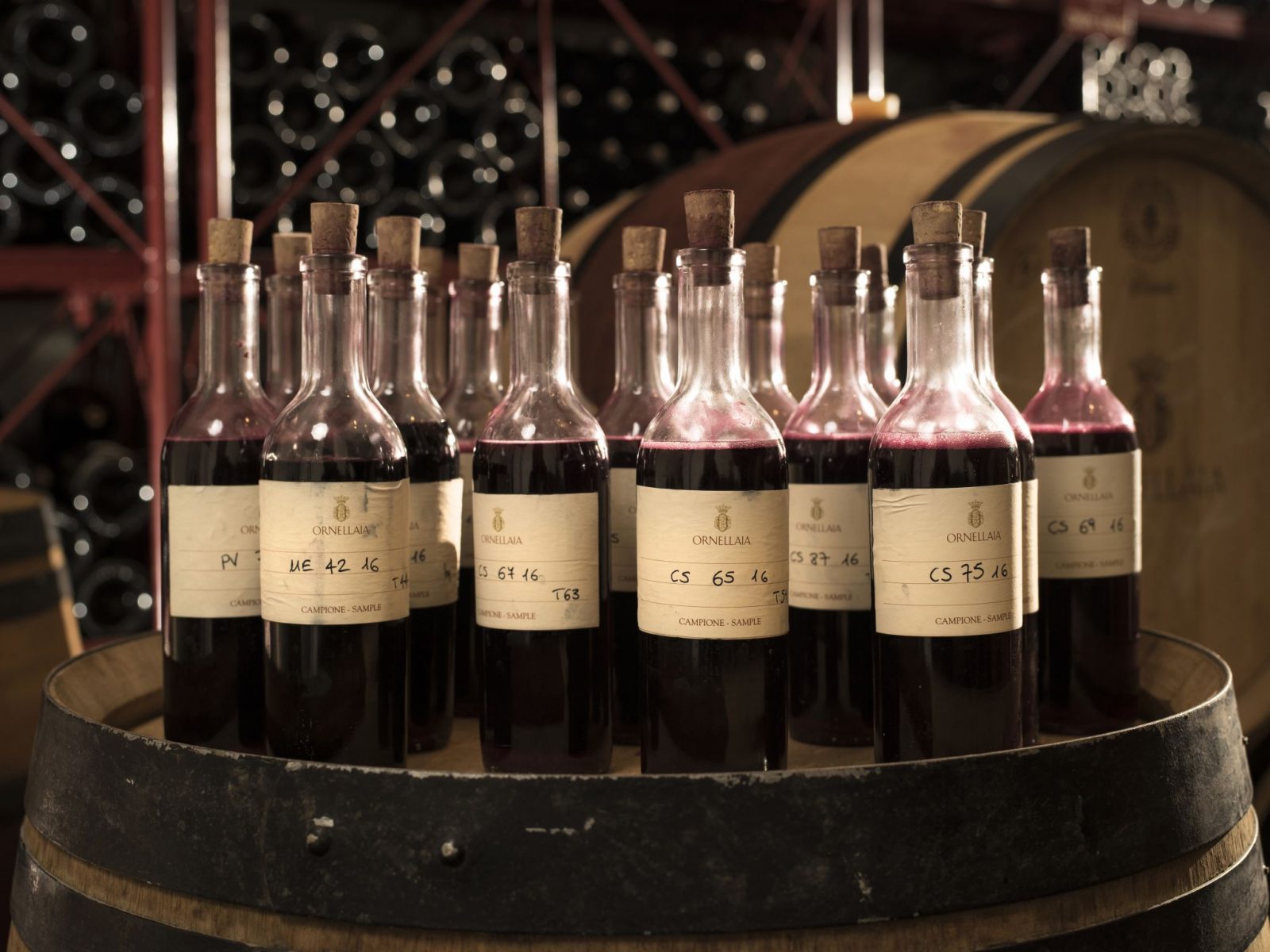 After a mild and rainy winter, there was a temporary drop in temperatures in March with a few nights below 0°C at the very start of the budding in the last week of the month. Fortunately, the newly opened shoots were still protected by the cottony tissue of the bud and were not damaged by the frost. The rest of spring had generally warm weather with normal rainfall that ensured regular vegetative development until flowering, which took place on average between 20 and 25 May. There was an intense rainy period in the middle of June, followed by a very long dry period with a substantial absence of rain and torrid temperatures until the end of August.
The veraison was homogeneous and rapid between 20 and 25 July, with the grapes beginning to ripen under a blazing sun. Welcome rains came at the end of August and brought a considerable drop in temperatures with them, with night lows reaching as far 13°C: ideal conditions for the Merlots to complete their ripening. They were harvested early and quickly – in only two weeks – to preserve their maximum freshness and fruitiness, just in time to avoid a sudden heat wave lasting one week where the temperatures reached as high as 37 degrees, forcing the team to begin harvesting the later vines as early as the 17th of September. A bit of rain towards the end of the month finally brought the climatic conditions back to normal, allowing the harvest to conclude on the 3rd of October.
Grape Varieties
Cabernet Franc, Cabernet Sauvignon, Merlot, Petit Verdot
Appellation
Bolgheri DOC Superiore
Suggested Retail Price
$310.00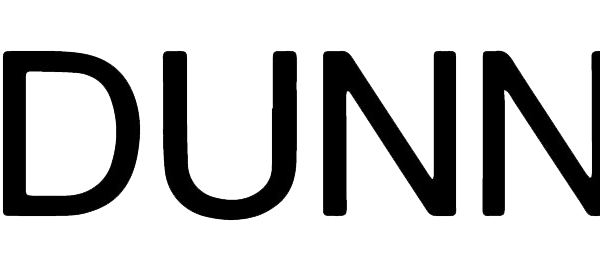 Jeb Dunnuck - January 27, 2023
"Flush with herbs and menthol, blackberry, and cedar, it is full bodied and fills the sides of the mouth with rounded fruit of luxurious plum, black cherry, and toast, with supple and velvety tannins."   —A.F 1/23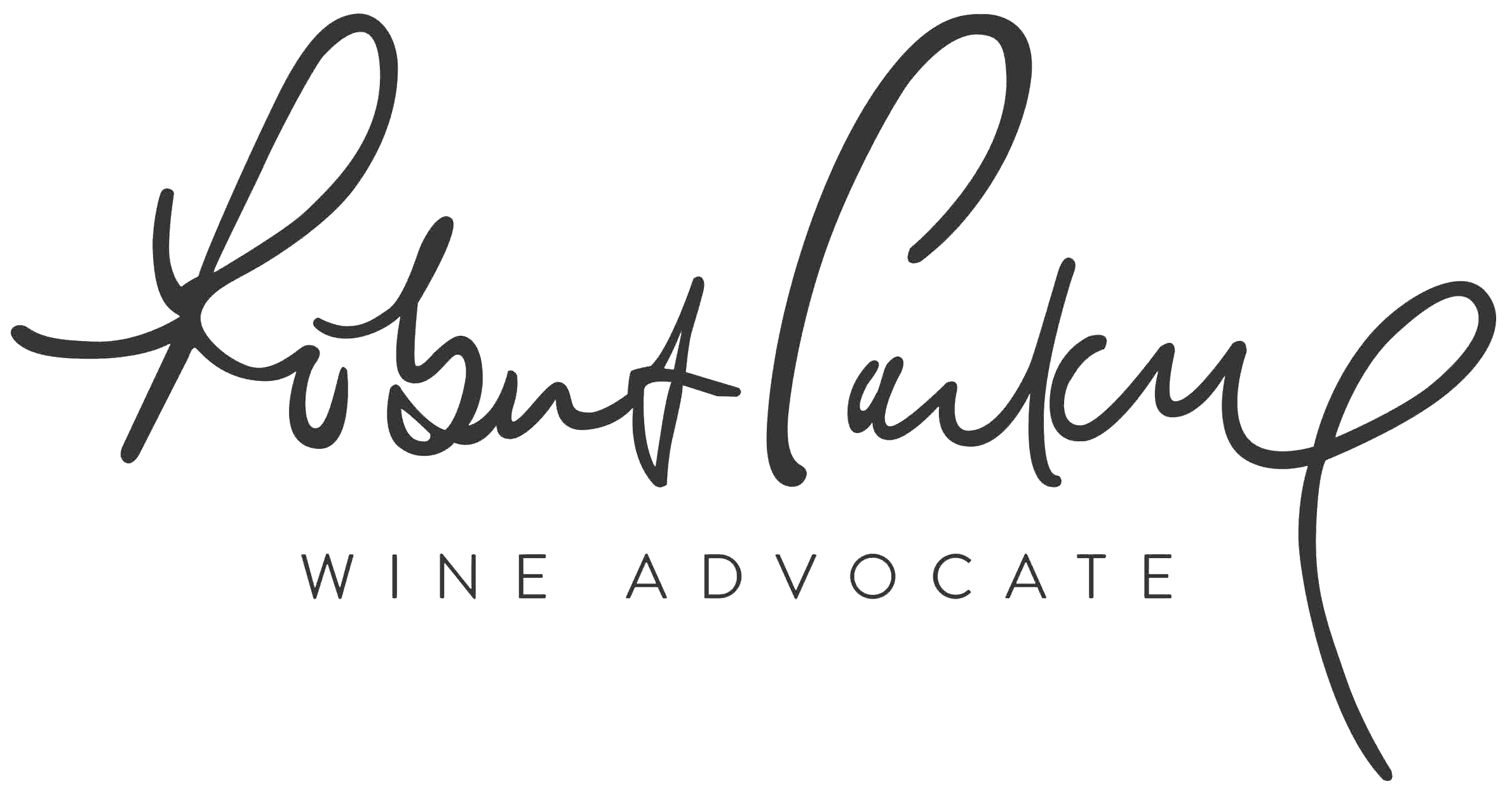 Wine Advocate - June 2, 2023
"The 2020 Bolgheri Superiore Ornellaia is made with Cabernet Sauvignon and Merlot with small percentages of Cabernet Franc and Petit Verdot. It opens to an impenetrable, full-bodied approach with dark fruit, pencil shaving, toasted oak, Spanish cedar, campfire ash and iron ore. For sure, this is an especially concentrated and oak-driven vintage of this iconic wine. It absolutely requires more aging time. It feels quite tight and firm in its youth. The concentration is abundant." -M.L 5/23

Wine Spectator - July 6, 2023
"Inviting aromas of blackberry, black currant, anise, cedar, vanilla and tobacco draw you in to this red, which is sleek and open on the palate. This is so well-balanced, it's approachable now, yet there's a bit of reserve too. The fruit flavors are prominent on the finish, along with mineral and spice notes, while the lasting impression is a salty, flinty element. Cabernet Sauvignon, Merlot, Cabernet Franc and Petit Verdot." -B.S 7/23

James Suckling - July 27, 2023
"Alluring aromas of lead pencil and currants with crushed stone and iodine. Full-bodied with hemmed in tannins that are tight and focused. Very fresh and energetic with wonderful length and intensity for this vintage." -J.S 7/23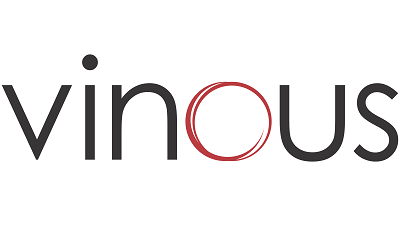 Vinous - August 4, 2023
"The 2020 Ornellaia is a gorgeous, elegant wine. Seamless and wonderfully deep on the palate, the 2020 is super-refined from the outset. Even with all of its depth, the 2020 retains terrific freshness and cut to play off its soft, succulent fruit. Overall, the 2020 looks to be a relatively accessible Ornellaia that will drink well with minimal cellaring. I especially admire the precision and understated finesse here." -A.G. 8/23
Other Wines by this Producer

Toscana Bianco IGT
Ornus dell'Ornellaia is a late harvest Petit Manseng produced in extremely limited quantities and gives yet another dimension to the Estate. In certain vintages conditions are perfect in the tiny "Palmetta" vineyard for the production of this exclusive dessert wine. The name Ornus dell'Ornellaia takes its inspiration from 'Fraxinus Ornus', the Latin name for the Manna or Flowering Ash (in Italian, Orniello), the tree which has given its name to the Ornellaia. The "Manna Ash" Orniello or 'Fraxinus Ornus' is a tree which is typical to the Mediterranean coastal area. Its precious sap has been used since Biblical times as a sweetener and acts as a perfect link to the sweetness of Ornus dell'Ornellaia.
Toscana IGT
Le Volte dell'Ornellaia combines a Mediterranean expression of generosity with structure and complexity, reflecting the philosophy of Ornellaia. It represents the first step into the Ornellaia family, and is an ideal wine for everyday enjoyment.
Toscana IGT Bianco
Poggio alle Gazze dell'Ornellaia is one of Italy's most innovative and progressive white wines, providing an altogether different experience of the Ornellaia estate and its Mediterranean influences.

Bolgheri DOC Rosso
Coming primarily from the Ornellaia's younger vineyard sites and made with the same passion and attention to detail as the estate's flagship wine, Le Serre Nuove dell'Ornellaia combines generosity and depth of flavor with an engaging and vibrant personality.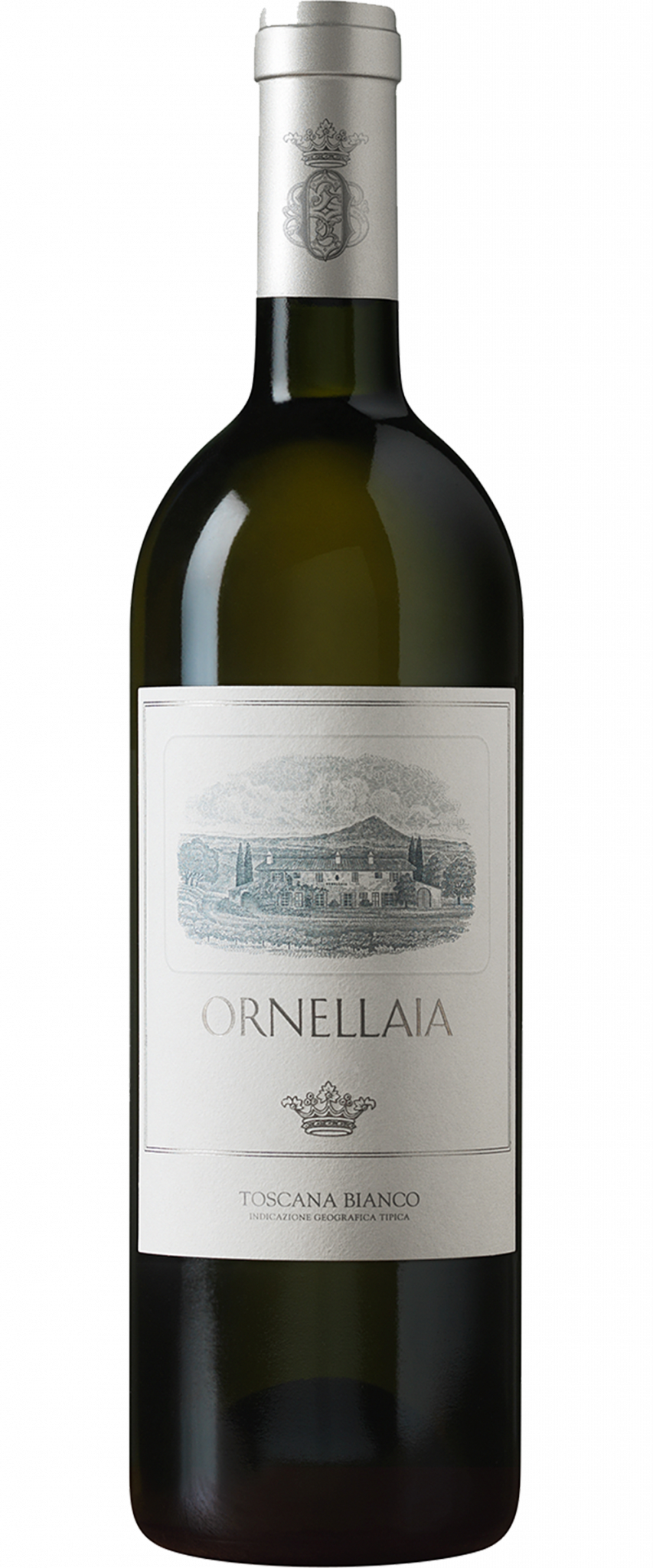 IGT Toscana
Ornellaia Bianco is Italy's most ambitious white wine. It is a result of the Estate's desire to translate the exceptional properties of its terroir not only into red wines, but also into this magnificent white.