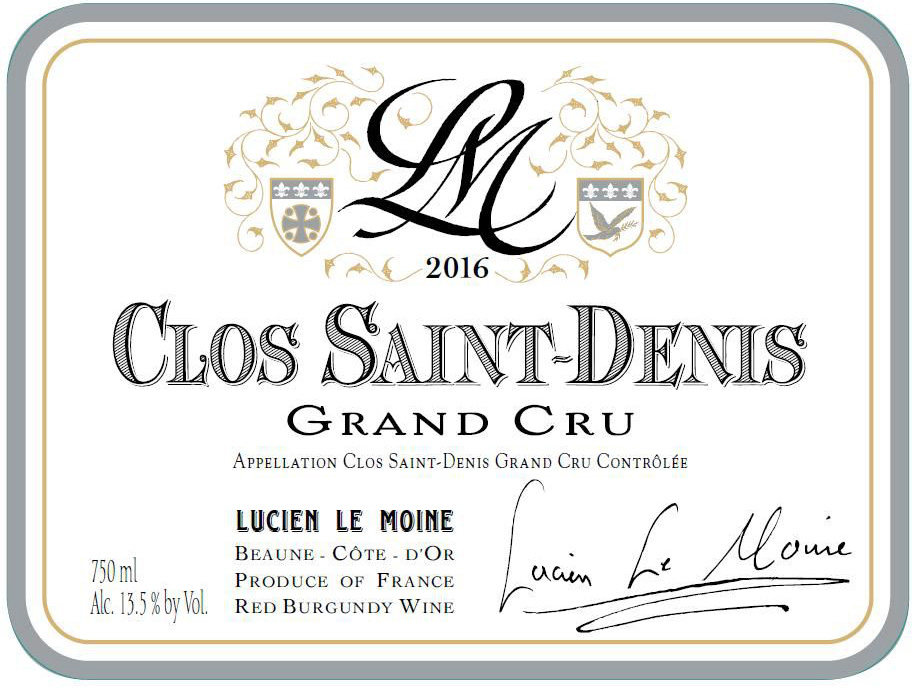 Lucien Le Moine
Clos Saint-Denis Grand Cru 2016
Clos Saint-Denis Grand Cru
The soils of Clos Saint Denis are very drained, and the fruit achieves a lot of ripeness and flavor Mounir calls this a humiliating wine, because your first impression is of a wine that is full of earthy, dirty notes, but when it emerges after time to breathe, or with age, it displays sweet red fruits and a sweet finish. The soil here is rich in iron and phosphorous, giving this wine a contrast between dirty and sweet.
Grape Varieties
Pinot Noir
Appellation
Clos Saint-Denis Grand Cru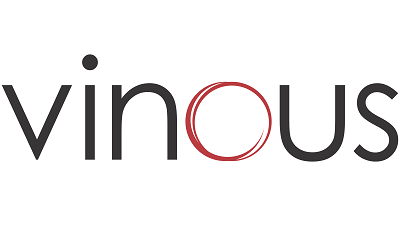 Vinous Media - "Medium red-ruby, a bit lighter than the Clos de la Roche. Less delineated and nuanced on the nose in the early going, hinting at violet, dried rose and blood orange. Dense but quite reticent, and hiding more than it's showing today. With aeration, notes of iron, orange zest and celery seed emerge, along with a zesty positive bitterness. Finishes with terrific inner-mouth spicy lift and a light touch. I was shocked to hear that this wine was among the highest in pH and lowest in acidity of the 2016s at Lucien Le Moine. Mounir Saouma told me that ten days ago, this wine was more presentable than the Clos de la Roche."

Burghound - "Firm reduction also dominates the nose. There isn't the same power, size and weight to the less imposingly-scaled flavors compared to those of the Clos de la Roche but as one might expect, the beautifully complex finish is finer and more understated though almost as serious and structured with the same outstanding length. There is a touch of unintegrated wood sticking out on the finish but it should be absorbed in time."
Other Wines by this Producer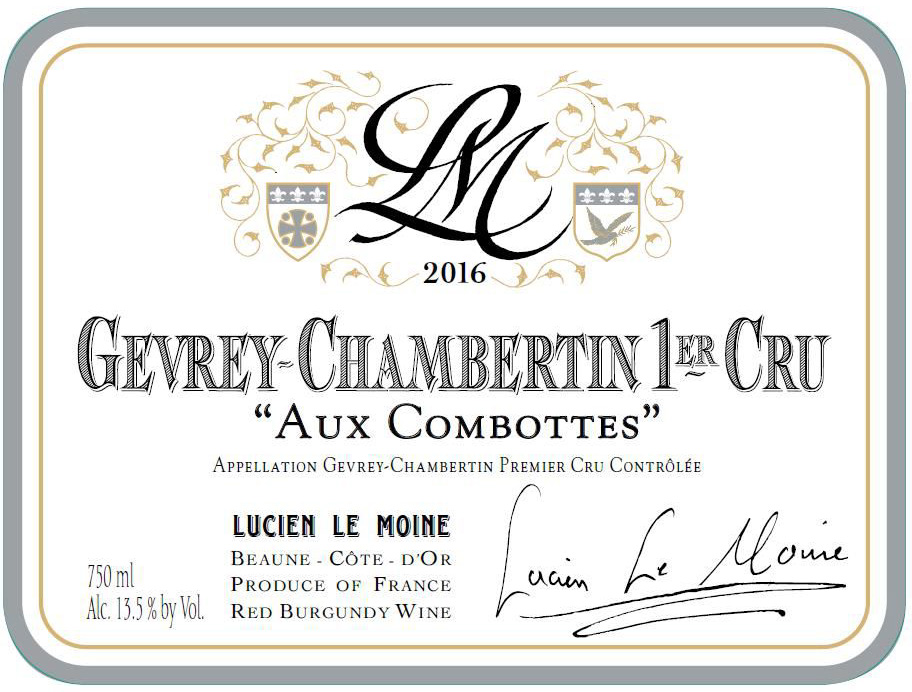 Gevrey-Chambertin 1er Cru "Aux Combottes"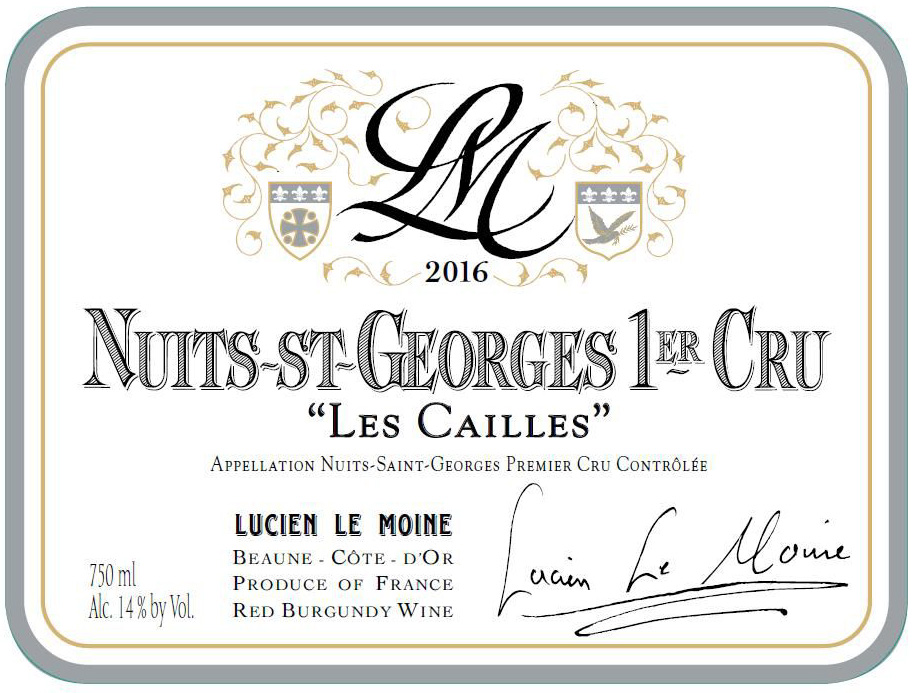 Nuits-St-Georges 1er Cru "Les Cailles"
The Les Cailles is an 18 acre vineyard from which the last several years Lucien Le Moine has produced wines of surprising power that still retain the elegance of Les Cailles. Les Cailles, Mounir Saouma says, is deeper than other Nuits-Saint-Georges 1er Crus, with more body and more tannin. It is dense, and the heat of the vineyard gives a "charred" character to the wine - it becomes clear that this character is the wine's (and not from oak) when you come to the finish, which is purely fruit. It is clear why some consider it a Grand Cru level vineyard.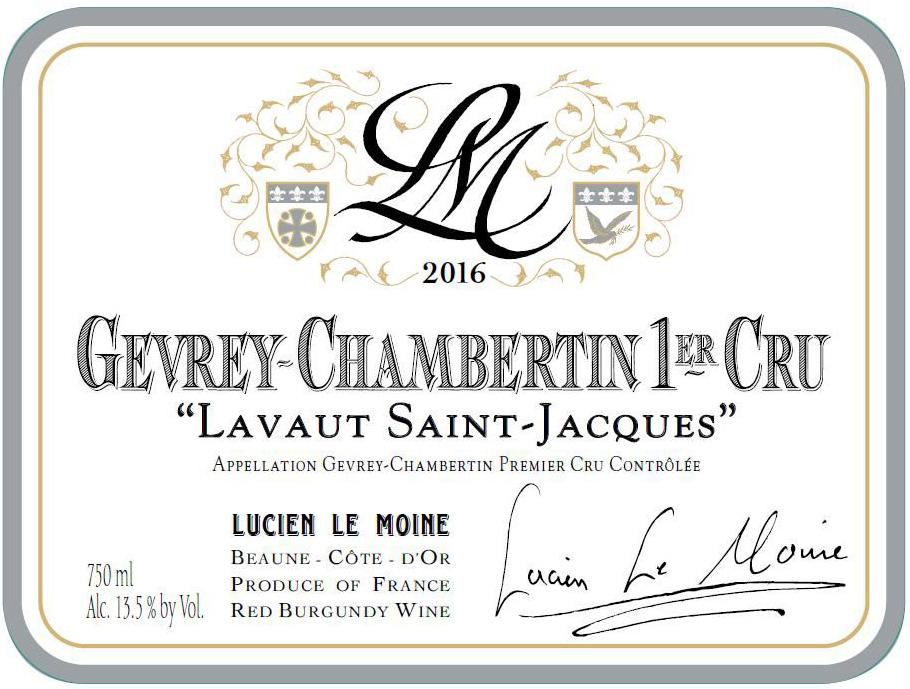 Gevrey-Chambertin 1er Cru "Lavaut Saint-Jacques"
Estournelles St Jacques sits just above Lavaut St Jacques, a five acre vineyard at the top of the slope. Mounir Saouma describes this wine by staying it is in character between Les Cazetiers, which is fine and subtle, and Lavaut St Jacques, which is more powerful and tannic. Estournelles St Jacques has a beautiful balance, and a lovely weight that also displays subtlety.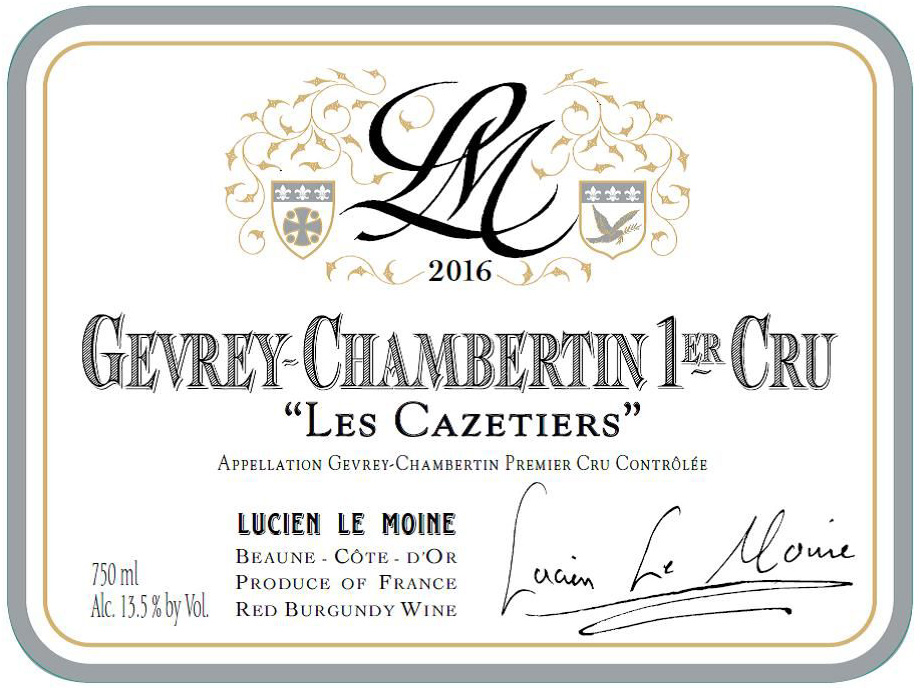 Gevrey-Chambertin 1er Cru "Les Cazetiers"
Les Cazetiers is a 21 acre vineyard that faces almost due east. Always one of Lucien Le Moine's exciting wines, it combines fantastic definition and complexity. Mounir Saouma explains that the vines he uses are nearly 100 years old, and there is tremendous subtlety, spiciness and elegance. It is the essence of Gevrey without the body, all finesse.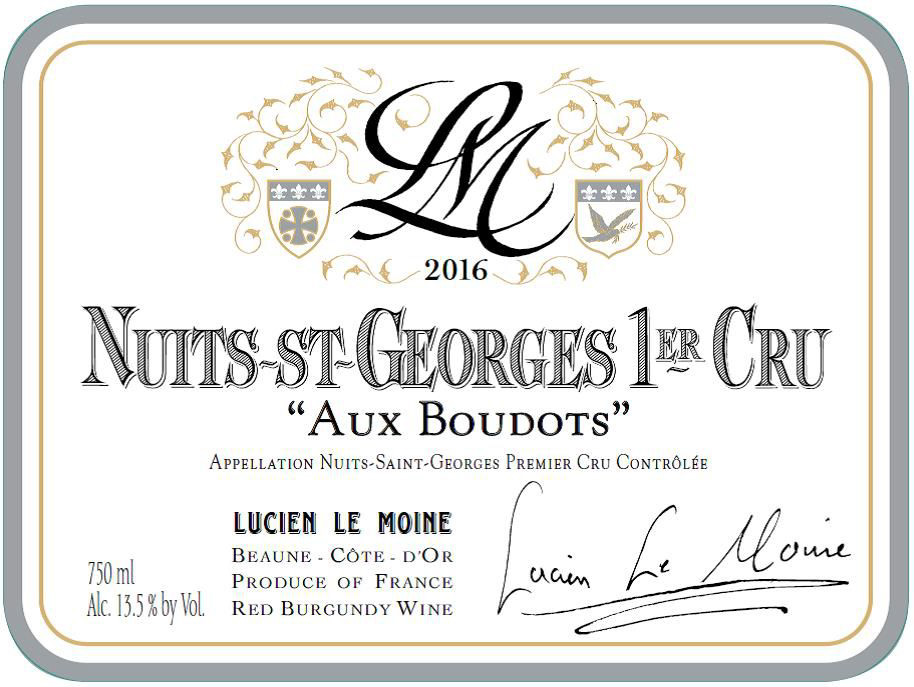 Nuits-St-Georges 1er Cru "Aux Boudots"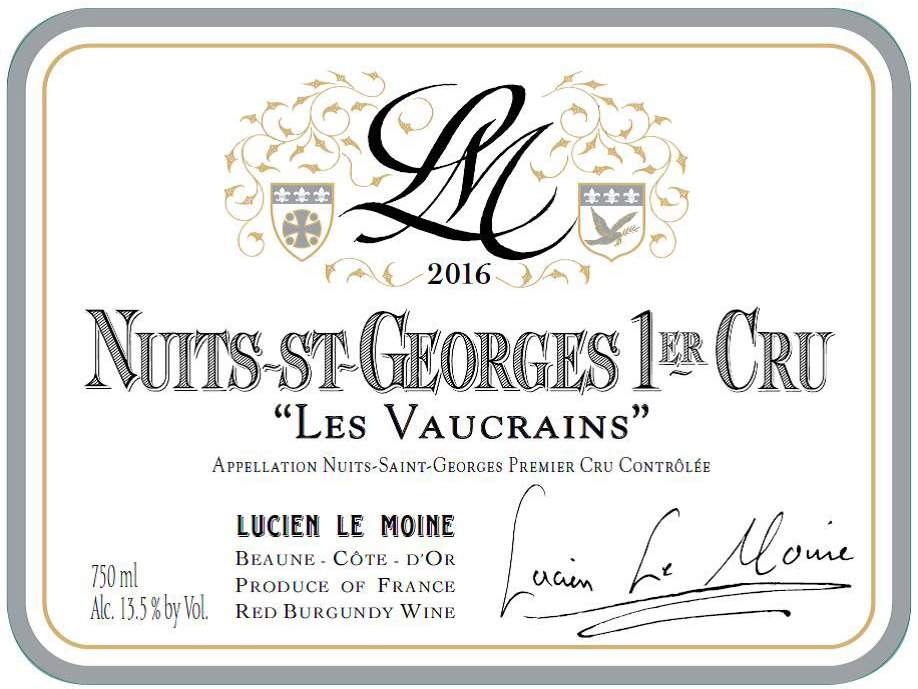 Nuits-St-Georges 1er Cru "Les Vaucrains"
The commune of Nuits-Saint-Georges is the southernmost commune of the Côte de Nuits, and includes, from a viticultural standpoint, the small adjoining commune of Prémeaux-Prissey. There are 431 acres of vineyards which take this appellation at the village level, of which 29 are in Prémeaux. Of the 1er Cru vineyards, numbering 36, 28 vineyards occupy 248 acres in Nuits-Saint-Georges; the remaining eight, in Prémeaux, cover 104 acres. The Les Vaucrains is a vineyard of 15 acres lying upslope at 260-280 meters in the south part of Prémeaux.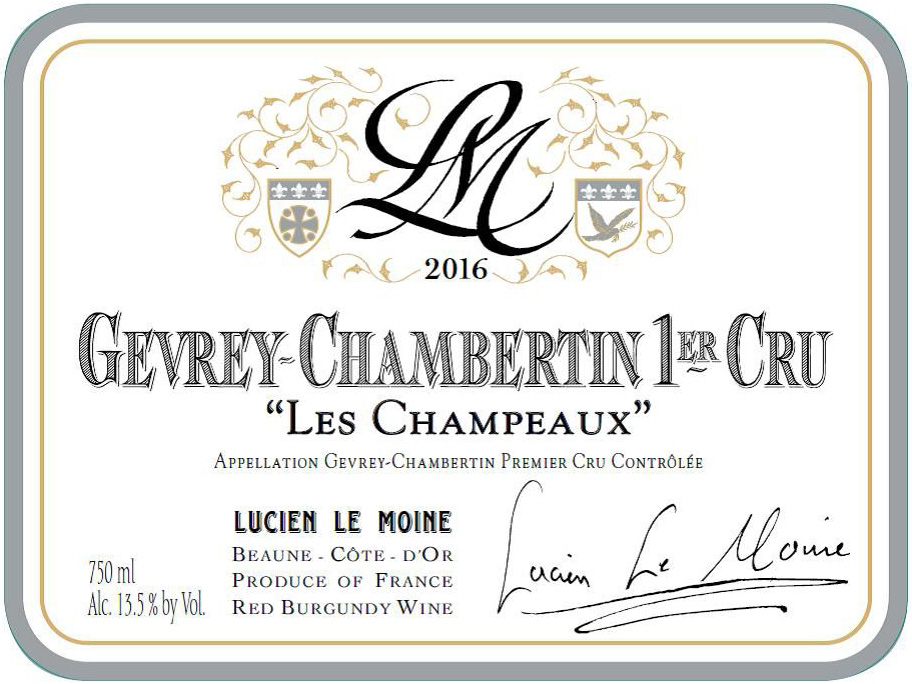 Gevrey-Chambertin 1er Cru "Les Champeaux"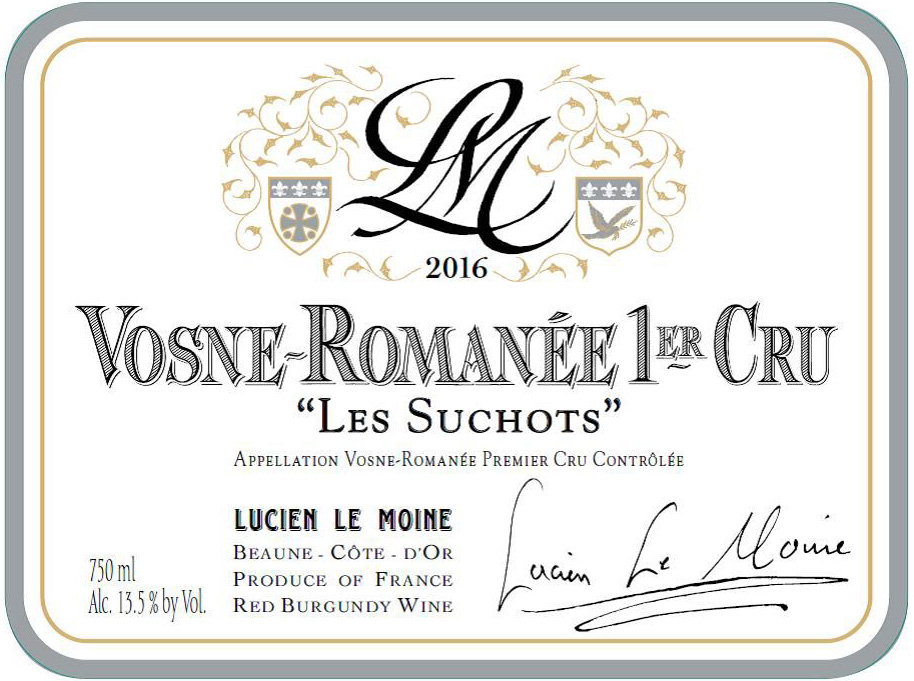 Vosne-Romanée 1er Cru "Les Suchots"
Les Suchots is one of Lucien Le Moine's finest Crus every year. Mounir says that, like Échézeaux, there is an almost Syrah-like character of licorice and smoke. Les Suchots is a wine with a lot of tannin and less of a classic, delicate Burgundian profile.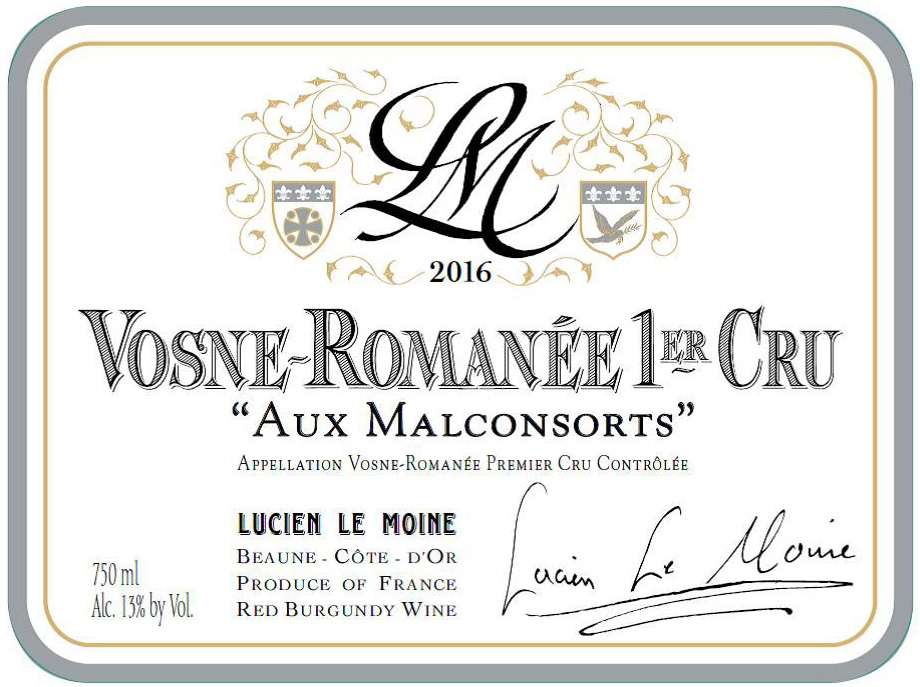 Vosne-Romanée 1er Cru "Aux Malconsorts"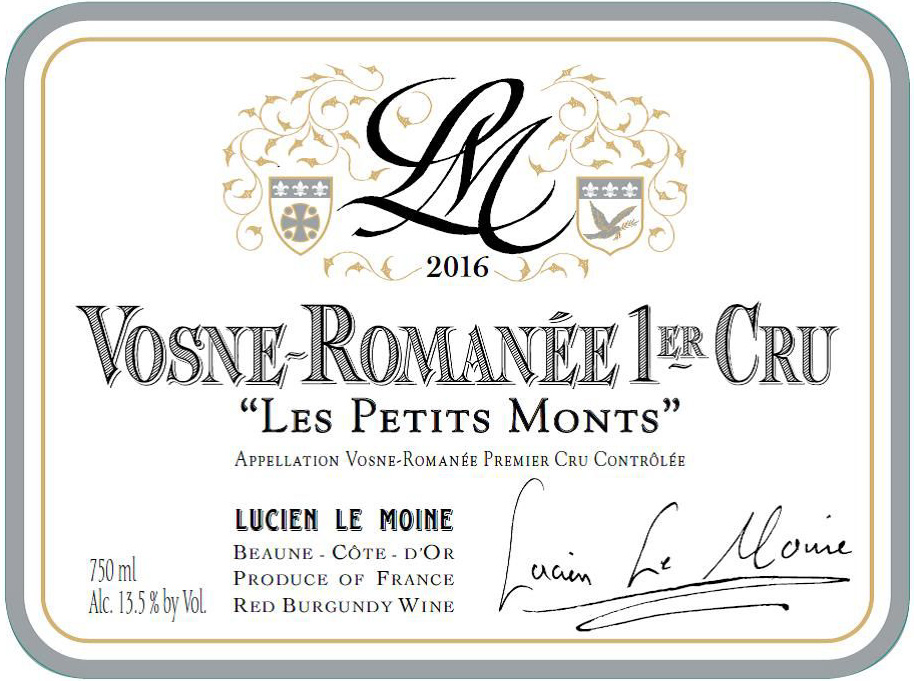 Vosne-Romanée 1er Cru "Les Petits Monts"
Les Petits Monts is a small, 9 acre vineyard just up-slope from Richebourg. Mounir Saouma says about Les Petits Monts that it is not far from Les Suchots, and on top of Richebourg, with a poor, dry soil. It is in character the opposite of Les Suchots, which is colored and tannic - it is a subtle and very fine wine, which shows little tannin, more floral notes and more of a St-Vivant character.