Champagne Bollinger
La Grande Année 2008
Champagne, France
Bollinger's prestige cuvée is the vintage-dated La Grande Année, made of roughly two-thirds Pinot Noir and one-third Chardonnay. It is produced only when the harvest reaches a perfect balance. This wine ferments entirely in oak barrels, and undergoes its second fermentation under cork instead of crown capsule. It's filled with aromas of honey, gingerbread and cinnamon, and offers a core of pastry and candied orange flavors on the palate.
In 1976, Bollinger Vintage became Grande Année; then, in 1997, "La" Grande Année, a name simple enough to illustrate its exceptional status.  This prestige cuvée made its silver screen debut two years later, in James Bond's Casino Royale.
Vineyard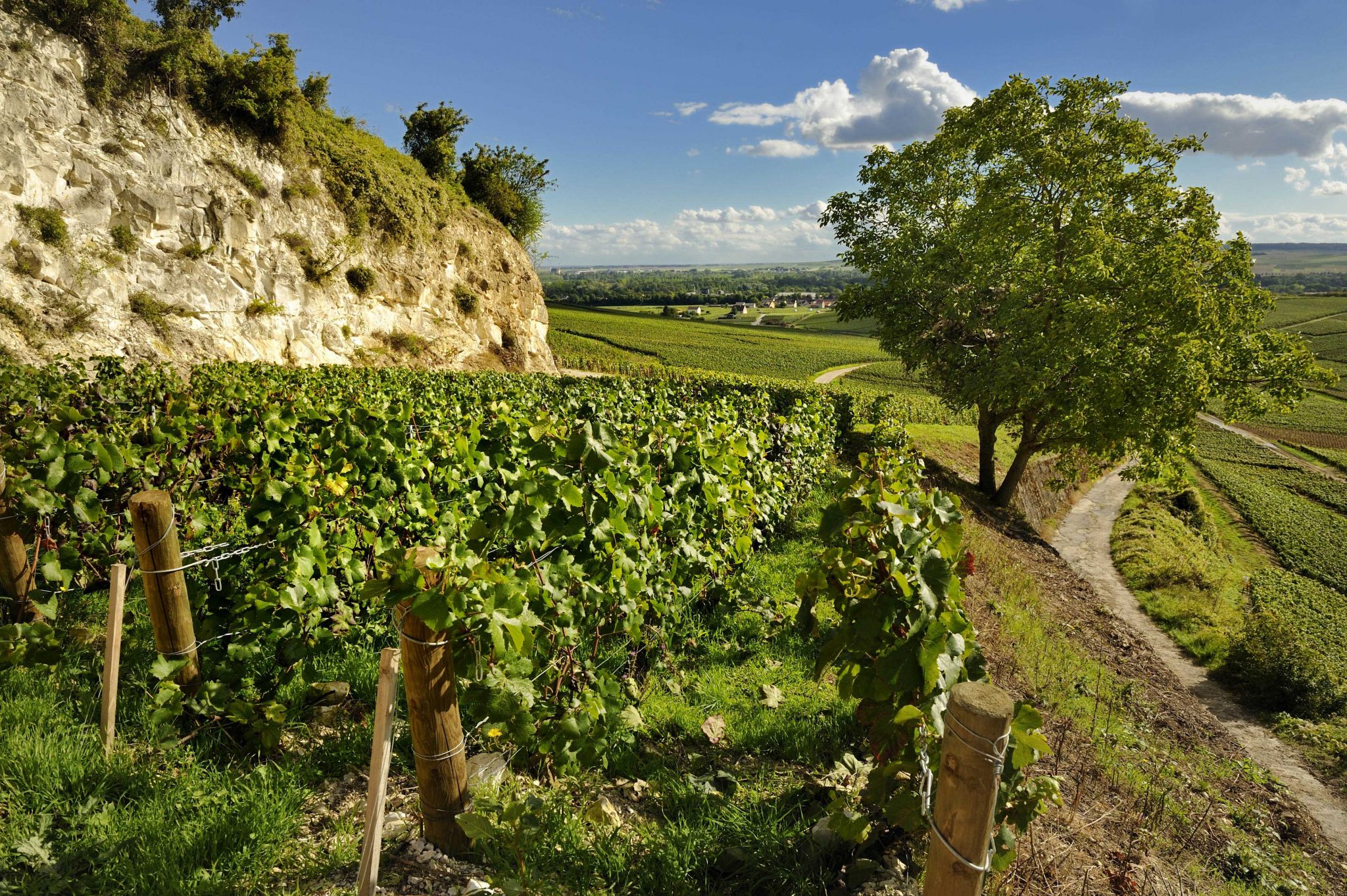 84% of the fruit was sourced from Grand Cru villages and 16% from Premier Cru villages. The Pinot Noir, 71% of the blend, comes predominantly from Äy and Verzenay, and the Chardonnay, 29% of the blend, from Le Mesnil-sur-Oger and Cramant.
Additionally, Bollinger was accredited with a "High Environmental Value" certification in 2012 (more here).
Winemaking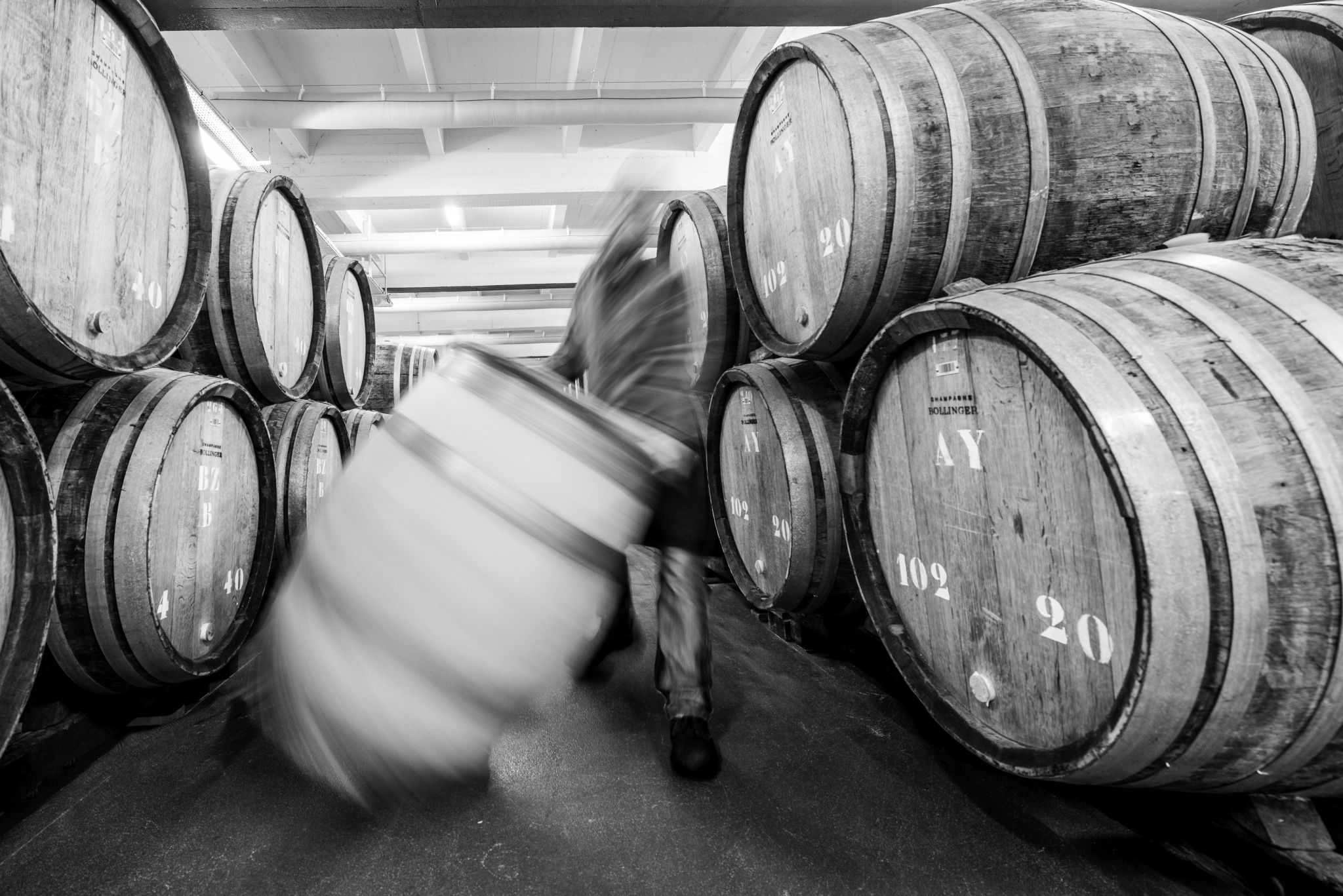 La Grande Année is vinified entirely in older oak barrels, specifically used 228 liter barrels and 400 liter casks that are up to 40 years old. The wine remains in barrel for 6 months, undergoing both alcoholic and malolactic fermentation in barrel, a point of distinction from the minute remaining producers who do ferment in barrel. The wine is then bottled under cork to undergo its secondary fermentation, rather than crown capsule. As a result, every bottle has to be hand-riddled and hand-disgorged. The wine spent over 9 years on the lees, and has a moderate dosage of 8 grams per liter. Needless to say, this is not an efficient way to produce Champagne. Quality is the only objective.
Vintage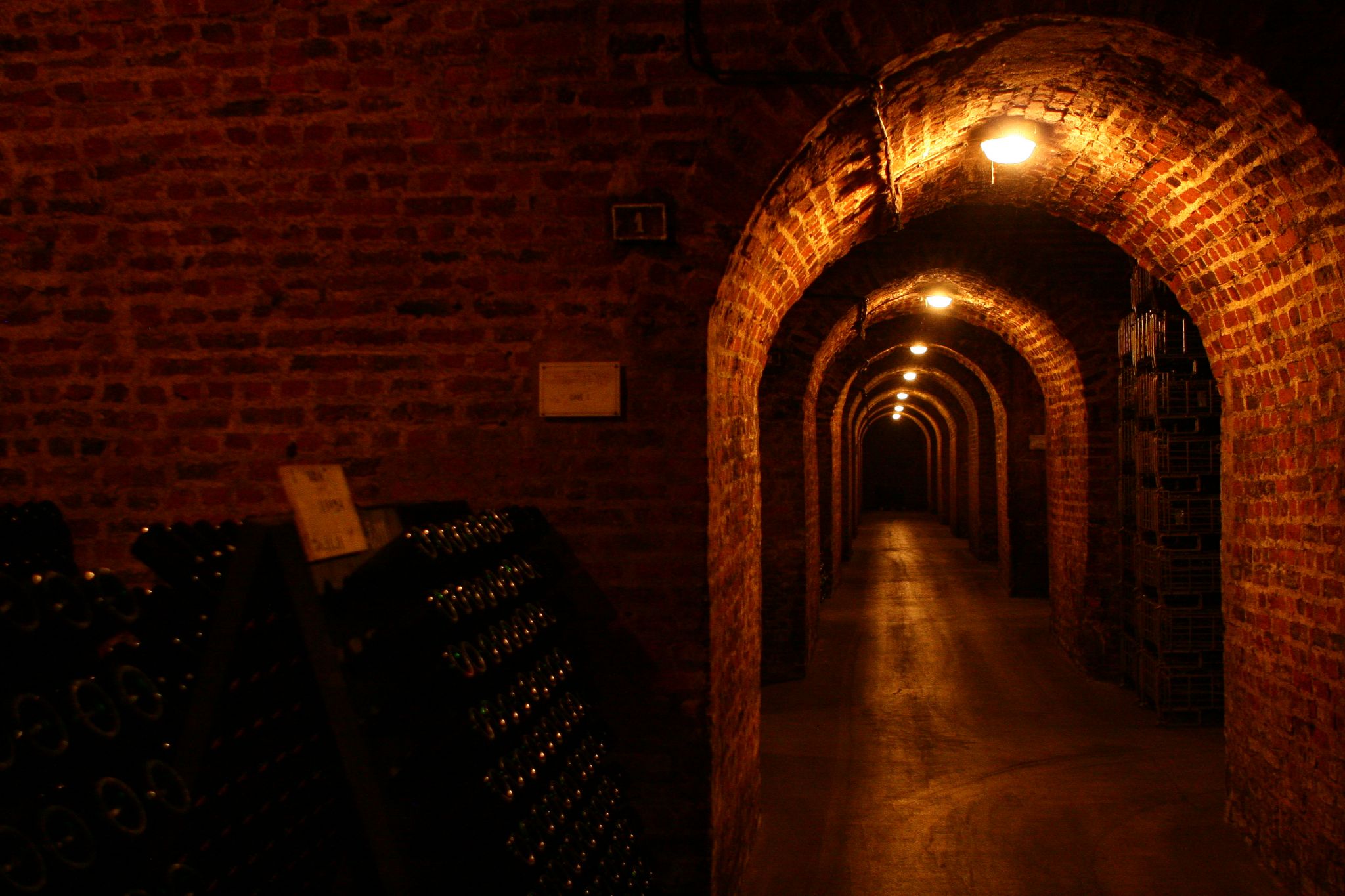 At Bollinger, only very high quality harvests become a vintage; in 2008, the remarkable maturity of the grapes combined with a phenomenal acidity have produced a wine of infinite depth and allowed an exceptional vintage to be created.
The year was characterized by cool and contrasting weather conditions. Short periods of warm,
dry weather alternated with cooler months throughout the entire growth cycle of the vine. Flowering occurred around mid-June. After a cloudy month of August, ideal conditions gradually set in during September to perfect a slow and harmonious maturation of the grapes. The beautiful dry and cool weather continued during the harvest and contributed to the impeccable state of the grapes.
Tasting Note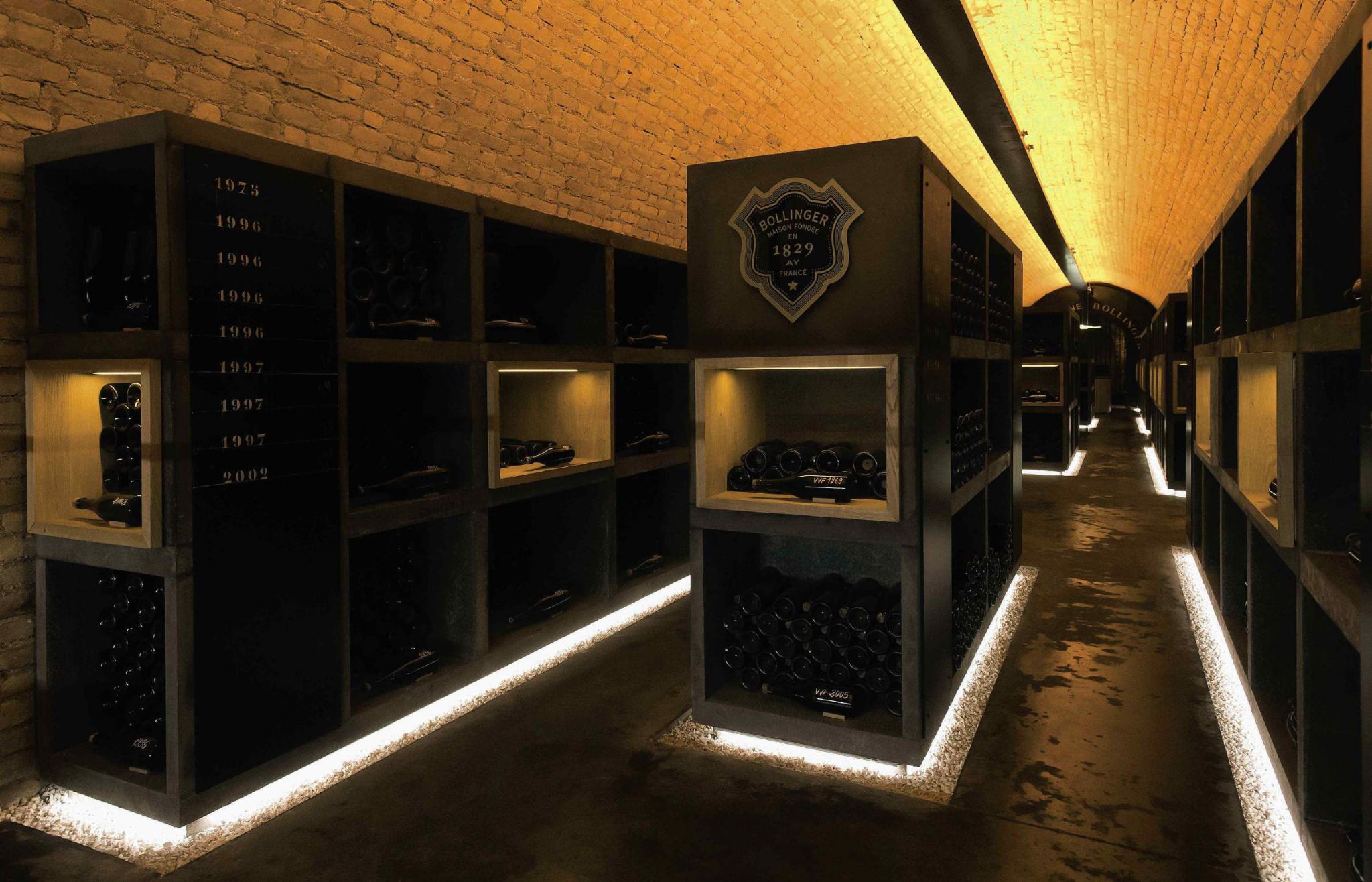 Delicate gold in color, offering wonderful aromatic depth on the nose. The wine's fruity, spicy and floral notes intertwine to reveal a highly complex aroma; wild peach, plum and orange peel precede sensations of saffron and are complemented by a fresh, mineral aspect.
This wine continues to build on the palate; dense and harmonious in the mouth. A creamy effervescence and fresh structure, with a gentle saline finish.
Outstanding aging potential for this absolutely stunning wine.
Food Pairing

La Grande Année 2008 is the perfect Champagne to serve with a fine meal, underscoring Bollinger's reputation as the ultimate food pairing Champagne. The Champagne shines when enjoyed with freshly sliced jamon or seared scallops. It can stand up to heartier fish and roasted meats as well. Classic French foie gras will do just fine, or to enjoy with fresh Parmesan or Comté.
Grape Varieties
Chardonnay, Pinot Noir
Appellation
Champagne, France
Farming
Champagne Bollinger supports sustainable wine growing by grassing over the ground, using biological pest control, reducing the use of herbicides, recycling pruning waste, and planting hedges and orchards to encourage biodiversity. The Côte aux Enfants vineyard is managed organically.
Suggested Retail Price
$170.00

Jeb Dunnuck - March 27, 2020 "The 2008 La Grande Année is another brilliant 2008 that delivers the goods. Straight-up awesome notes of stone fruits, white flowers, honeysuckle, and an incredible, liquid rock-like minerality all emerge from the glass, and it develops more nuance, spice, toasted bread, and an almost Alsatian Riesling-like petrol character over the course of the evening. It's a full-bodied, rich, powerful Champagne, yet like the top 2008s, it has brilliant precision, purity, and focus. It's unquestionably one of the finest versions of this cuvée ever produced, although it needs another 4-5 years of bottle age to hit prime time. It should keep for 3-4 decades. Bravo!"

Wine Enthusiast - October 25, 2019 "This is the producer's equivalent of Vintage Champagne. Fermented and aged in wood and then kept for nine years before release, this wine comes from an exceptional vintage that manages to combine ripe fruit and acidity, meaning the wine can age extraordinarily well. Although the wine is just ready, it will be much better from 2022 and for many years after."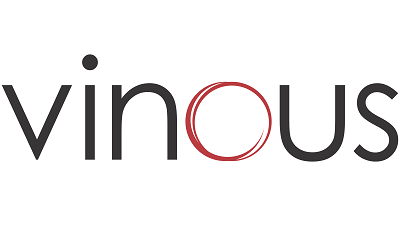 Vinous - July 25, 2019 "Bollinger's 2008 Grande Année is rich, ample and full-bodied, with all of the pedigree of the vintage on display. Dried pear, dried flowers, chamomile, red plum and mint develop as the 2008 shows the breadth and creaminess that are such signatures of the Bollinger house style. A whole range of brighter, more floral and chalky notes appear later, adding translucence and energy. The 2008 is 71% Pinot Noir and 29% Chardonnay taken across 18 crus, and it is the Pinot that very much informs the wine in both flavor and texture. More importantly, the 2008 is one of the best Grande Années I can remember tasting. Bollinger fans won't want to miss it. Disgorged November 2018. Dosage is 8 grams per liter."

Decanter - April 17, 2019 "In 2008, the remarkable maturity of the grapes combined with an amazing acidity has produced a vintage of great balance, concentration and depth. The wine was aged for nine years on its lees, then for another year following disgorgement. Bright straw in colour with pinprick bubbles, it blooms on the nose with a fresh lemon leaf aroma, a sniff of strawberry and white chocolate and a candied peanut toastiness in depth. On the palate it's silky, broad and lingering, showing a kind of bittersweet fruit profile with grapefruit and peach kernel notes, and an amazing chalky, mineral finish. It will keep well. Wait to drink it if in magnum or bigger."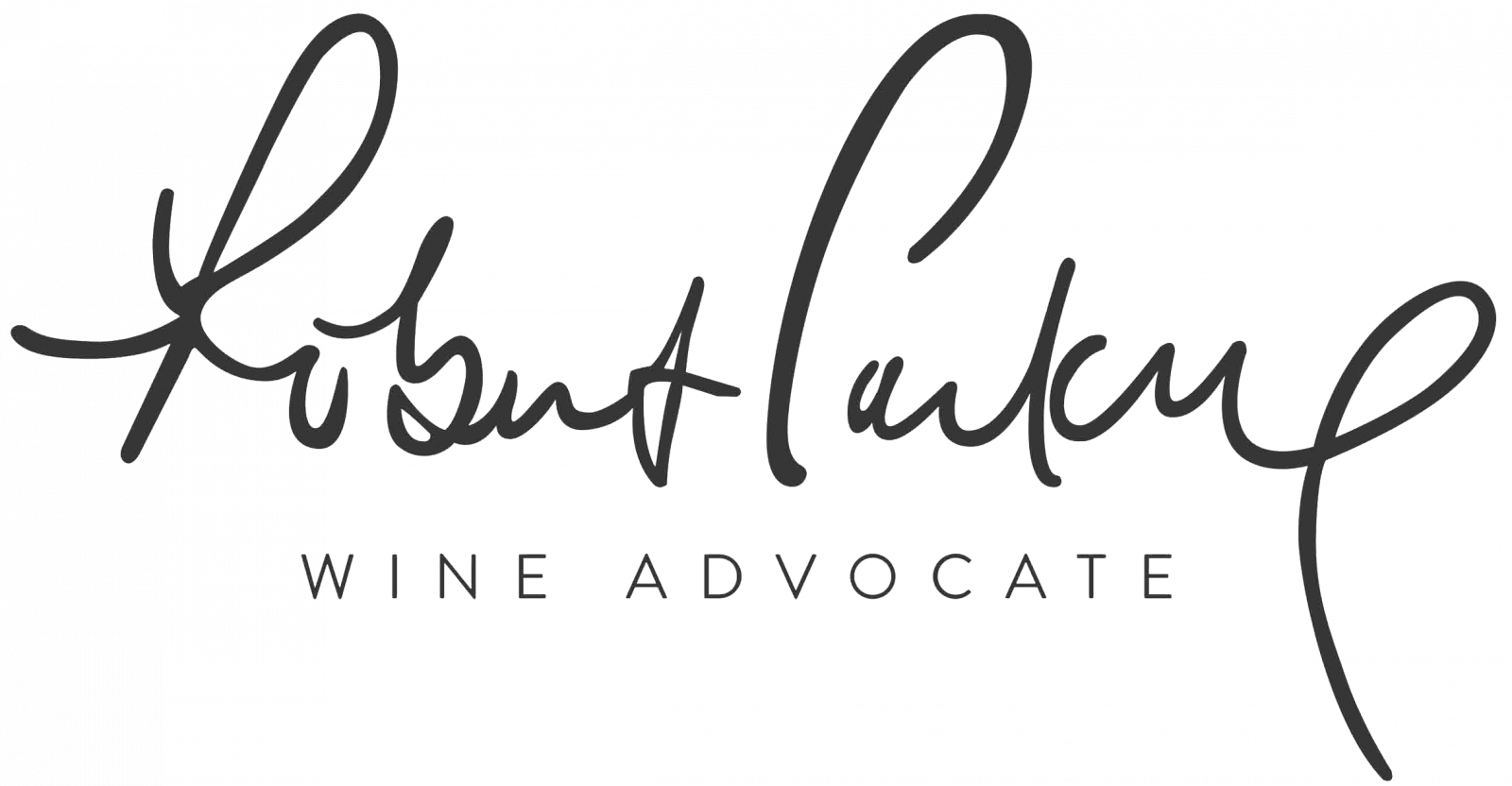 Wine Advocate (97+) - March 29, 2019 "Bollinger's 2008 La Grande Année is superb, wafting from the glass with aromas of crisp orchard fruit, ripe lemons, honeycomb, warm biscuits, dried white flowers and a delicate top note of walnuts and fino sherry. On the palate, the wine is full-bodied, broad and vinous, with a beautifully refined mousse, superb concentration at the tightly wound core, incisive acids and a supremely elegant intermingling of Bollinger's oxidative stylistic signatures with fresh, vibrant fruit. The finish is long, precise and chalky. This is a Grande Année built for the cellar—the real excitement will come with a bit more bottle age—but this is already a thrilling Champagne in the making. Finished with eight grams per liter dosage, it was disgorged by hand in July 2018. This is also the first vintage of Grande Année to be bottled in Bollinger's new narrower-necked 1846 bottle, which should make for a slower evolving wine."
More on Champagne Bollinger La Grande Année 2008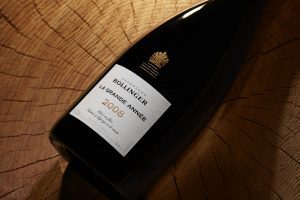 November 16, 2020 - The editors from luxury publication Robb Report compiled their holiday wine gift recommendations for oenophiles, including one sparkling wine - Champagne Bollinger La Grande Année 2008. As far as critical…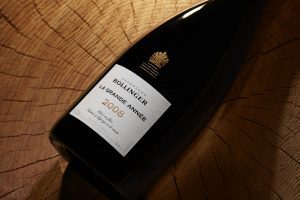 December 3, 2020 - Caviar Affair contributor Lana Bortolot details Champagne Bollinger's House style and unwavering commitment to rigid quality standards. Additionally, the feature explores the 40+ year historic connection between Champagne Bollinger and…
Other Wines by this Producer

Champagne, France
This limited edition cuvée celebrates 2 important milestones. Firstly, it celebrates the historic partnership between Bollinger and Bond. Bollinger has been the exclusive Champagne partner of Bond since 1979, so 2019 marks the 40th anniversary of their relationship. Secondly, it celebrates the release of the upcoming movie, No Time to Die, which will be the 25th movie in the series (and Bollinger's 15th Bond movie since the start of the partnership).
Champagne, France
Lily Bollinger agreed to a Bollinger rosé under one condition, it had to be extraordinary, and that is how La Grande Année Rosé was born. A blend like no other, the wine is as an extension to the House's prestige cuvée, La Grande Année, as is the subtle marriage between this great vintage Champagne and the addition of red wine from a unique plot, the legendary Côte aux Enfants.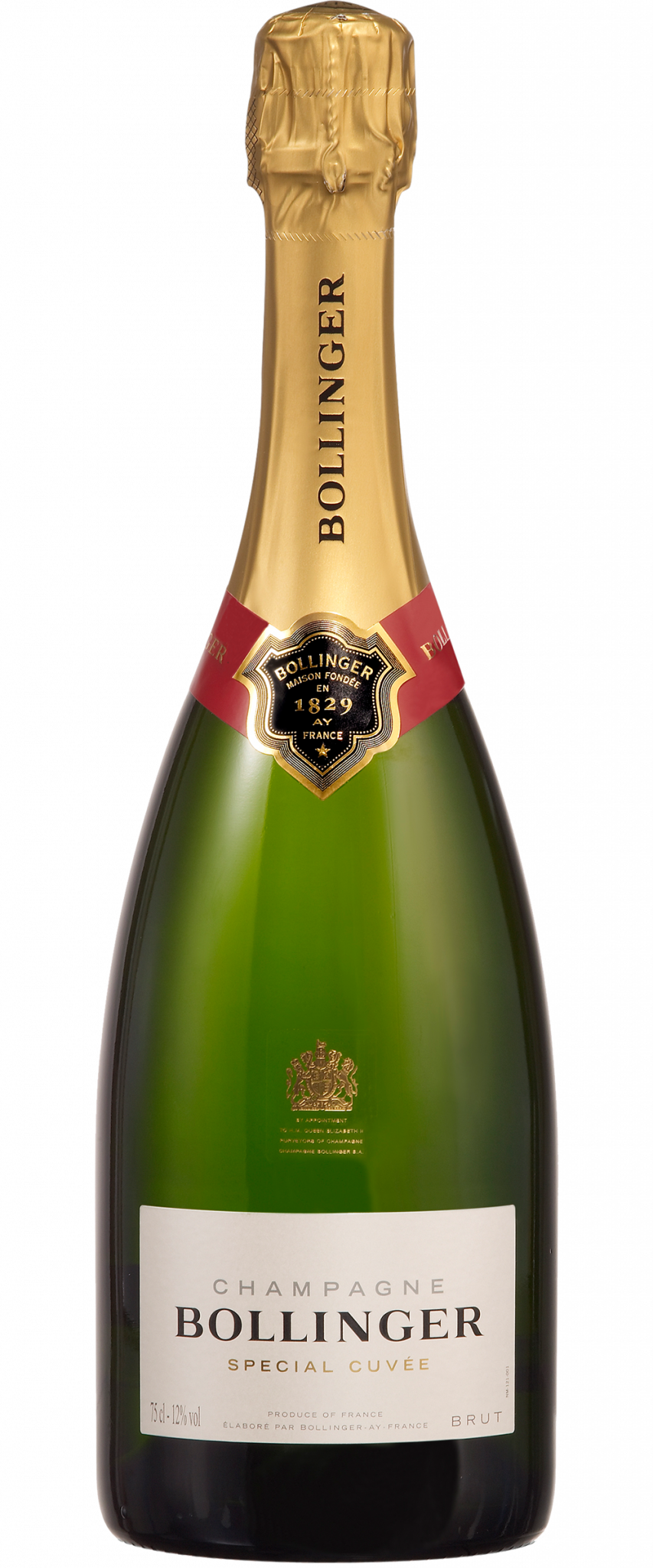 Champagne, France
From vineyard to bottling, Special Cuvée sees such an extraordinary level of care and attention, it is difficult to place within the non-vintage or, really, any Champagne category. It is a Champagne that stands apart.  Within one bottle, all the complexity of flavor, texture and pleasure that Champagne can offer.  Special Cuvée is truly a journey of devotion from Bollinger.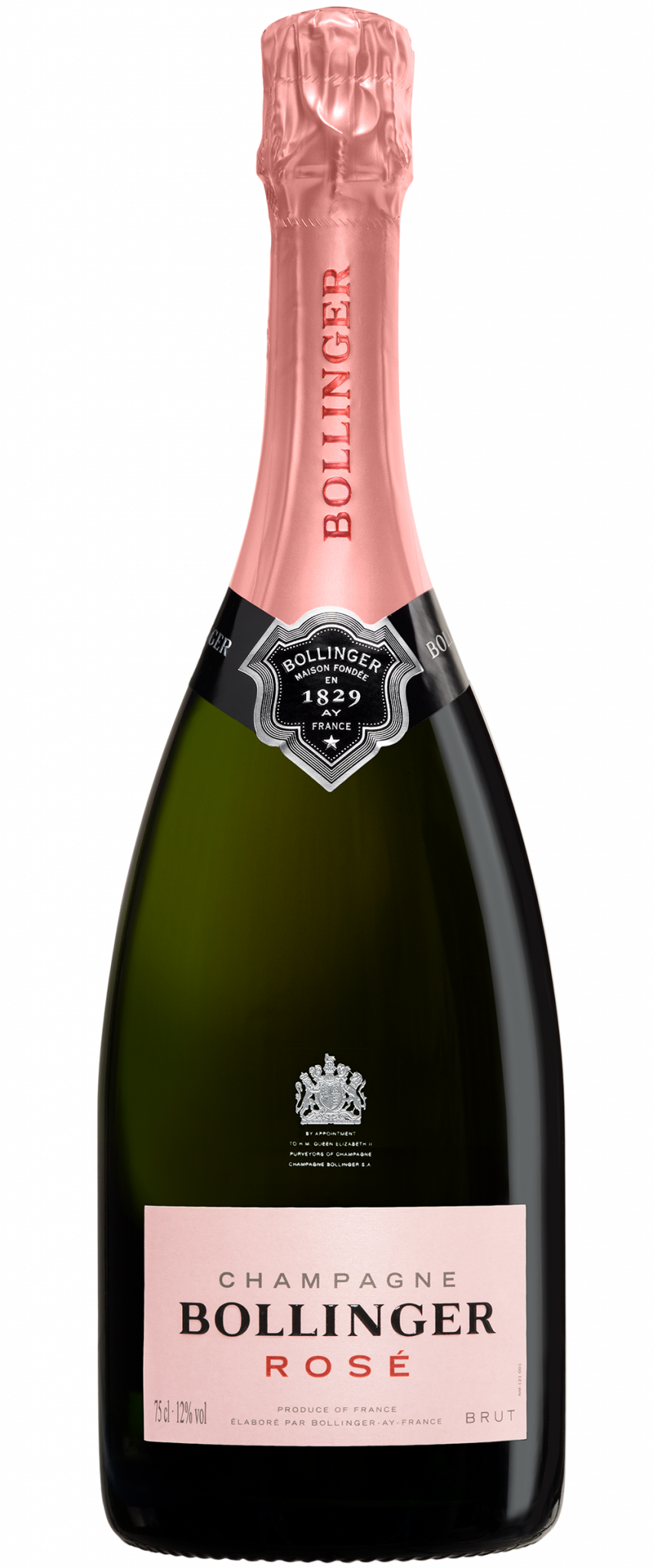 Champagne, France
In the same way that Special Cuvée stands apart from non-vintage Champagnes, Bollinger Rosé is an exception for Rosé Champagnes. What is more, it is a relative secret, as Bollinger did not release a non-vintage Rosé until 2008 and the quantity produced is quite limited. The wine begins as Special Cuvée and then Bollinger's specialty as the Pinot Noir producer in Champagne takes center stage, as the red fruits that join the conversation dance vibrantly, the finish has just a hint of perfectly ripe tannin, and the deep complexity of the wine shines through transparently.
Champagne, France
PN, made entirely from Pinot Noir to underscore the very essence and DNA of the House style, is the first new cuvée added to Bollinger's permanent range since rosé in 2008. Each release of PN, developed as a series to bring Bollinger's unique vision of Pinot Noir to light, will showcase a different cru from the base year that highlights its distinctive terroir and taste.
Champagne, France
A small revolution in the world of Champagne. In 1967, Bollinger releases R.D. 1952.  There is no comparable Champagne on the market at the time. This bold and brilliant Champagne takes the pillars of what makes Champagne Bollinger so unique, and pushes them to their ultimate level. It is, very simply, a masterpiece.

Champagne, France
Vieilles Vignes Françaises is one of Champagne's most mythical cuvees, produced from miraculously preserved and ungrafted 100% Pinot Noir vines. Phylloxera destroyed the vines of Champagne in the early 20th century, but amazingly enough two of Bollinger's classified Grands crus plots, Chaudes Terres and Clos St. Jacques, survived and are still grown the traditional way. Madame Lily Bollinger first had this wine produced in 1969 as an anniversary cuvee to commemorate her 70th birthday. Following the wine's launch in 1974, Vieilles Vignes Françaises promptly became a collectible and a symbol of a bygone era. Over the decades, its uniqueness and scarcity have made it one of the most sought-after and expensive Champagnes.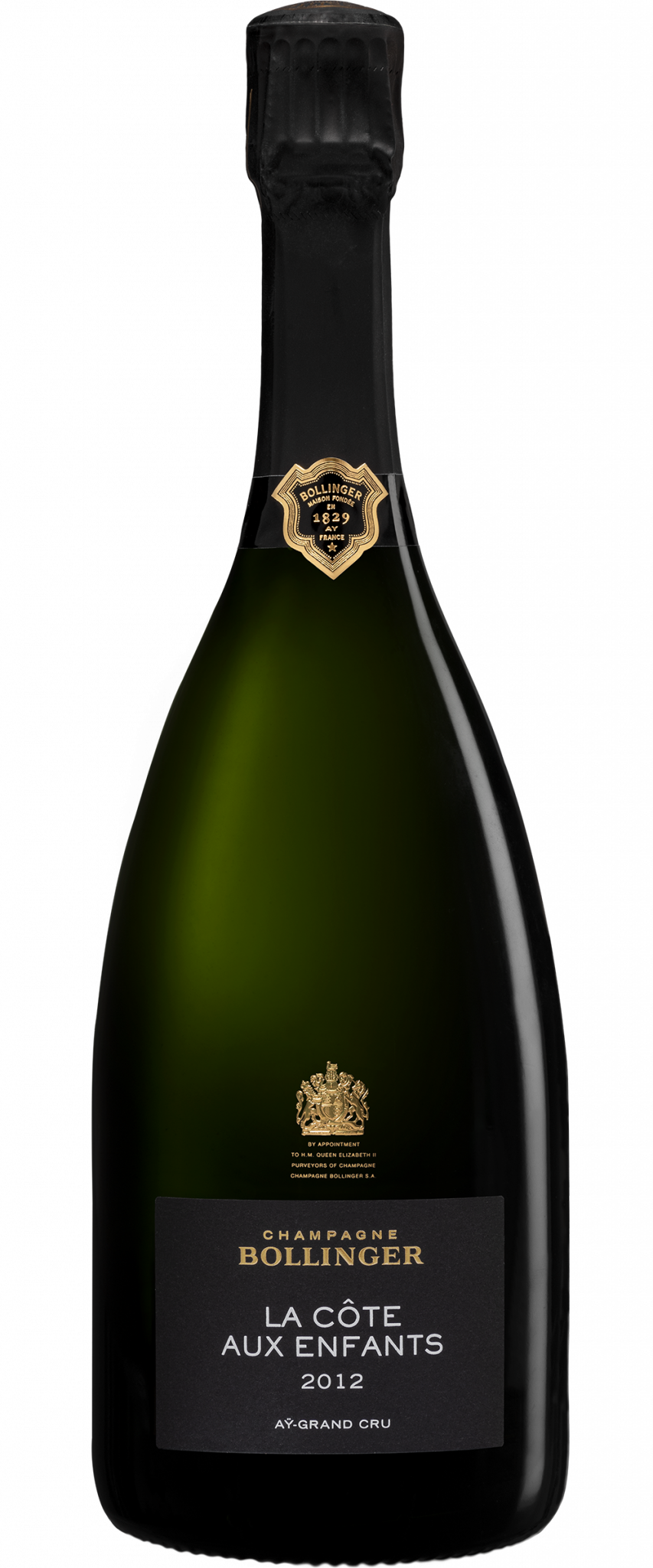 Champagne, France
Established by Jacques Bollinger between 1926 and 1934, La Côte aux Enfants is a steep hillside vineyard located on the outskirts of Aÿ.  This unique parcel has been a source of endless fascination, producing some of the most highly prized Pinot Noir in the region. Aware of its potential, it became Champagne Bollinger's ambition to produce a great vintage Champagne exclusively from this vineyard, with 100% Pinot Noir. The fruit comes from the north-west side of the hill, revealing a particularly refined expression of La Côte aux Enfants vineyard.

Champagne, France
A stunning and extremely rare, still red wine produced only for the greatest vintages. This wine harmoniously combines 100% Pinot Noir Grand Cru fruit from an exceptional vineyard with traditional Burgundian style winemaking. Historically, Pinot Noirs from Aÿ were the most popular wines of the French court, specifically a favorite of King Henri IV, and La Côte aux Enfants comes from a steep plot just outside of the village. This wine is the purest expression of Pinot Noir, offering a fine, delicate texture in the mouth, and a tautness giving it a beautifully long finish.