Far Mountain
Fission Cabernet Sauvignon 2019
Sonoma Valley, Sonoma County, California
Fission is a pure mountain wine, with a dark depth of fruit chiseled by the cool elevation of its two vineyard sites.  A wine of texture, with the intensity and sappy concentration we associate with old vines, it builds into powerful tannins that remain refined, almost cloaked by the seductiveness of the fruit and the gently building structure. The name Fission was ultimately chosen to reference the textural and mineral characteristics that the unique volcanic soil brings to this wine.
Vineyard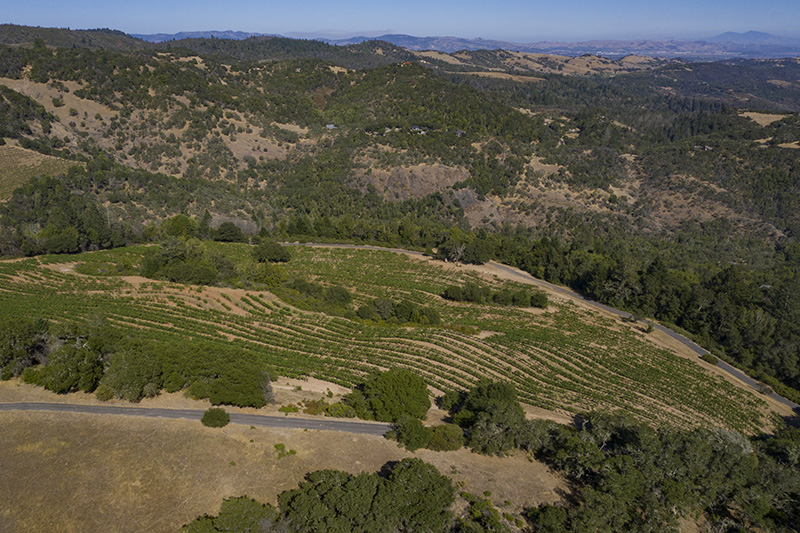 As you leave the town of Sonoma and head north into the hills of the Mayacamas mountain range that separates Sonoma from Napa, within a mile and a half you are on a narrow, rutted road at the bottom of a valley, sparsely populated, and then you start climbing, and find yourself almost entirely surrounded by forest, scrub and rock.
When you close the car door and turn to look up at the Alta Vista vineyard, it's like striding across a stage and looking up at the lights and rising rows of an audience. It feels like you are in an ancient Roman amphitheater, a player on stage, with the terraced row of vines looking down on you.
The vines at Alta Vista are fully adapted, they are truly part of the site. They are old — fifty years old — which is exceptional by California standards. They come from a different era, planted on St. George rootstock (also difficult to find nowadays) but who can argue with the choices made at a time when scientific understanding of viticulture was almost primitive compared to today. Because these vines have still never been irrigated (again, extremely rare in the region), they produce beautiful fruit at twice the age most vines in California have to be replanted. They adapt to the influences of weather, and their deep root systems (20-40 feet down) bringing layers of complexity to the fruit development. The bedrock of volcanic origin contains more than just basalt, it is also made up of a lot of fractured and decomposed granite. The beauty of the mountain factor is very present in the wine, through its structure, its earthiness, chalkiness, mineral and graphite character, and above all a very defined structure.
Winemaking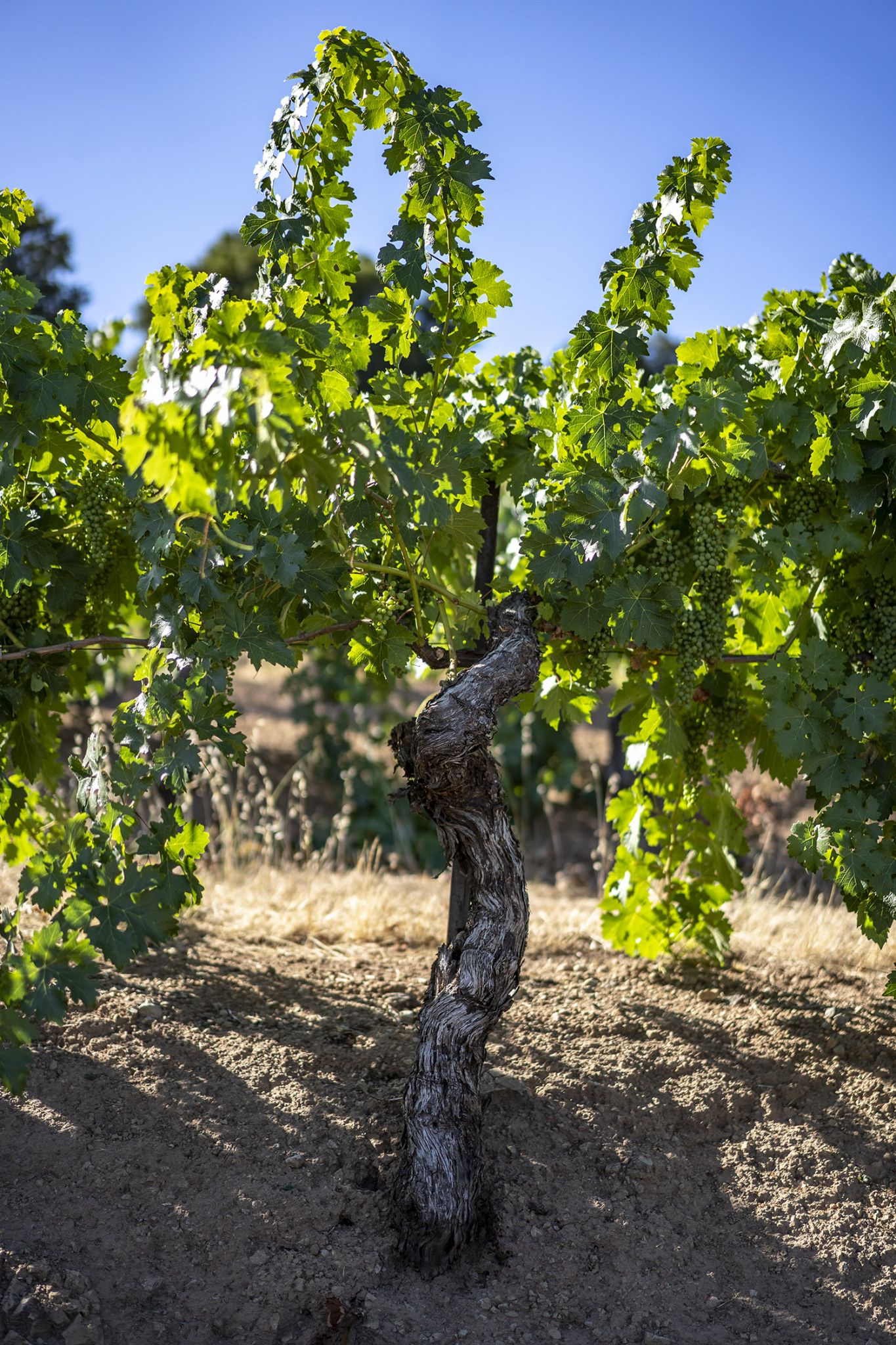 The Cabernet Sauvignon is handled extremely gently, more similarly to the way many producers handle Pinot Noir. Specifically, the clusters are destemmed with the aim of keeping whole berries, and then go into open top fermenters. Limited punchdowns and pumpovers are carried out depending on the stage of fermentation.
The wine essentially settles and macerates, rather than forcing extraction. This approach is entirely dictated by the Alta Visa site. The site has so many expositions, and we believe either has some other varieties (Cabernet Franc) or because of age has Cabernet mutations that behave differently. They want to gently accentuate all these complexities, and the intense fruit and general velvety plushness that the grape tannins show even on the vine don't need further enhancement.
The wine goes to barrels that are 27% new, mainly from two cooperages, and the remainder are 1, 2 and 3 year old barrels. The aging is also restrained, 1 year instead of the 18-24 months you might expect, as they do not want to extract too many oak flavors from the barrels, and believe the details of the site and the structure provided by the elevage need to be maintained rather than overwhelmed. The wine is never racked until final blending before bottling.
The end result is a wine with not only deep and pure fruit, but rich savory and earth tones, and a finishing minerality that is almost saline. That precise and complex aftertaste, defined by far more than fruit flavors, is where you find truly great wines.
Vintage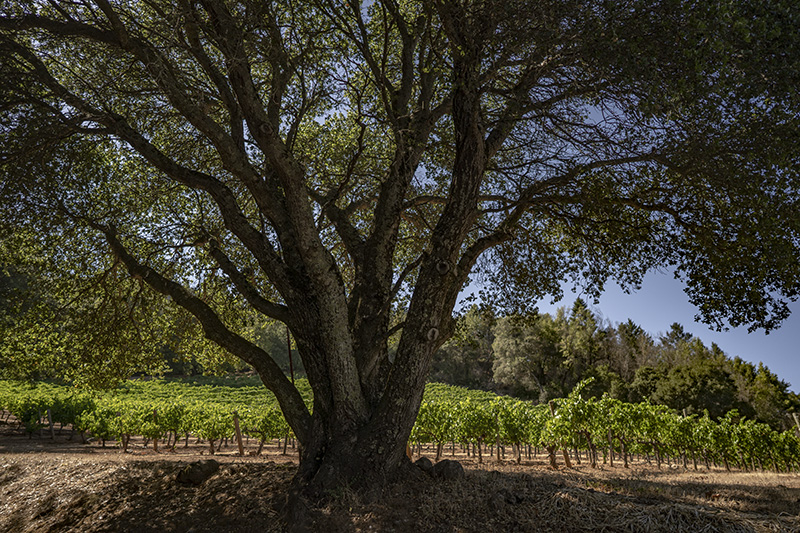 2019 was a spectacular vintage — an amplified version of the 2018 growing season in terms of slow, steady growing conditions, perfect balance in the vines, slow ripening, great concentration and bright acidity. The beauty of these old vines is that because they are so well established, the vines become fully ripe with less accumulation of sugar.
Tasting Note
From the first tastings the character of the vineyard appeared: a beautiful and intense ripeness of black fruits, with a seamless, soft and silky flow through the mid-palate. There is not just fruit, but obvious earthy and mineral characteristics. And it is a wine of texture, with a sappy concentration that we identify with old vines. A build into powerful tannins that remain refined, almost cloaked by the seductiveness of the fruit and the gently building structure. The name Fission was ultimately chosen to reference the textural and mineral characteristics we believe the volcanic soils bring to the wine.
Grape Varieties
Cabernet Sauvignon
Appellation
Sonoma Valley, Sonoma County, California
Farming
The Alta Vista vineyard is Certified Organic, and has been dry-farmed since 1971.

James Suckling - March 18, 2021 "This is a balanced red, showing blackberry and bark with chili and some herbs. It's medium-to full-bodied with nice drinkability and a succulent, flavorful finish. Iodine, pine needles, slate and graphite undertones. Subtle."

Wine Enthusiast - November 22, 2021 "From the Alta Vista Vineyard, this impressive red is earthy in cedar, pencil shaving and dried herb. A violet note highlights the elegant palate, which is restrained in oak and integrated in tannin. The fruit is savory in character, with lasting focus on the finish."
Other Wines by this Producer

Sonoma Valley, Sonoma County, California
Myrna combines Bald Mountain's surprisingly delicate floral notes that move quickly to ripe yellow and more exotic fruits with salty, lime and green fruit-inflected notes from Thornton Vineyard. The sappy texture of the wine makes its presence felt, and this grows into a more defined and powerful structure with layers of spice persisting through the finish.