New Alchemy Distilling
El Dorado, California
New Alchemy Distilling is passionate about bringing new perspectives to classic spirits. Owned and operated by distillers Matt Sweeny and Jason Somerby, both of whom have PhDs, the idea for New Alchemy was conceived in the research laboratory where the two founders first met.  
Matt and Jason combine both artistic and highly technical skill sets to develop new approaches to traditional spirits. The neutral spirit used in the gins and the vodka are distilled in-house from local wine. The botanicals in the gins are hand sorted, weighed, ground and then precisely extracted by vapor-path distillation using a unique still they designed and built. The vodka undergoes a proprietary technique to further purify the spirit until it is bright and crisp. 
Everything made at New Alchemy is an expression of the founders: they taste every new batch, no matter how small, in order to make sure they are proud of every bottle. The New Alchemy Distilling family invites you to Drink Something New®.
Lastly, and perhaps most importantly, New Alchemy Distilling is a family affair. Jason's cousin DJ Boyle, also a scientist, met Matt in a biotech lab and introduced the pair. Matt's wife Kim (a PhD scientist) and Jason's wife Chadra (an ER nurse) both play an active role in the distillery as well.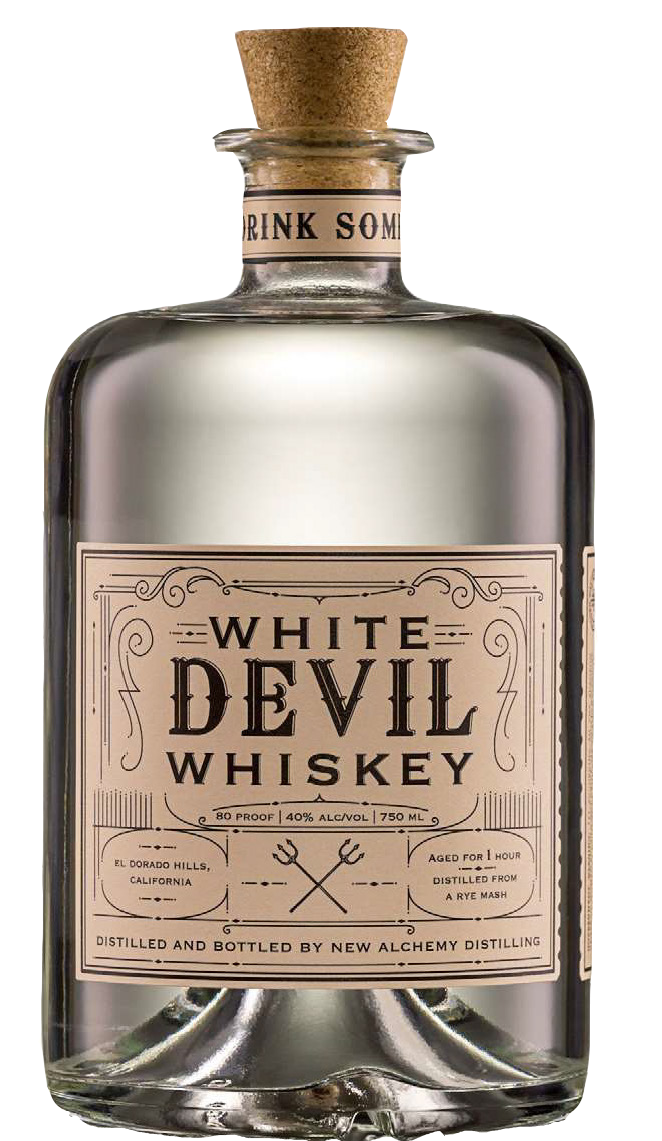 White Devil Whiskey is carefully distilled from rye, but unlike most whiskies, this distillate only briefly touches a barrel. Unburdened by the dominating flavor of oak, this elegant white whiskey allows the characters of grain and yeast to shine through with the bright, spicy notes of rye and a gentle pear essence. White Devil is lovely in a Boulevardier, or enjoyed simply neat with a twist, but also serves well as a tequila blanco substitute in lighter cocktails. This one-of-a-kind whiskey was recognized at the 2018 Craft Distillers Spirits Competition with a silver medal.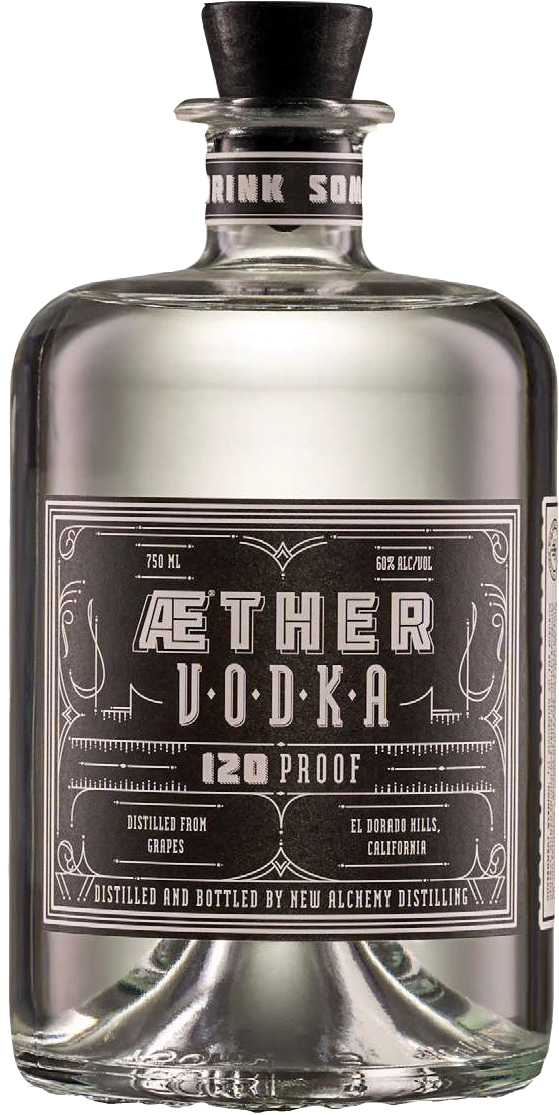 Aether Vodka is distilled from locally sourced wine grapes. The team at New Alchemy worked extensively to develop an exclusive distillation and refinement process that allows this overproof vodka to be as smooth, if not smoother, than the best traditional vodkas. At 120 proof, Aether is ideal for cocktails or infusions, providing a clean, crisp foundation for any variety of flavors, without over diluting. Aether Vodka has notably stood its ground and even bested standard-proof vodkas in competition because of its smooth, polished flavor.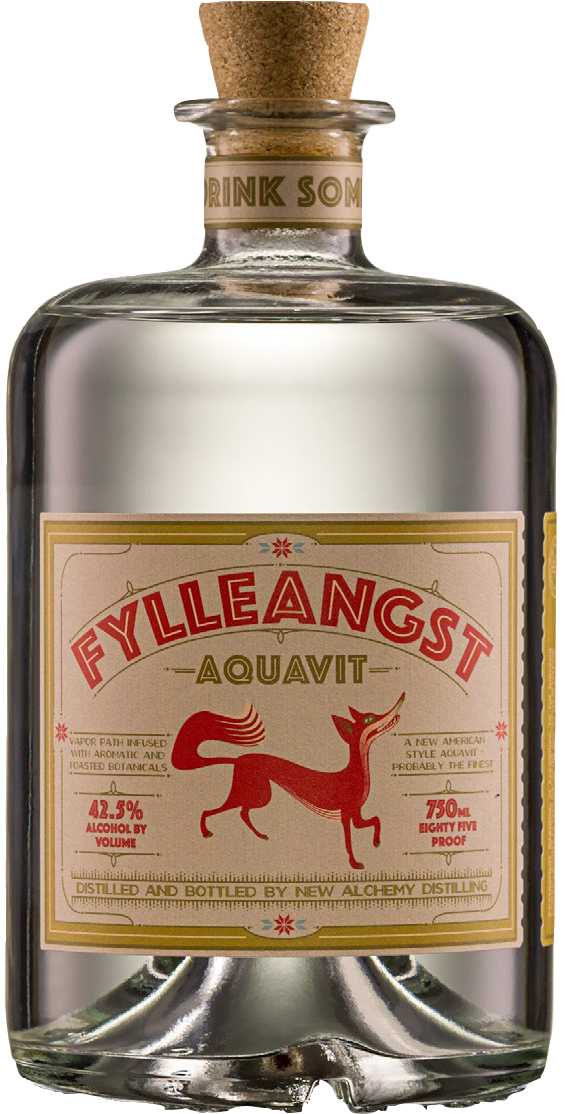 Matt and Jason chose the name Fylleangst for their aquavit as a playful nod to the Scandinavian drinking culture. A word with no true English interpretation, Fylleangst refers to the feeling of concern brought about by reflecting on one's behavior after a night of heavy drinking. Distilled from a base of wheat and malted rice, the pair spent the better part of a year developing a uniquely west coast, savory interpretation of this classic Scandinavian staple. Fylleangst is vapor distilled with toasted caraway, coriander, cumin, anise, fenugreek, summer savory, and lemongrass (to name a few). Like all of our spirits it is carefully made to stand out when enjoyed neat while also carrying enough flavor with it to be mixed in cocktails. As a real Scandinavian might exclaim, our Aquavit may be the finest. And in fact, judges at the 2020 San Francisco World Spirits Competition recognized Fylleangst as Best in Class with a Double Gold medal.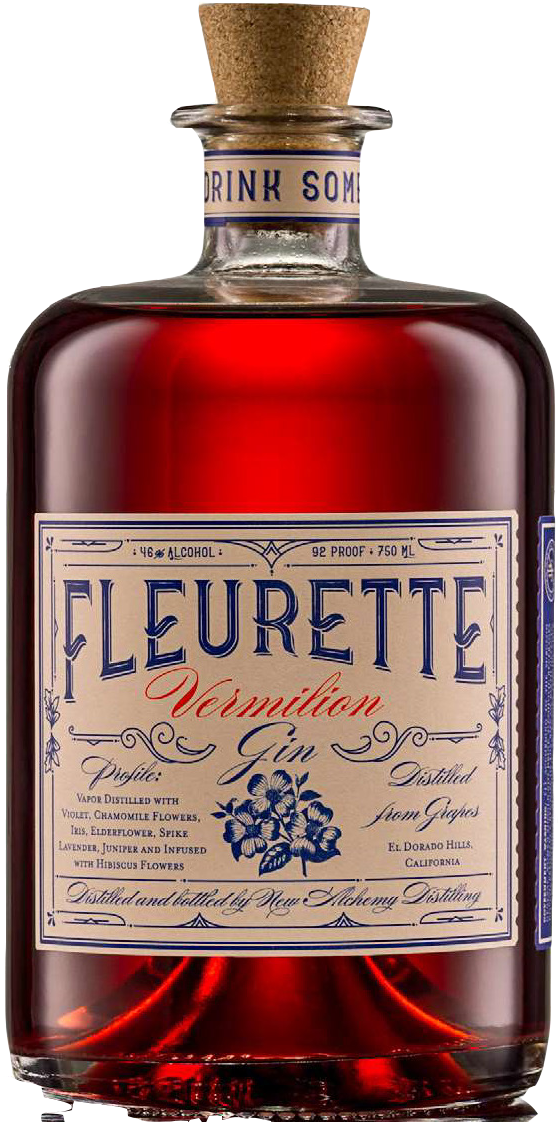 Fleurette Vermilion Gin is a close cousin of Fleurette, vapor-path distilled with flowers and botanicals and then infused with hibiscus petals to add a striking natural color, which brings with it a complex palette of both tart and bitter notes. A touch of rose and honey reinforce the floral notes and sweet aromas of the gin. Due to its intricacy, this exquisite gin can only be produced in very limited batches. This unique spirit earned Best in Class in the 2018 Craft Distillers Spirits Competition.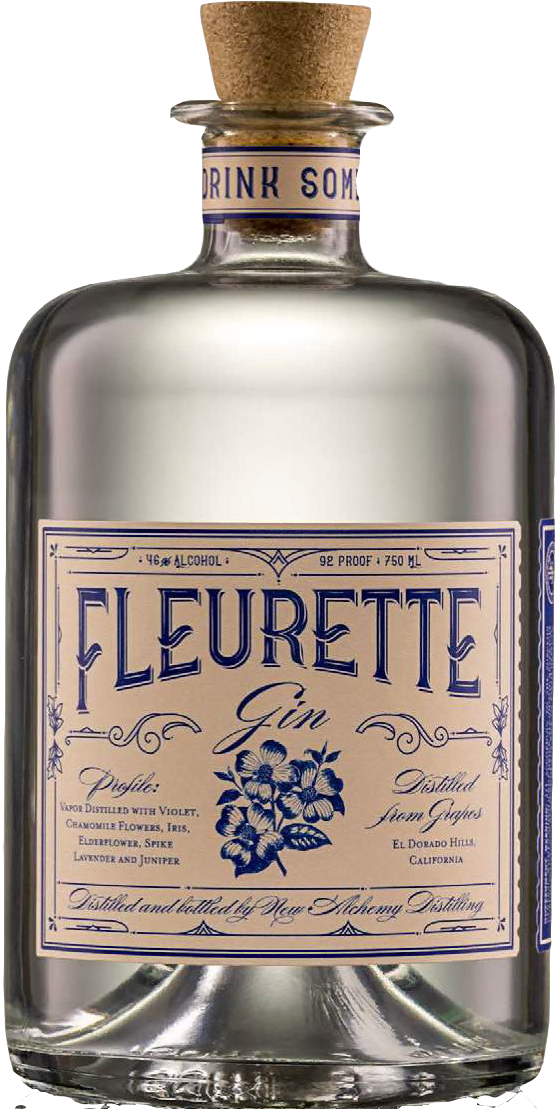 Fleurette is the exploration of floral and citrus qualities in gin. Eleven distinct flowers and other botanicals are blended with the most subtle and fragrant juniper berries. Fleurette is distinctly aromatic, with delicate aromas evoking a sense of sweetness in this dry gin. This gin finds its home in pre-Prohibition cocktails such as the Aviation, the Last Word, or the French 75, although its refined complexity also works on ice as a sipping gin. Fleurette has been recognized in numerous competitions: Gold Medalist, San Francisco World Spirits Competition (2020), Gold Medalist, Craft Distillers Spirits Competition (2018), Silver Medalist, American Distilling Institute (2019), Silver Medalist, Sunset International Spirits Competition (2019) and Bronze Medalist for Excellence in Packaging, American Distilling Institute (2019).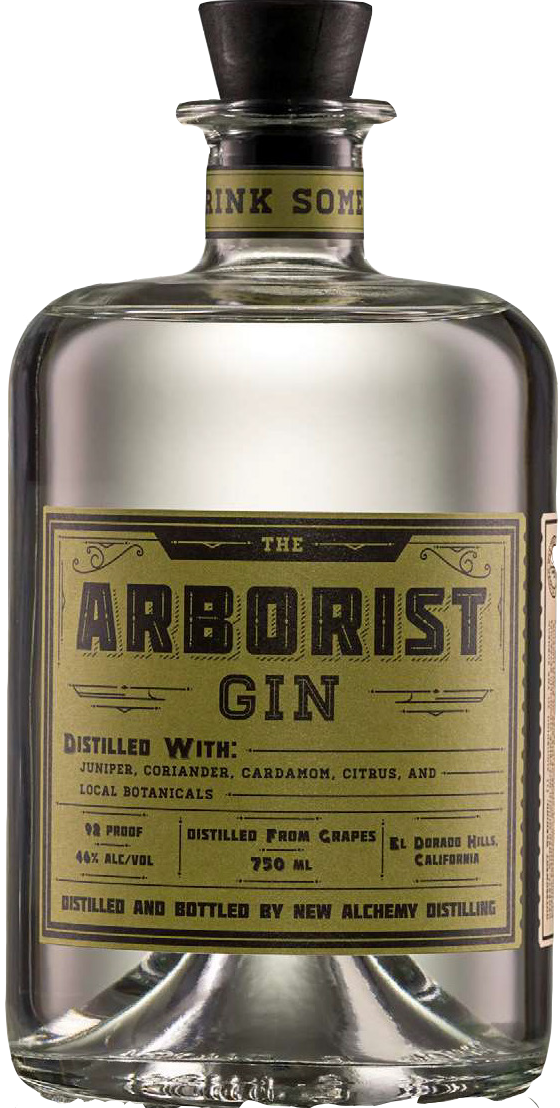 The Arborist Gin is vapor-path distilled to maintain the favorite qualities of traditional gin while exploring the nuances of contemporary tastes. By using fourteen different botanicals, a layered palate with light juniper on top, followed by bright citrus and spice notes, is concluded with a clean, peppery finish. The Arborist Gin's robust profile performs well in strongly-flavored cocktails such as those with tonic or ginger, as well as in lighter drinks and has been recognized as a premier spirit in competition. 
View all Spirits
People
Jason Somerby
Jason Somerby's accomplishments are hard to fathom – especially against the backdrop of a global pandemic. Jason started out in critical care medicine and currently manages the Intensive Care Unit + 4 other departments at Kaiser Permanente in Santa Rosa. Not to be outdone, his wife Chandra is an ER nurse in the same hospital. When co-owners Matt Sweeney and DJ Boyle approached Jason about coming on board, he headed to Sonoma State to get his Wine MBA – the only such program in the nation.
DJ Boyle
DJ Boyle and Matt Sweeney met is a biotech lab (naturally!?!). DJ grew up on his family's winery in the hills above Lake Sonoma, and studied chemistry at UC Davis. There is a strong vinous connection to everything at New Alchemy, from the sources of their distillates (wine grapes in many cases) to the nuance of the final products.
Matt Sweeney
Matt Sweeney worked in viruses and immune response, after earning a PhD at UC Berkeley (another slacker!). His work eventually led him to the lab where he met DJ, as the pair of scientists worked on turning various renewable resources, primarily crop wastes like wheat straw or corn cobs, into fuel ethanol. That process got them interested in making exceptionally pure ethyl alcohol for beverage application – the result can be found at New Alchemy.