Owner and winemaker Ben Glaetzer's work in Langhorne Creek is one of the most exciting stories in Australia today. Ben found and grew excited at older, high quality vineyards he had seen in the cool-climate Langhorne Creek area, Australia's oldest settled wine region, one hour south of Adelaide and southeast of McLaren Vale. With a temperature summation approximately equivalent to Alsace, the best Langhorne Creek vineyards benefit from very cool nights that offset warm days, with temperature swings that can reach nearly 40 degrees within a day. The Heartland Wines from Langhorne Creek display the originality and appeal of the area's regional and varietal characteristics – they are food-friendly, balanced wines offering tremendous value.
The Heartland red wines feature lifted aromatics, a notable savory and spicy profile, soft tannins, and a beautiful texture and structure. They offer highly expressive fruit with precision and elegance. The whites have explosive aromatics and racy citrus, mineral profiles that stand out in comparison to pre-conceived notions of Australian white wines, and are flat out exceptional at their price points. Both reds and whites feature grape varieties uncommonly seen in Australian wines, but perfectly suited to the cool, Langhorne Creek climate. Red varieties include Lagrein from northern Italy, a grape that Ben Glaetzer is especially excited about due to its acid retention and subsequent combination of rich fruit and vibrancy. Dolcetto is another red northern Italian varietal planted at Heartland, which again thrives in the cool climate, developing wines of wonderful brightness and expressiveness. White grapes include Verdelho, Viognier, Semillon and Pinot Gris. These grapes have different fruit character, texture and weight, but all the Heartland whites feature lively aromatics, freshness and zesty spiciness.
Langhorne Creek today is a region that young, dynamic winemakers have discovered and are transforming from a "quiet" appellation of quality wines to one of the upcoming regional stars of Australia. The unique climate and the quality old vines first attracted Ben, and in addition to the Heartland vineyards, Ben works with about two dozen growers that have vineyards ranging from 30 to 140 years of age. The vineyards are on a largely flat plain, sheltered beyond the Mt Lofty ranges. The "Lake Doctor" phenomenon is a cool ocean breeze that comes across Lake Alexandrina every afternoon and moderates temperatures. The Heartland name refers to the region's history as the oldest winegrowing region in Australia. Some of Heartland's growers are also located in neighboring Limestone Coast, which by virtue of its cooler climate and differing, limestone soils, produces wines of finesse and elegance.
People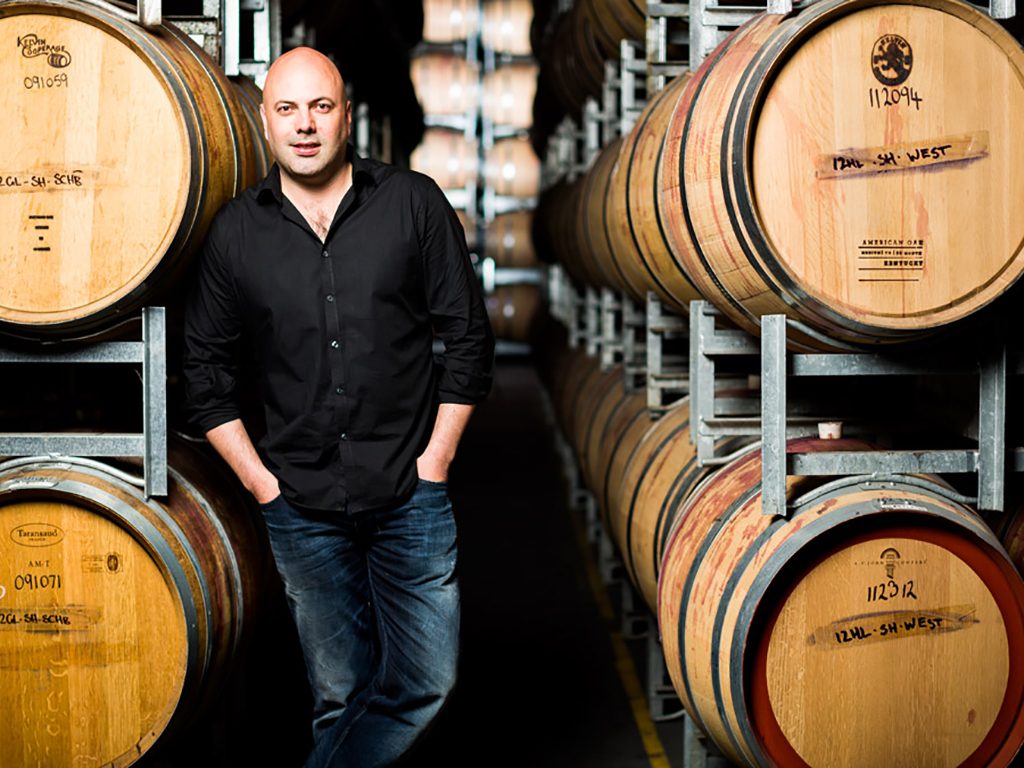 Ben Glaetzer
Ben Glaetzer is part of the well-known Glaetzer family in the Barossa Valley. His father is respected winemaker Colin Glaetzer, and his two brothers are also winemakers. A family with a long history of turning out Australia's best wines. Ben is a compelling personality with an amazing talent.
A Roseworthy graduate, Ben grew up within the wine industry and started his career working as a cellarhand at Barosa Valley Estate and then as Winemaker at Tyrrell's. He has traveled and worked extensively throughout the world's wine region and is now based in the Barossa Valley at Barossa Vintners. Ben is both Director and winemaker for Heartland Wines. Ben is also Business Partner and winemaker of Mitolo Wines and Glaetzer Wines.
Ben has received innumerable accolades from around the world for his winemaking prowess over a number of years. Although Ben is still young by winemaker standards; his list of accomplishments places him among the giants of Australian and international winemaking. In 2004, at the age of 24 Ben was named the Qantas Young Winemaker of the Year. In both 2008 & 2009 Ben was nominated (along with only five other nominees) for The Wine Enthusiast magazine (USA) Winemaker of the Year. In 2005 Ben was inducted as the youngest member ever of the Barons of the Barossa. A special 30 year old faternity of the Barossa Valley in which life membership is by invitation only.
Nick Keukenmeester
Nick Keukenmeester, born in Australia, has been working in the international wine industry for well over a decade. He is an accredited Diploma Level Instructor with the UK's Wine and Spirit Education Trust.
Nick has worked exclusively in the UK and Canada where he acted as the public face for Lifford, a leading independent wine importer that represents an outstanding international portfolio of estates including Joseph Phelps, Diamond Creek, Au Bon Climat, Telmo Rodriguez, Quinta do Noval, Finca Decero, Craggy Range, Frescobaldi, Domaine Weinbach and many more. Nick has extensive media, communications and public speaking experience as well.
Originally from Adelaide, Nick rediscovered his love of South Australia wines and particularly the passion and potential of Langhorne Creek on a visit to the region in 2012 and is be the General Manager for Heartland Wines
Maps