Hamptons Magazine included Château Minuty in a roundup highlighting the best charter boat experiences in the Hamptons. As part of a partnership with Destination Haus, consumers have the opportunity to book a sunset cruise that includes M de Minuty Limited Edition 2021 or Minuty Prestige 2021. The elevated experience on a chic, refurbished boat brings a touch of the Mediterranean to Montauk. As a way to extend the evening, there is an option to dock the boat at La Fin restaurant for a beautiful waterfront dining experience. Read more about it HERE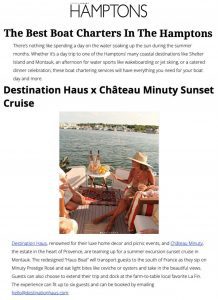 Château Minuty

Côtes de Provence

If you notice just one wine on the beach and seaside restaurants in the south of France, it is almost certainly Minuty Prestige. This wine has become the emblem of the Riviera lifestyle, and it is place that has been earned through the unbelievable dedication to quality by the Minuty family.

Château Minuty

Côtes de Provence

Minuty invites you to savor the essence of the French Riviera with its third M de Minuty Limited Edition bottle. This year's iconic M de Minuty "Bouteille Provencale" breathes new life through the vibrant designs of Barcelona based visual artists Zosen Bandido and Mina Hamada. Illustrating the world of Minuty through the Mediterranean sea, sun and soil, this eye-catching bottle invites you to picture yourself on the beach enjoying all the pleasures of summer.
Côtes de Provence

Château Minuty is the global leader in Côtes de Provence rosé, and beyond that it can be argued is the most important estate in the history of Provence rosé. The Saint-Tropez based, family owned estate has been, since its founding, one of the quality leaders for the region. Minuty then became one of the most visible producers in the second half of the 20th century, a result of quality production and commercial foresight when no one in the region could imagine the global phenomenon Provence rosé would become. And then in the last two decades, Minuty defined the vision for and led the unbelievable growth in Provence rosé around the globe.