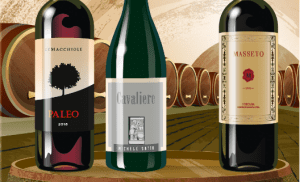 Kerin writes of the iconic wines from the Tuscan coast, Bolgheri.  An area known for "Super Tuscans" which have only been around for about 50 years.
"Ornellaia closely followed in Sassicaia's footsteps. Now a mix of Cabernet Sauvignon, Merlot, Cabernet Franc and Petit Verdot, Ornellaia's 1985 debut vintage was 80% Cabernet Sauvignon, 15% Merlot and 5% Cabernet Franc aged in barriques. The wine's instant success when it was released in 1988 helped cement Bolgheri's burgeoning reputation as a cradle for Bordeaux blends made in Italy."
"Masseto IGT has always broken the rules. Made with Merlot, it flaunts the Bolgheri convention of Cabernet Sauvignon-based blends. One of the greatest Merlots in Italy, Masseto IGT is distinguished by its rich fruit, structure and velvety texture. Masseto, whose name derives from the Italian word massi, meaning large rocks, refers to the hard clods of clay that form the soils in the eponymously named vineyard, owes its existence to Lodovico Antinori, founder of Ornellaia, and André Tchelistcheff, the firm's original consulting enologist.
Masseto, on the other hand, has a terroir unlike any other in Bolgheri, dominated by the presence of blue clay in its soil, which combined with the Merlot grape gives a flamboyant wine that like no other manages to find the balance between concentration, power, elegance and freshness. As wines, they are the opposites, but both of them testify to the greatness of Bolgheri's coastal terroir."
"If you are a Cab Franc devotee, there's an excellent chance you'll love Le Macchiole Paleo Rosso IGT. It even has its own global fan club: Amici del Paleo.
Made entirely with Cabernet Franc, Paleo is named after a wild herb that grows along the Tuscan coast. First released in 1989 as a blend of mostly Cabernet Sauvignon with a small amount of Sangiovese, in 1993, Le Macchiole's founders, Eugenio and Cinzia Merli, decided to add Cabernet Franc into the mix. The wine's destiny took a new turn in 2000, a scorching vintage. To add more fresh acidity and energy, the estate increased the amount of Cabernet Franc to 30% of the blend—with thrilling results.
Since 2001, Paleo Rosso has been 100% Cabernet Franc, risky given the grape's reputation. "Cabernet Franc is often seen as the unfortunate younger brother of Cabernet Sauvignon," says owner Cinzia Merli, "since it's greener, more unrefined, untamable, and difficult to work with. But in Bolgheri, Cabernet Franc is transformed into something different: It's very fruit forward, surprisingly fresh and has soft tannins."
Read the full story HERE.
Ornellaia

Bolgheri DOC Superiore

Ornellaia is the estate's "Grand Vin", with exceptional balance, power, elegance, and great aging potential. It faithfully reflects, in every vintage, its nature, site, and distinctive Mediterranean personality.

Le Macchiole

Toscana IGT

Paleo Rosso has been called Italy's landmark expression of Cabernet Franc. This grape variety is growing internationally as a distinct bottling, but Bolgheri has proven to be the single best place in the world to do so. The Mediterranean climate and surroundings result in a wine of extraordinarily expressive, sensual, and textural fruits and savory spices.
Bolgheri, Italy

Ornellaia has established itself as one of the most iconic producers in Italy (and beyond). The estate is dedicated to producing charming and opulent wines, full of Mediterranean character and finesse, reflecting the estate's unique terroir in Bolgheri on the Tuscan coast.

Bolgheri, Italy

Masseto is one of the world's iconic wines. Coveted by international collectors and fine wine connoisseurs across the globe, Masseto constantly receives the highest accolades from the most prestigious wine critics in the world, and is a fixture in the international fine wine trade indexes.

Bolgheri, Italy

Le Macchiole can best be defined as the "Boutique Bolgheri." The winery is known for its spectacular single-varietal wines, and their signature grape varieties are Syrah, Merlot, and Cabernet Franc and work is always conducted with the priority being "the expression of the land." The winery continues to evolve in both the vineyards and in the cellar to allow the soil characteristics from this estate property to be the defining identity in the wines.