The South Florida Reporter recommended Marietta Cellars Old Vine Red Lot 73 in its Father's Day wine column. The writers encourage readers to pay tribute to a significant father figure in their lives. The piece expands on that by noting it may not be an actual relative, but someone with whom you hold in high esteem or has influenced you in some way.
To that end, the writer notes "we have fond memories of Chris Bilbro, the brilliant winemaker behind Marietta Cellars in Sonoma County. Today, son Scot is leading Marietta; son
Jake bought Limerick Lane winery in 2011. They never lose sight of their father's inspiration." A great bottle to toast to on Father's Day is the Marietta Old Vine Red, which they say they've "tasted this delicious zinfandel-blend for decades. Introduced in 1982, the wine has no particular vintage. Fruity, smooth, light on the tannin, it makes for a great match to barbecued foods. And, it can age." Read the full story HERE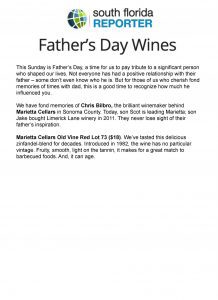 Marietta Cellars

North Coast, California

Marietta's Old Vine Red is a proprietary red wine made to replicate the field blends of the old vineyards in Sonoma and Mendocino counties. A groundbreaking combination of varietals and multiple vintages first produced in 1982, this wine has blazed the path for red blends for decades. With an historic underground following, it is one of the longest lasting and best known red blends produced today. Predominantly comprised of fresh, young Zinfandel, OVR gets its backbone from Petite Sirah with about three years of age in neutral barrel, and its savory component from Syrah with about two years of age in neutral barrel. Occasionally, other varieties like Barbera, Carignan, or Grenache will be blended in to complement the other elements. The goal is always to create an enjoyable table wine made with integrity that combines pure fruit, a supple mouth feel and a rich, solid structure.
Sonoma & Mendocino, California

Starting with only a handful of purchased grapes in 1978, Marietta Cellars has been a standout winery in Sonoma and Mendocino since the very start. Founded by Chris Bilbro, a Sonoma native with winemaking roots dated back three generations, Marietta rose to prominence with its revolutionary Old Vine Red, a California red blend that essentially created the category. The winery has slowly expanded its estate holdings over the past thirty years, evolving into a beacon for high quality, balanced Cabernet Sauvignon, Zinfandel, and Rhône variety blends.