Robb Report highlighted the Champagne Bollinger Special Cuvée 007 Limited Edition leading up to the highly anticipated premiere of No Time To Die.
Writer Todd Plummer notes, "As the official champagne of 007 for over forty years, pretty much any bottle of Bollinger will be good enough to grace Bond's coupes." Continuing, "But this year, the maison has produced a limited-edition package printed with Bond's silhouette alongside his iconic Aston Martin DB5. Inside, the bottle of Special Cuvée is emblazoned with a 007 seal instead of the usual Bollinger emblem. Just remember: it's the martini you should shake, not the bubbly." Read the full story Bollinger HERE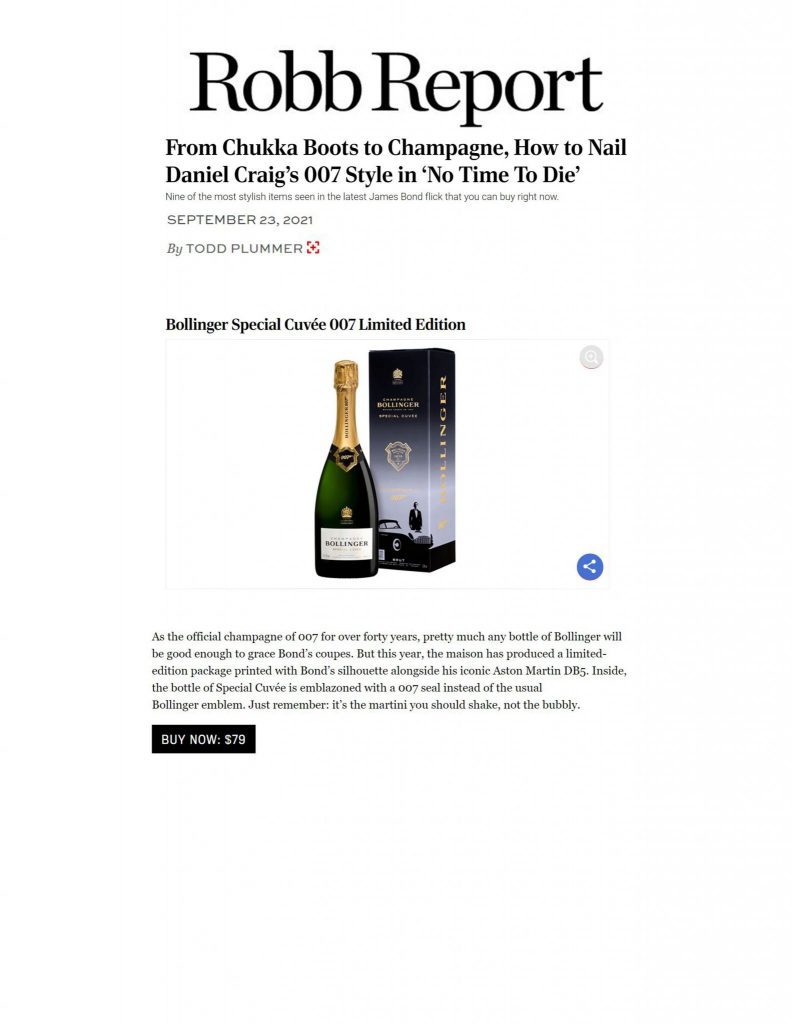 Champagne Bollinger

Champagne, France

From vineyard to bottling, Special Cuvée sees such an extraordinary level of care and attention, it is difficult to place within the non-vintage or, really, any Champagne category. It is a Champagne that stands apart. Within one bottle, all the complexity of flavour, texture and pleasure that Champagne can offer. Special Cuvée is truly a journey of devotion from Bollinger.
Champagne, France

Bollinger is one of the rare Grande Marques that's still family owned. Known for its rich, elegant and polished style of Champagne, their outstanding wines are the result of rigorous attention to detail and incredibly labor-intensive practices that few houses are willing to undertake. Underscoring its excellence, Bollinger has remained British secret agent James Bond's Champagne of choice since 1973.