Beverage Media featured M de Minuty Limited Edition 2020 in the August issue's Wine Buzz column.
The piece shares background on Minuty's collaboration with French artist Madi and her inspiration for this year's limited edition bottle design. Writer Larry Lee shares detailed tasting notes about the classic Provence style rosé, which you can read in full HERE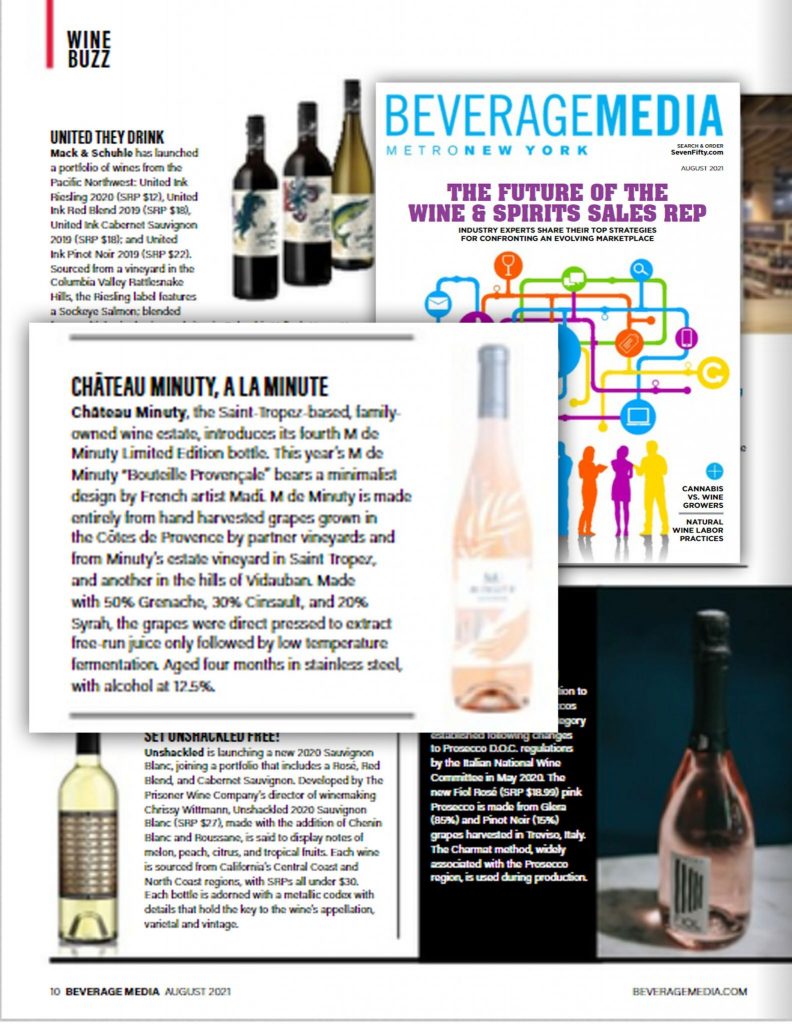 Château Minuty

Côtes de Provence

Minuty invites you to savor the essence of the French Riviera with its fourth M de Minuty Limited Edition bottle. This year's iconic M de Minuty "Bouteille Provençale" breathes new life through the minimalist design of French artist Madi. A departure from the bright, colorful designs of years past, Madi seeks to evoke purity, calmness and comfort in her bottle artwork for the 2020 "M" Limited Edition.
Côtes de Provence

Château Minuty is the global leader in Côtes de Provence rosé, and beyond that it can be argued is the most important estate in the history of Provence rosé. The Saint-Tropez based, family owned estate has been, since its founding, one of the quality leaders for the region. Minuty then became one of the most visible producers in the second half of the 20th century, a result of quality production and commercial foresight when no one in the region could imagine the global phenomenon Provence rosé would become. And then in the last two decades, Minuty defined the vision for and led the unbelievable growth in Provence rosé around the globe.