Medium contributor Tony Bowles included Dog Point Sauvignon Blanc 2019 in a comprehensive roundup of summer essentials covering travel, dining, cocktails and more.
As peak summer season approaches with temperatures nearing triple digits, a refreshing glass of Sauvignon Blanc sounds pretty good. The writer adds, "Dog Point wines are hand-crafted (and handpicked) from estate fruit grown on some of the oldest vines and best sites in Marlborough, New Zealand — some plantings dating back to the 1970s."
Continuing, he says, "Dog Point's focus on soil health through organic farming, use of native yeasts, pruning and a non-interventionist style of winemaking all point to a quality and detail-obsessed producer intimately familiar with its iconic region. In the warmer weeks ahead, enjoy this great wine that is perfect for summer sipping at under $30." Read the full story HERE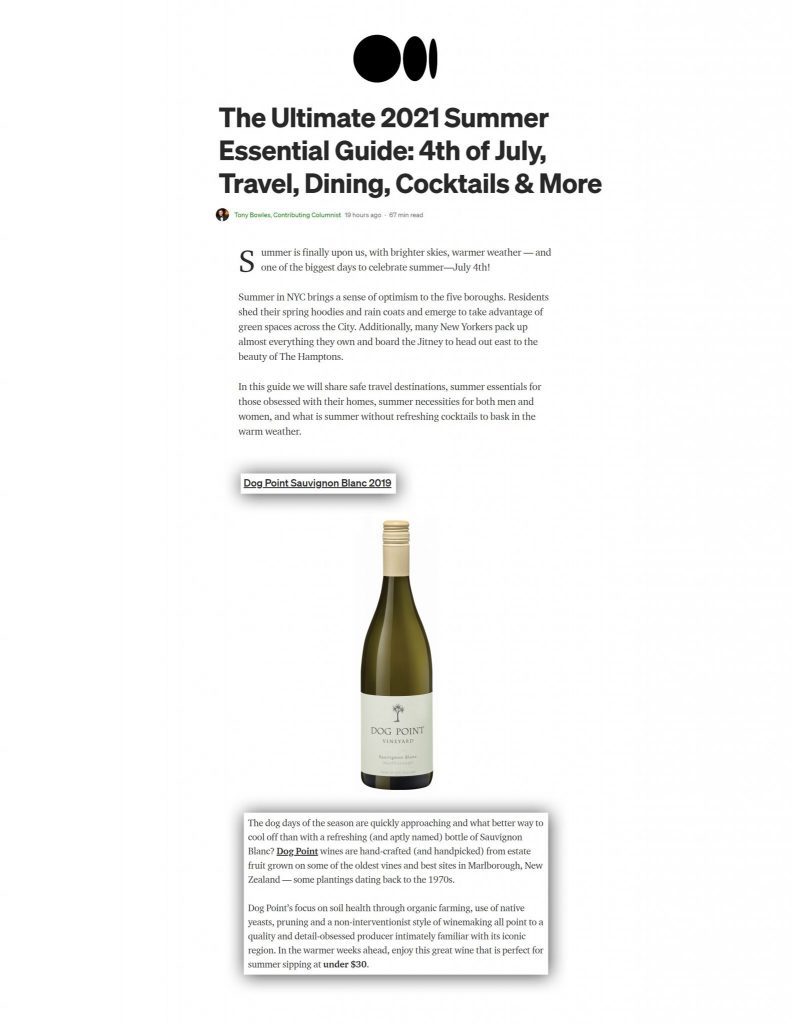 Dog Point Vineyard

Marlborough

Dog Point's Sauvignon Blanc has become the icon in its category, a stainless steel Sauvignon Blanc that pulsates with energy, expressiveness and complexity that push the boundaries of what you may expect from Marlborough Sauvignon Blanc. 
Marlborough, New Zealand

Almost since its inception, Dog Point  has been recognized as among the very top (arguably the very top) wine producers in New Zealand.  Their two very different Sauvignon Blancs, their Pinot Noir, and their Chardonnay are all wines of astounding quality and complexity not just in the context of New Zealand wines, but globally.