Andrew Chalk of The Chalk Report highlighted two wines from Juvé & Camps, the worldwide leader of Gran Reserva Cava, in his latest post.
The Reserva de la Familia 2017 , which has zero dosage added, is described as "highly aromatic with deep, intense and elegant notes. Ripe white fruit flavors are followed by hints of fennel, toast and citrus."
The Brut Rosé Pinot Noir NV, like all of the Juvé wines, comes from hand-harvested fruit and is "intense, fresh and exuberant with aromas of cherries and strawberries, hints of honey, toast, and floral notes. Creamy and delicate on the palate." Read more HERE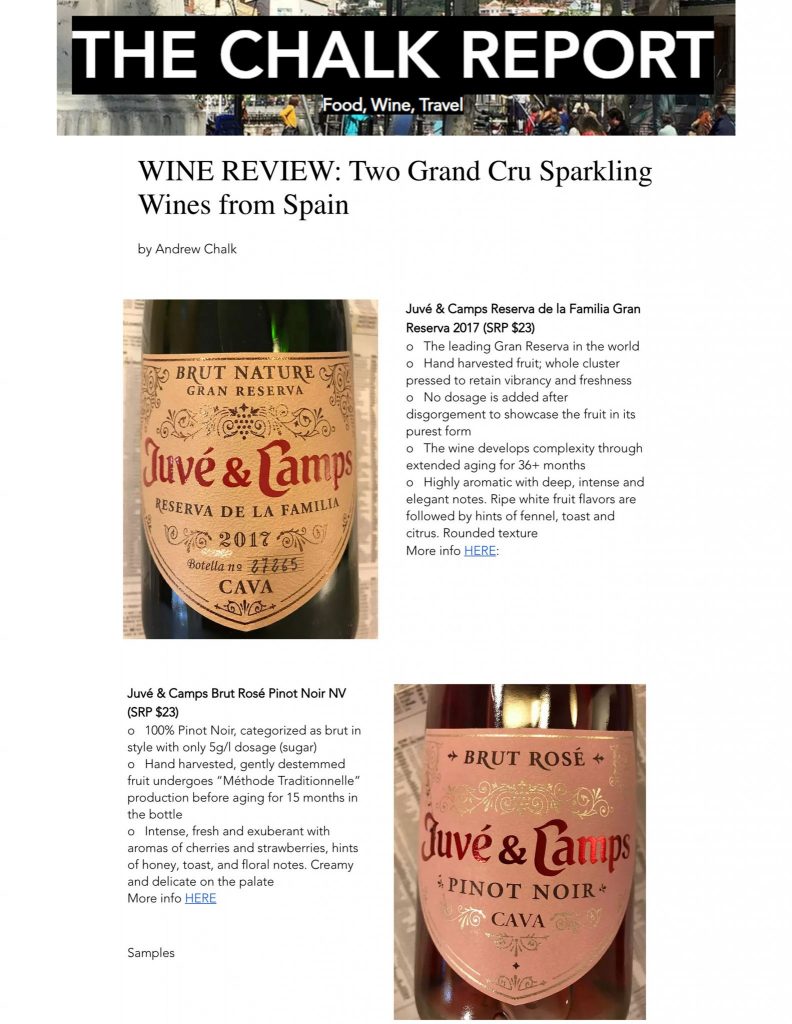 Juvé & Camps

Cava

"Reserva de la Familia" (translating to 'Reserve of the Family') is one of the world's greatest sparkling wines, 100% estate, certified organic, always vintage-dated,  and all the more notable because of the quality needed to produce it without dosage.

Juvé & Camps

Cava

Originally developed for the United States and now as popular as Reserva de la Familia, Juvé & Camps' flagship rosé is made from 100% Pinot Noir. Following the "Méthode Traditionnelle", it is aged for 15 months in the bottle. Categorized as 'Brut' with only 5g/l of dosage, it is intense, fresh and exuberant with aromas of bright red fruits.
Penedès

Juvé & Camps is an indisputable worldwide leader of Spanish premium sparkling wines. This family-owned, 100% estate-based producer is revered in Spain for its painstaking focus on quality and sustainability, and its important role within the country's conversation on fine wine in general. A winegrowing family for over 200 years, in 1921 Juvé started producing the first sparkling wines under their name. They have been pioneers in the viticulture and production of sparkling wines since then. If you have visited Spain, you have seen with your own eyes the prevalence of Juvé & Camps. It is not an exaggeration to call it a national institution.