Terroirist highlighted Gary Farrell Russian River Selection Pinot Noir 2018 and Hallberg Vineyard Pinot Noir 2018 as part of a California new release story.
Awarding it 91 points, the Russian River Selection Pinot Noir is described as having an "inviting nose of cherries, raspberries, McIntosh apples, along with rose petals, rhubarb, white pepper, tobacco and green herbs – there is really a lot going on here!" Continuing, "on the palate, this is fresh with gorgeous acidity, dusty tannins, on point balance. Sour and black cherries, wild raspberry, crunchy red apple peel tones. Notes of rose petal, rhubarb, with mineral and earth undertones. The freshness, spiciness and complexity is delightful."
The Hallberg single vineyard expression received 92 points and has a nose exuding "bright cherries and juicy plums, topped in rose petals, sage, rhubarb and clay." He continues to describe it as "zippy and fresh on the palate, medium-bodied, dusty tannins, this is vibrant and alive with flavors of raspberry, cherry and orange peel. Notes of rhubarb, menthol and white pepper. Perfumed, nuanced, vibrant and fresh, this is pretty young but will open nicely over the next few years." Read the full piece HERE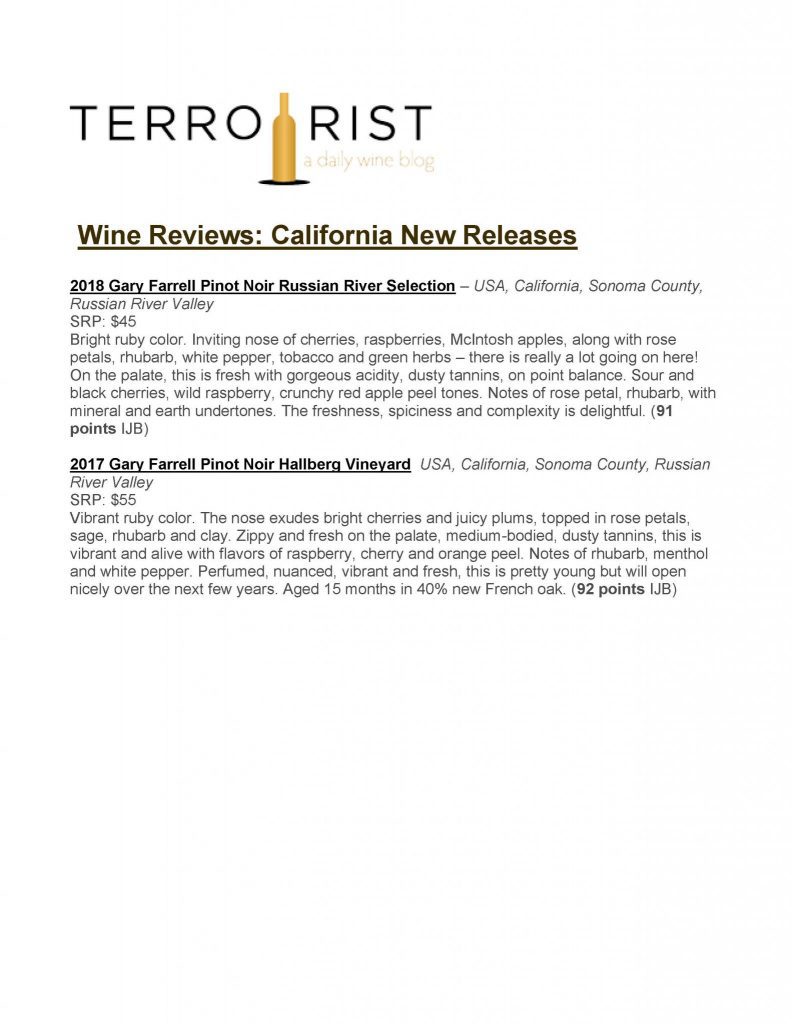 Gary Farrell Winery

Russian River Valley, California

The Russian River Selection bottlings are quintessential Russian River Valley wines blended from some of the region's top vineyards, taking advantage of varied climates and unique site characteristics.  Undoubtedly showcasing a beautiful expression of the varietal and of the appellation's unique terroir, this Pinot Noir blend captures the richness, purity and elegance that are Gary Farrell Winery's trademarks.

Gary Farrell Winery

Russian River Valley, California

Named for its previous owners, the 100-acre Hallberg Vineyard is today owned and managed by wine industry veterans including vineyard manager Kirk Lokka. Nestled in the Green Valley sub-appellation, the site enjoys refreshing daytime breezes and cool nighttime temperatures. The strong marine influence means less severe daily temperature shifts so the vines never completely shut down, producing fruit with deep, dark color, great structure, silky tannins, darker fruit flavors and earthy characteristics. This blend is a composition of many of the best blocks on this cool, foggy vineyard site, which include clones 667, 777, 828, Pommard and a mysterious "suitcase" selection.
Russian River Valley, California

For over 37 years, Gary Farrell Winery has crafted small-lot artisan wines capturing balance and stylistic elegance from some of the finest vineyard sites in the Russian River Valley. In 1985, Winemaker Gary Farrell released his 55 cases of 1982 Rochioli-Allen Pinot Noir to widespread critical acclaim. Since that release, the team at Gary Farrell Winery has consistently focused on rigorous vineyard selection, outstanding grower relationships, and superior quality fruit. For the past 8 years, the current owners have been dedicated to enhancing Gary Farrell's legacy with a single-minded focus on quality.