Wine Enthusiast recommended Paternoster 2016 Don Anselmo in a story highlighting 12 of the most exciting Aglianico grape bottlings from the Vulture region in Basilicata.
The wine, which the publication awarded 93 points, offers "aromas of cherry coulis, pomegranate molasses, anise seed and blood orange carry over to the rich yet deftly balanced palate. There's intense energy to the coiled red-berry flavors, with a mineral zip propelling it along while polished tannins firmly wrap it all up." Read the full write up HERE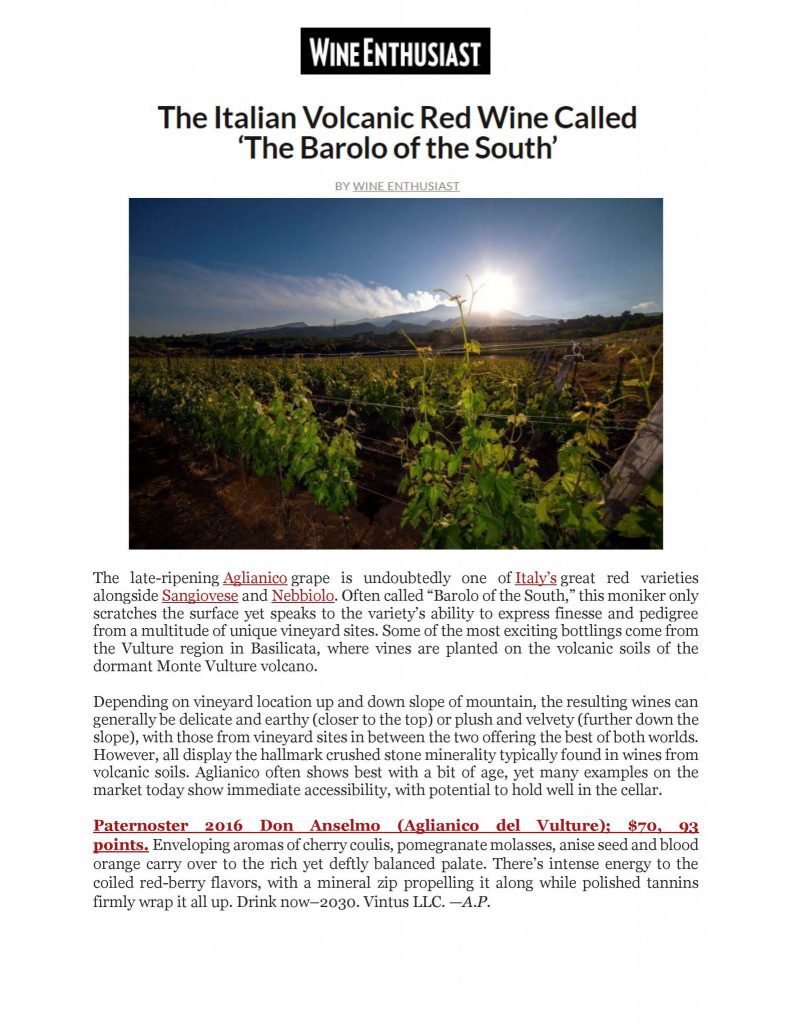 Paternoster

Aglianico del Vulture DOC

Don Anselmo is a landmark wine made from 100% Aglianico grapes, the native varietal in Basilicata for which the region is renowned. It is dedicated to the winery's founder, Anselmo Paternoster, and represents the history, roots, and continued importance of the Paternoster family in the area of production of the wines, Vulture.
Basilicata, Italy

Volcanic wines are currently a hot topic among wine critics and enthusiasts worldwide, and Paternoster is very much of the moment: it is a volcanic wine in the literal sense of the term and stands on an extinct volcano. Paternoster is located in the relatively unknown southern Italian region of Basilicata, on the slopes surrounding Mount Vulture, and has long been considered one of the region's most important wineries.