Bigger Than Your Head selected Champagne Ayala Rosé Majeur as a wine to pour on Valentine's Day (and prioritize over traditional red roses!). The recommendation offers historical background on the estate and the breakdown of the blend before sharing tasting notes.
"With its striking medium pink-peach hue and its fountain of tiny glinting bubbles, this Champagne embodies elegance and finesse, even Romanticism; notes of strawberries and red currants unfurl hints of quince and candied ginger, rose petals and hibiscus tea; brisk acidity runs through a texture that's half folded silk and half scintillating limestone minerality, inextricably balanced and integrated; the finish is crystalline, sleek and lithe. 12 percent alcohol. Irresistible." Read the full write up HERE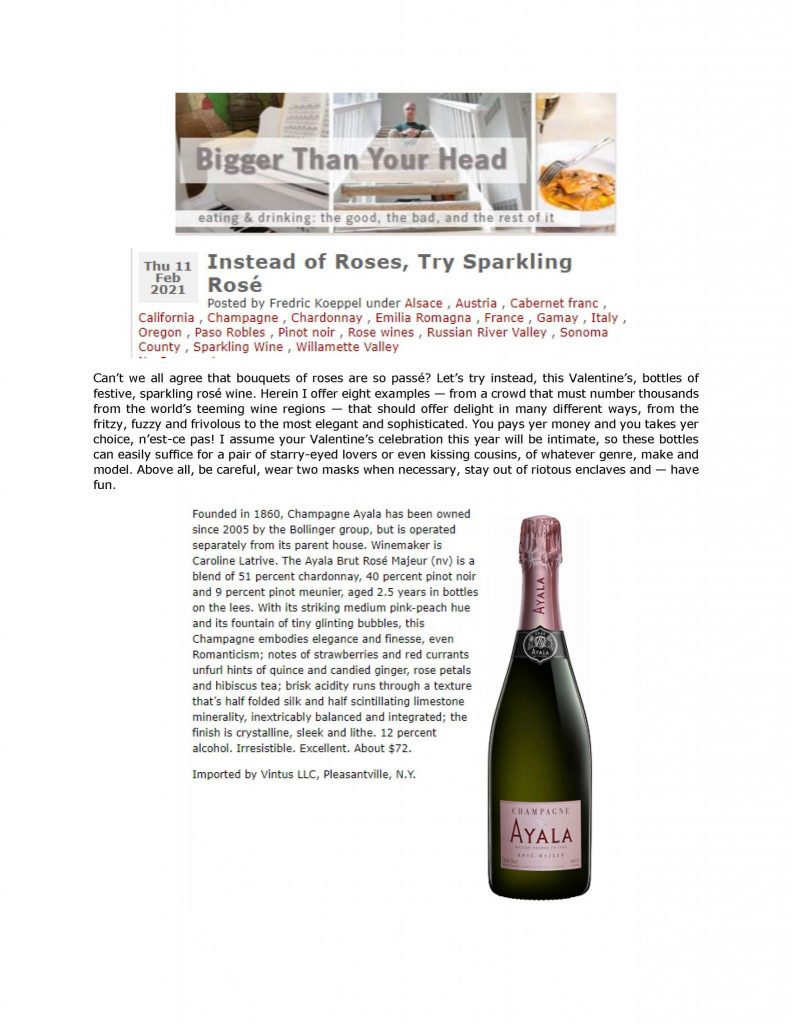 Champagne Ayala

Champagne, France

Rosé Majeur is the perfect embodiment of the originality and finesse of the House's wines. Made predominantly from Chardonnay, it is crafted with the addition of a small proportion of still Pinot Noir from the best crus of the Montagne de Reims. A low dosage enables it to express the House style, both feminine and generous, with great elegance.
Champagne, France

Ayala is one of the most exciting stories in Champagne today, almost the definition of a boutique Champagne producer. Independently owned, a small, young and dynamic team handles every step of production from grape reception to labeling in their jewel of a facility with incredible precision, crafting Chardonnay-focused wines that deliver immense pleasure, freshness, and elegance.