Forbes and Avenue Magazine have offered New Yorkers some Valentine's Day weekend dining inspiration, sharing recommendations for romance-worthy delivery and takeout options from beloved restaurants. Both publications included The Polo Bar's dinner for two experience, which includes a half bottle of Champagne Bollinger Rosé NV.
 The menu has everything needed for a night of culinary delight, and romance with the addition of flowers and Bollinger! See the full menu details on Forbes HERE or by reading on Avenue HERE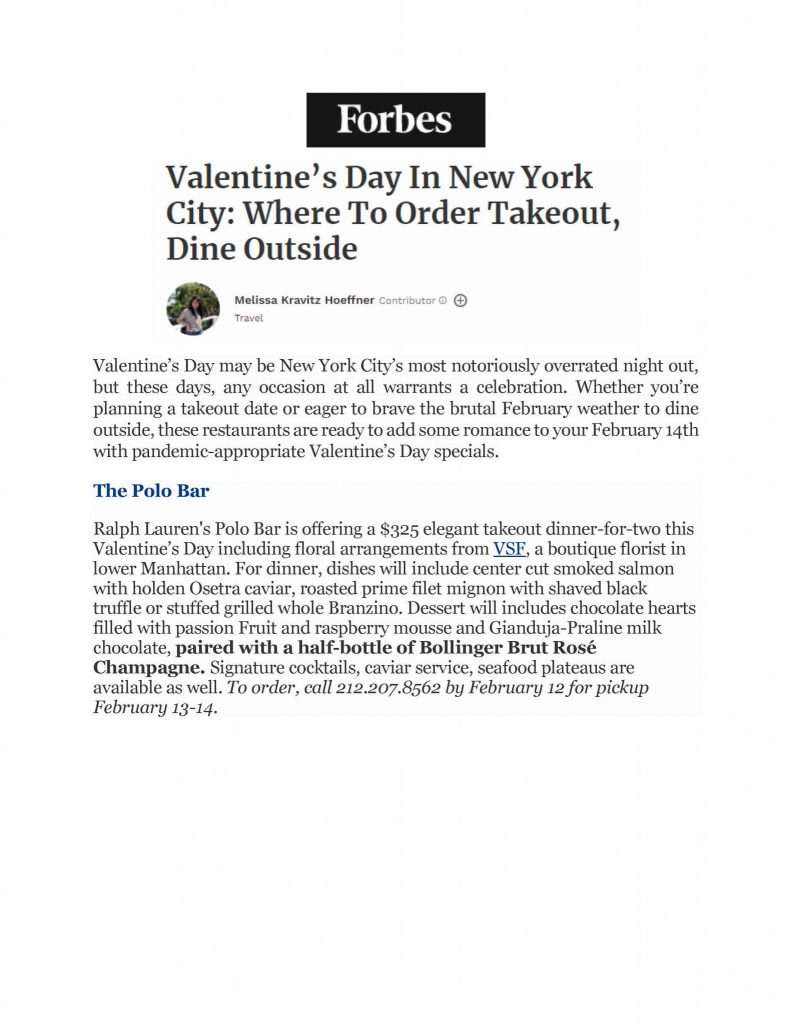 Champagne Bollinger

Champagne, France

In the same way that Special Cuvée stands apart from non-vintage Champagnes, Bollinger Rosé is an exception for Rosé Champagnes. What is more, it is a relative secret, as Bollinger did not release a non-vintage Rosé until 2008 and the quantity produced is quite limited. The wine begins as Special Cuvée and then Bollinger's specialty as the Pinot Noir producer in Champagne takes center stage, as the red fruits that join the conversation dance vibrantly, the finish has just a hint of perfectly repeat tannin, and the deep complexity of the wine shines through transparently.
Champagne, France

Bollinger is one of the rare Grande Marques that's still family owned. Known for its rich, elegant and polished style of Champagne, their outstanding wines are the result of rigorous attention to detail and incredibly labor-intensive practices that few houses are willing to undertake. Underscoring its excellence, Bollinger has remained British secret agent James Bond's Champagne of choice since 1973.