Town & Country selected Chateau Montelena Napa Valley Chardonnay 2017 and Tenuta Luce Lucente 2018 in the publication's annual list of Valentine's Day wine recommendations.
Writers Lauren Hubbard and Sam Dangremond reason, "what better to celebrate a romance for the history books than the chardonnay that put Napa Valley on the map?" They add that the Montelena Napa Valley Chardonnay is "filled with the flavors of ripe core fruit and a whiff of floral, its creaminess would be a lovely foil to Valentine's confections."
Master Sommelier Andrea Robinson weighs in on the Tenuta Luce Lucente blend of the classic Tuscan grape Sangiovese with Merlot. She says, "this wine is Italian amore in a glass—lusty with red berry, savory spice and red licorice notes."
This story can be read in full HERE, as well as in Redbook Magazine HERE.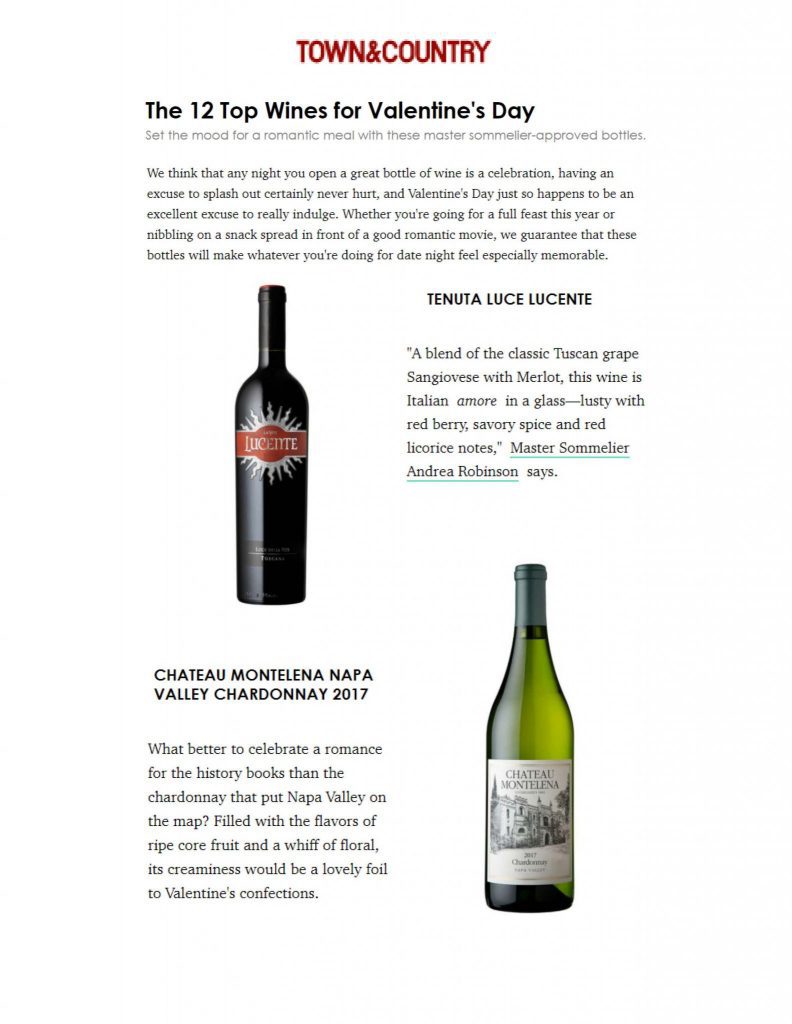 Tenuta Luce

Toscana IGT

Lucente is the second wine of Luce, a wine with contemporary style, immediate and great pleasure, and like its elder sibling, an authentic interpretation of Montalcino and the Luce estate.

Chateau Montelena

Napa Valley, California

A true icon. The Napa Valley Chardonnay is the wine that put Chateau Montelena and Napa Valley at the forefront of the wine world in 1976, in what is now memorialized as "The Judgment of Paris." To great disbelief, the Chateau Montelena Napa Valley Chardonnay was the top-ranking wine against four white Burgundies and five other California Chardonnays. And as they say, the rest is history.
Montalcino, Tuscany, Italy

Today, Luce goes so much further than was originally envisioned when started as a project over 20 years ago. The estate now has some of the most exceptional vineyards in Montalcino and, as of 2018, a state of the art winery to nurture every step of the winemaking process. The original vision, however, remains the same: to produce a bold and ambitious Super Tuscan that reflects the culture of Montalcino.

Calistoga, Napa Valley, California

In 1976 Chateau Montelena put California at the forefront of the wine world. That year a who's-who of the French wine establishment gathered in Paris for a blind tasting of French and American wines. When the scores were tallied, the top-ranking white wine was Chateau Montelena's 1973 Chardonnay. Montelena today continues to be a quality benchmark in Napa Valley, producing some of the finest Cabernet and Chardonnay in California.