The Drinks Business reported on the news that Champagne Bollinger has appointed  Gaël Chaunut as its new head cooper. Importantly, the piece reiterates that Bollinger remains the only property in the region with an in-house cooper. It will be Chaunut's responsibility to maintain and repair Bollinger's 4,000+ barrels.
Chaunut, who produces his own tools of the trade, earned his cooperage qualification with the Campagnons du Devoir before training for several months under his predecessor at Bollinger. "I am particularly delighted to be joining this wonderful House for which vinification in wood has always been one of the fundamental pillars when it comes to taste," said Chaunut.
The story explains that "Bollinger is one of the few houses in Champagne that still uses wood extensively in its vinification process, though only for wines from its grands and premiers crus parcels." Continuing, the piece adds, "those wines aged in wood are used to make all of Bollinger's vintage and non-vintage cuvées and to replenish the magnums of reserve wines."
Read additional details HERE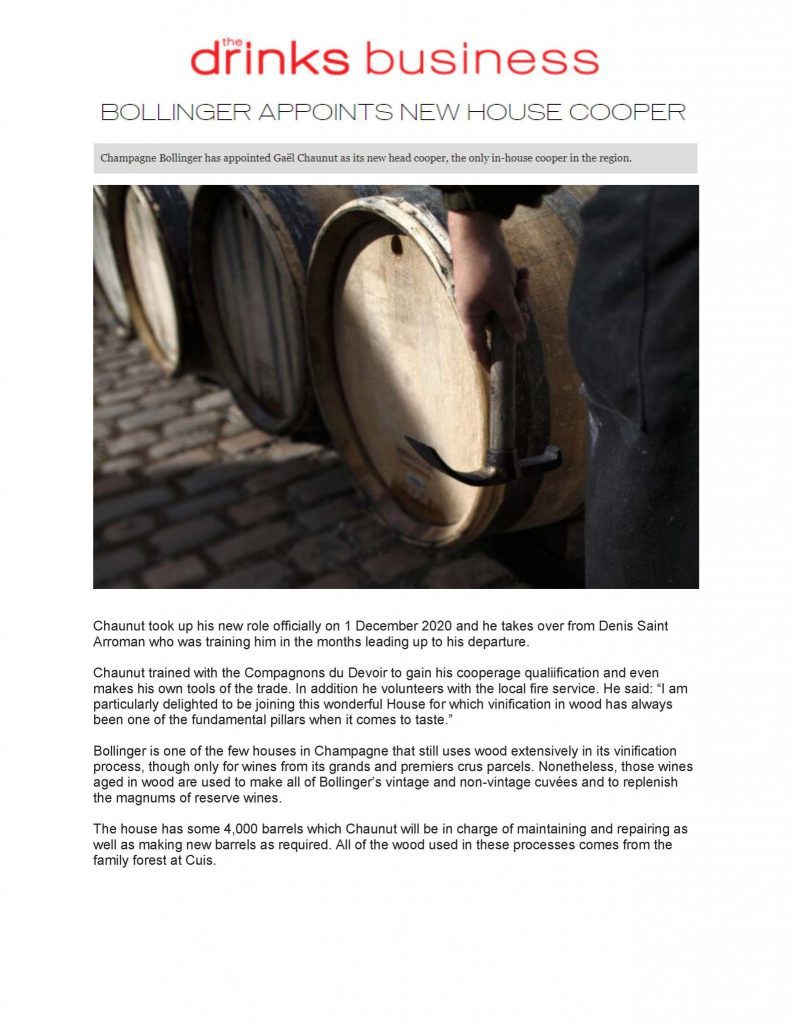 Champagne, France

Bollinger is one of the rare Grande Marques that's still family owned. Known for its rich, elegant and polished style of Champagne, their outstanding wines are the result of rigorous attention to detail and incredibly labor-intensive practices that few houses are willing to undertake. Underscoring its excellence, Bollinger has remained British secret agent James Bond's Champagne of choice since 1973.