The Spruce Eats' contributor Celine Bossart shared a list of her favorite rosé champagnes for different occasions, including Champagne Ayala Rosé Majeur as the best option to pair with a meal.
Bossart leads by stating that "Ayala Brut Rosé Majeur NV is another excellent chardonnay-dominant brut rosé Champagne that you won't want to miss out on." She confirms you can't go wrong drinking Ayala on its own, describing it as "a treat," before adding that "this wine practically begs to be paired with food." Totally in light with the elegant style of the House, she says "its freshness, acidity, creaminess, and subtle spice make it possible to enjoy with dishes like roasted lamb chop, barbecued ribs, or a funky blue cheese." Read the full story HERE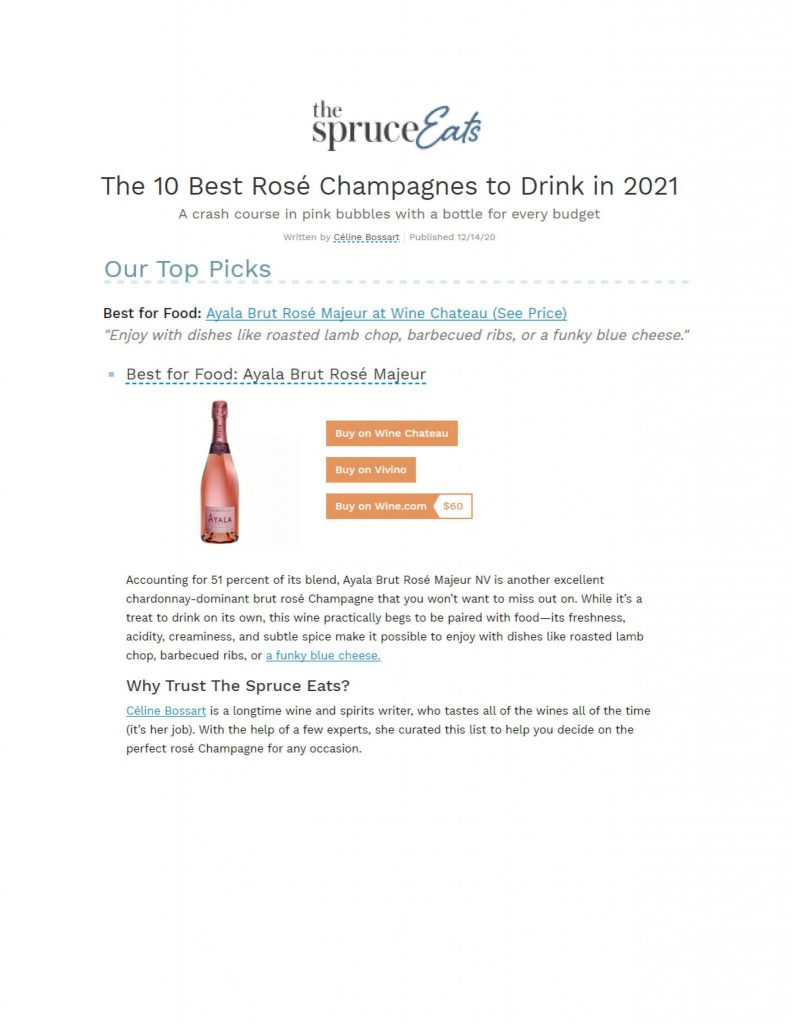 Champagne Ayala

Champagne, France

Rosé Majeur is the perfect embodiment of the originality and finesse of the House's wines. Made predominantly from Chardonnay, it is crafted with the addition of a small proportion of still Pinot Noir from the best crus of the Montagne de Reims. A low dosage enables it to express the House style, both feminine and generous, with great elegance.
Champagne, France

Ayala is one of the most exciting stories in Champagne today, almost the definition of a boutique Champagne producer. Independently owned, a small, young and dynamic team handles every step of production from grape reception to labeling in their jewel of a facility with incredible precision, crafting Chardonnay-focused wines that deliver immense pleasure, freshness, and elegance.