Vindulge published a roundup of writer Mary Cressler's favorite sparkling wines and champagnes tasted in 2020, including Champagne Ayala Brut Majeur and Rosé Majeur.
The robust piece provides readers with a robust, yet approachably presented overview of the various styles of sparkling wine and the regions from which they are produced.
The two Ayala wines are featured as two excellent value champagnes. In addition to outlining the blend breakdown, Cressler shares tasting notes for Brut Majeur including "apple, wild cherry, citrus, and honey, with a touch of toast mix together to create a lovely and elegant experience for the drinker." Similarly, she describes Rosé Majeur as "a very pretty rosé with a mix of floral and fruity flavors (strawberries, raspberries, dark cherries), with elegance, freshness, and power on the palate. Loved it."
Read the full story HERE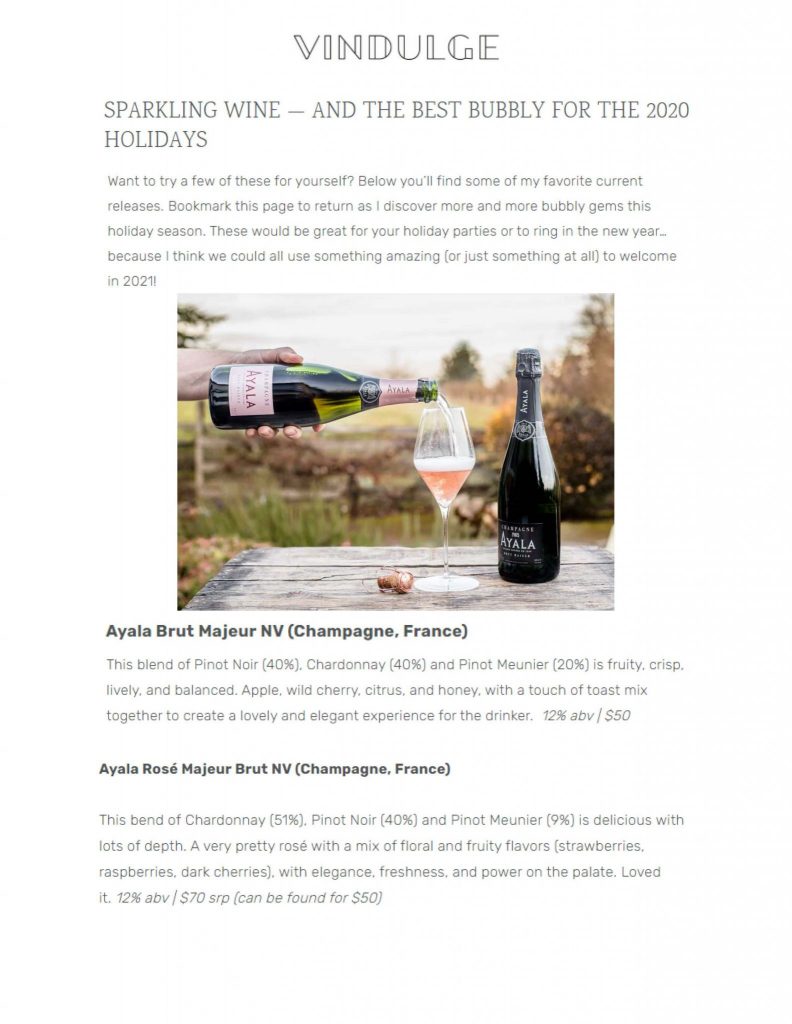 Champagne Ayala

Champagne, France

Brut Majeur is the epitome of a non-vintage brut from a great, historic House and is the finest ambassador for the House's freshness and elegance. A blend of Chardonnay, Pinot Noir and Pinot Meunier grapes, coupled with extended aging in Ayala's cellars and a low dosage, make this wine suitable for any occasion.

Champagne Ayala

Champagne, France

Rosé Majeur is the perfect embodiment of the originality and finesse of the House's wines. Made predominantly from Chardonnay, it is crafted with the addition of a small proportion of still Pinot Noir from the best crus of the Montagne de Reims. A low dosage enables it to express the House style, both feminine and generous, with great elegance.
Champagne, France

Ayala is one of the most exciting stories in Champagne today, almost the definition of a boutique Champagne producer. Independently owned, a small, young and dynamic team handles every step of production from grape reception to labeling in their jewel of a facility with incredible precision, crafting Chardonnay-focused wines that deliver immense pleasure, freshness, and elegance.