Forbes contributor Katie Kelly Bell selected Masciarelli Marina Cvetic ISKRA 2015 as one of the six best wines to enjoy with chili this winter.
Winemaker Marina Cvetic hails from Croatia and ISKRA means spark in her native language, to which the writers adds that this wine "certainly shows some energy." Describing the wine in greater detail, we learn "the wine has a richly woven core of black cherry and jam notes; it's densely fruity but well-structured with polished tannins." Read the full piece HERE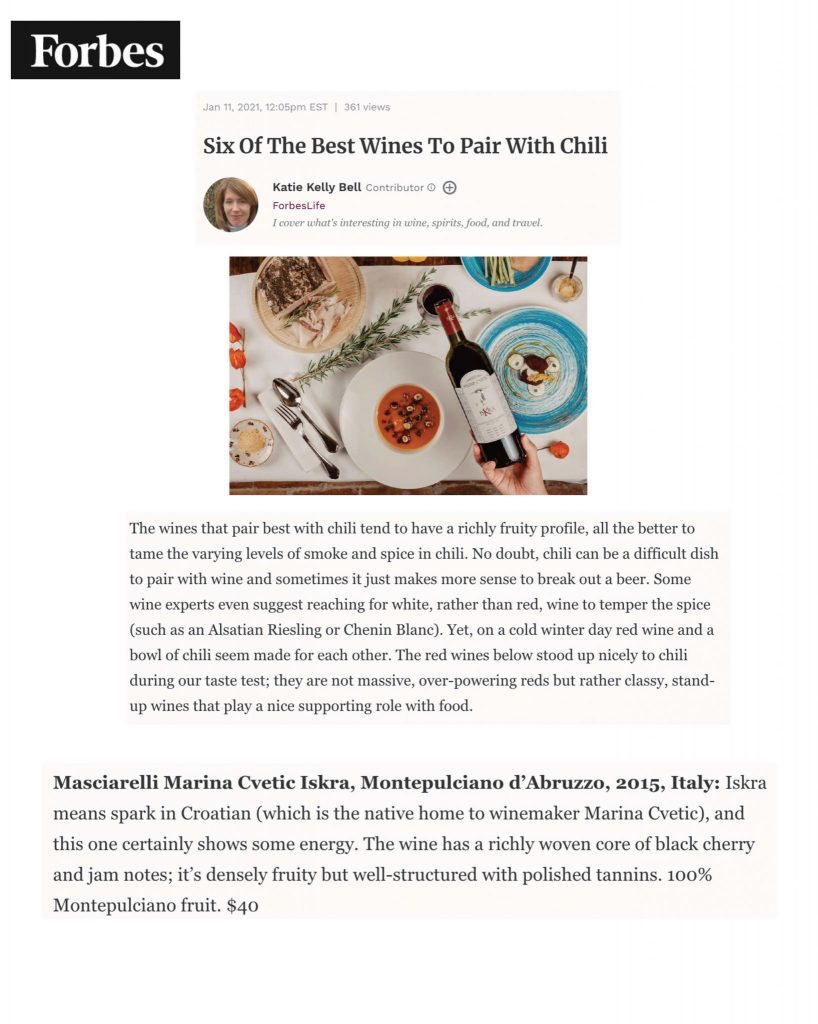 Masciarelli

Montepulciano d'Abruzzo Colline Teramane DOCG

ISKRA is the Serbian word for "spark," and Gianni Masciarelli dedicated this wine to his wife, Marina Cvetic, who is from Serbia. It is among the Marina Cvetic line of wines, which Gianni created for his wife. Made from a single-vineyard cru of Montepulciano d'Abruzzo, ISKRA is a wine of extraordinary distinction and depth.
Abruzzo, Italy

Through tremendous vision and endless innovation, Masciarelli has not only become one of the most admired wineries in Italy, but is often regarded as the standard-bearer of the Abruzzo region. Led by the mother-daughter team of Marina Cvetić and Miriam Lee Masciarelli, the winery is the only one in Abruzzo to own land in all four provinces and produce wine from 100% estate-owned vineyards.