https://www.foodandwine.com/news/wine-tariffs-take-effect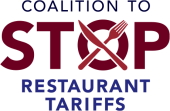 Fond of Bordeaux? Big fan of Côtes du Rhône? You might want to stock up. New tariffs announced on New Year's Eve by U.S. Trade Representative Robert Lighthizer are likely to drive up prices for many of your favorite French wines.
The new round of tariffs take effect today, January 12. An earlier round of 25% tariffs announced in October 2019, part of an ongoing dispute about government subsidies for airplane manufacturers, affected wines under 14% alcohol from France, Spain and Germany. The new round extends those 25% tariffs to wines from France and Germany that are over 14% alcohol (Spain dodged the bullet this time), as well as those in packaging larger than two liters.
Alex Michas at Vintus Wines says, "We've worked with our producers to mitigate the earlier increases, but that means we make less money selling these wines. And that just compounds the issues that everyone is facing this year—we lost 40 percent of our restaurant business in 2020, and that was actually better than I expected."
For an example of how regular wine buyers might be affected by the new round of tariffs, he points to Guigal Crozes-Hermitage, a Rhône red that is one of the more popular wines in the Vintus portfolio. "Before the tariffs, that wine would be about $25. Now, it's $33 to $34."
TAKE ACTION NOW! IT'S EASIER THEN EVER TO WRITE YOUR CONGRESSPERSON AND STOP THIS FIASCO!
>>> stoprestauranttariffs.org <<<