Bloomberg wine columnist Elin McCoy selected Sandrone Le Vigne 2016 as one of her top 10 favorite wines of the year, a major accolade considering she tasted more than 2100 bottles.
A self-proclaimed Barolo devotee, she says that she's always on the hunt for memorable years, like 2016, "that remind wine lovers why they should collect these age-worthy Italian reds." Continuing, "Sandrone le Vigne, with its vivid core of cedar, cherry, and spice flavors, surpassed the dozens of other terrific options from 2016 that I sipped at an in-depth Barolo event in February. It's a profound vino serioso that lingers on your palate. Luckily, the prices aren't yet at Burgundy's level, but collectors are beginning to dive in." Read the full story HERE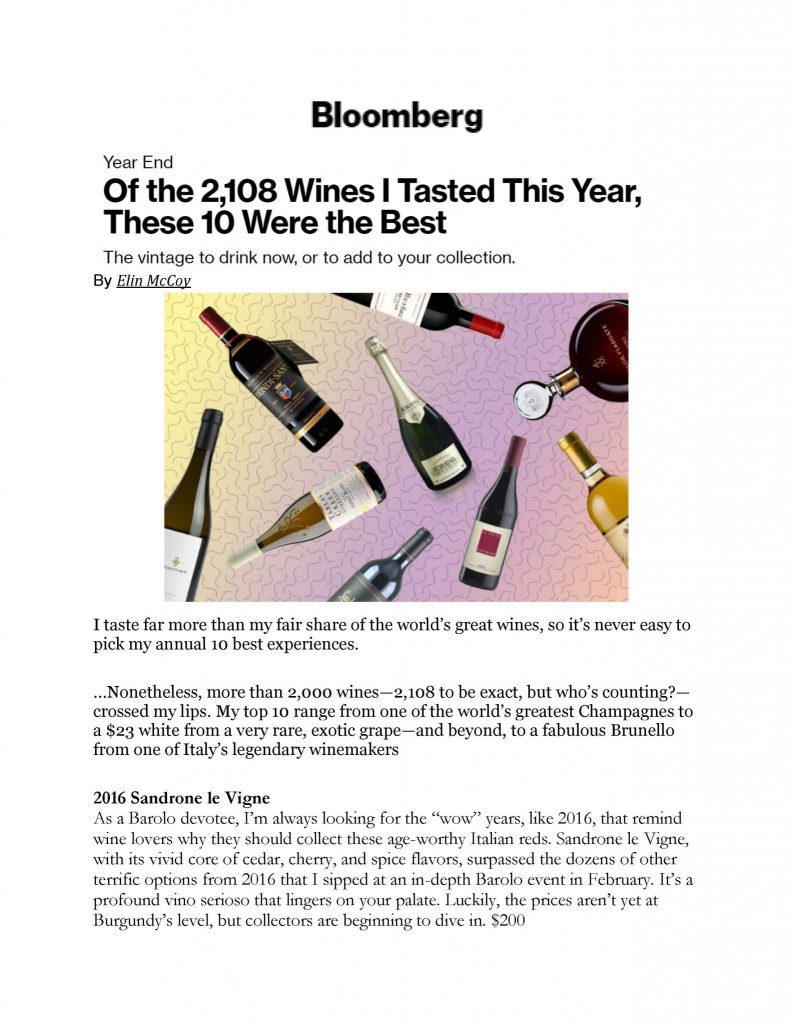 Sandrone

Barolo

Le Vigne is a wine created from four different Nebbiolo vineyards, each of which brings its own contribution. This union generates an exceptionally complex wine that is round and harmonious on the palate, with fruity and spicy notes, and this approach of blending together plots is in fact the traditional one in Barolo.
Piedmont, Italy

The late Luciano Sandrone was an iconic figure in Barolo, with an extraordinary story of determination. In the bottle, Sandrone's wines straddle the modern and traditional styles of the region: elegant, attractive and easy to appreciate right from their first years in bottle, but with no less power and structure over time than traditional Barolos.