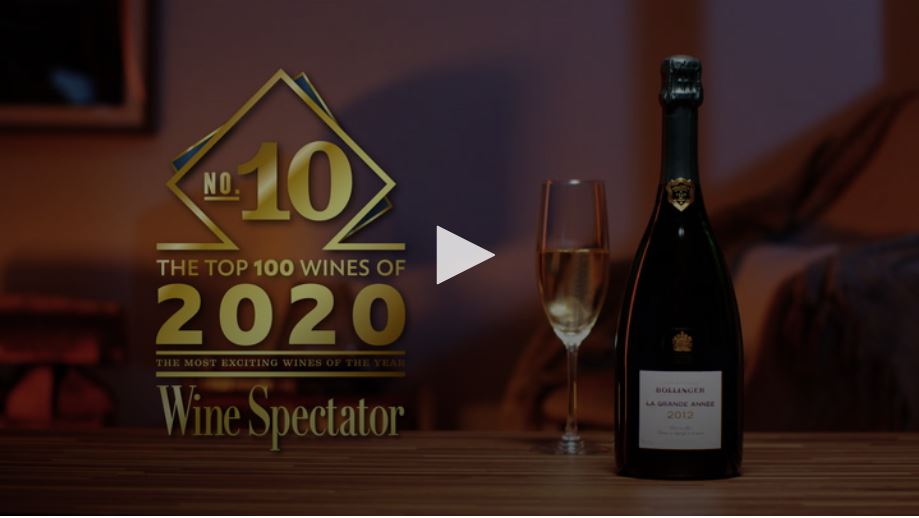 Leading up to their December 15 issue, Wine Spectator has revealed the first "Top 10" wine in their "Top 100 Wines of 2020" feature. We are thrilled to report that Bollinger La Grande Année 2012 has clinched the #10 spot, accompanied by a "Highly Recommended" designation by Champagne reviewer Alison Napjus. All this, of course, is complimented by a whopping 97 point score to be published in this month's issue:
"This goes from zero to 60 right out of the gate, with an intense spine of acidity driving tightly meshed flavors of crushed black currant, ground coffee, candied grapefruit peel and toasted almond. The profile expands on the palate, carried by the fine, raw silk–like mousse. Richly aromatic and expressive from start to lasting, spiced finish." – Alison Napjus
Wine Spectator will continue to announce two wines in their "Top 10" lineup each day this week, concluding with their "Wine of the Year" reveal on Friday, December 11.
Champagne Bollinger

Champagne, France

La Grande Année: The Great Year. This Champagne is the embodiment of everything that makes Bollinger the producer that stands apart in Champagne. La Grande Année, or LGA, preserves the traditions of the past and symbolizes the word "hand-crafted" so strongly that an overused word suddenly becomes the only appropriate definition.
Champagne, France

Bollinger is one of the rare Grande Marques that's still family owned. Known for its rich, elegant and polished style of Champagne, their outstanding wines are the result of rigorous attention to detail and incredibly labor-intensive practices that few houses are willing to undertake. Underscoring its excellence, Bollinger has remained British secret agent James Bond's Champagne of choice since 1973.