WTOP selected Guigal Cotes du Rhone Blanc 2018 as a great white wine to enjoy this winter. Writer Scott Greenberg explains the characteristics that he looks for in a winter wine are "relatively straightforward. It's really all about structure, structure, structure."
He says he often favors Rhone varietals, which is why the Guigal Cotes du Rhone Blanc tops his list. "This solid white wine is a blend of Grenache Blanc, Viognier, Marsanne, and Roussanne."
Continuing, "It is intensely fruity, rich and elegantly balanced and packed with delicious stone fruit characteristics (think ripe peach and nectarine), orange marmalade, honeysuckle and white flowers. It is capped off with a dollop of white peach on the soft finish." Read the full story HERE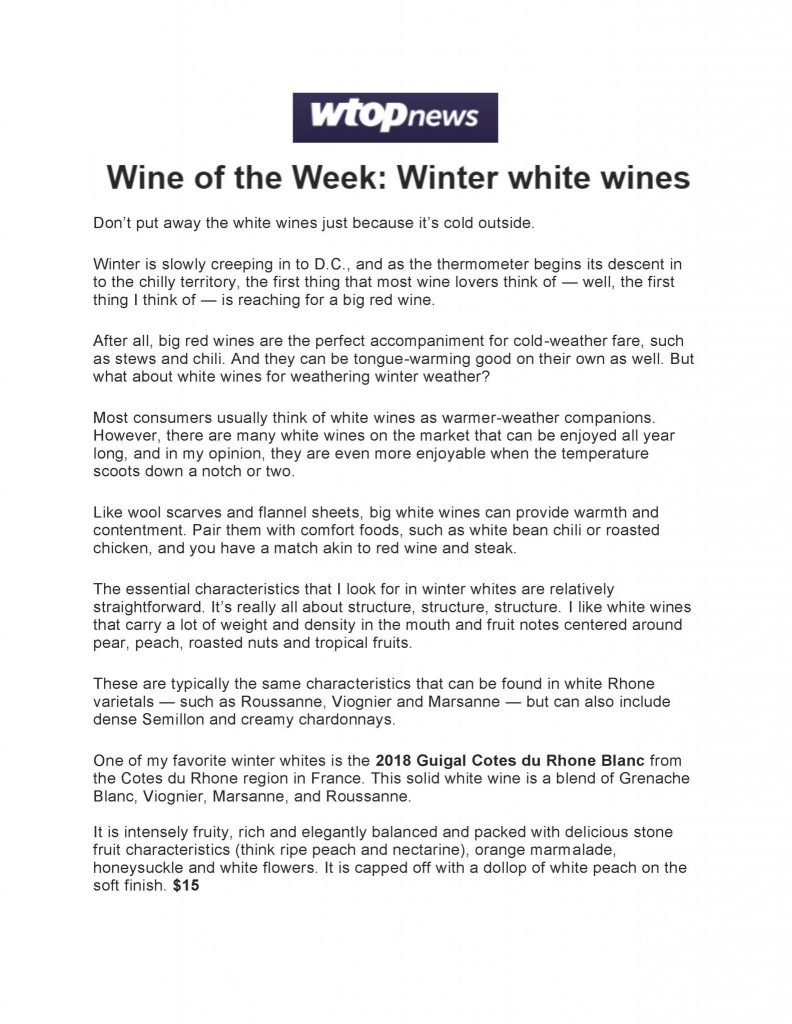 E. Guigal

Côtes du Rhône

Guigal's Côtes du Rhône Blanc both sets and steps outside the standard for the appellation and showcases one of the great secrets of the Guigal family: their specialization in the great white Rhône varieties. While only 8% of the Rhône's production is white, a full 25% of Guigal's production is white and they are today the single largest producer of whites in the Rhône Valley.
Rhône Valley, France

The more you learn about the Guigal family, the more astounding becomes their story.  Their wines are the benchmarks for every Rhone appellation, and over the last thirty years they have become arguably the most lauded producer in the world.  Year after year the Guigal family produces wines of exceptional quality that in all classes offer exceptional value.