Caviar Affair contributor Lana Bortolot details Champagne Bollinger's House style and unwavering commitment to rigid quality standards. Additionally, the feature explores the 40+ year historic connection between Champagne Bollinger and Secret Agent 007, adding that the collaboration is "one of the longest and most successful of its kind."
Further, Bortolot elaborates on Bollinger's exceptional cuvées – suggesting that "perhaps its signature cuvée is the pinot noir-driven La Grande Année, made only in optimal years, making this a sought-after wine for collectors." Bortolot spoke further about the exceptional 2008 vintage and its new packaging, adding that it is aged "longer than the other Champagne houses, resulting in a rich, slightly honeyed, spicy, and complete wine. While delicious on its own, it proves that Champagne is a gourmand's wine: this one is perfect with seared scallops or grilled lobster."
The full story is available in the current issue of the publication!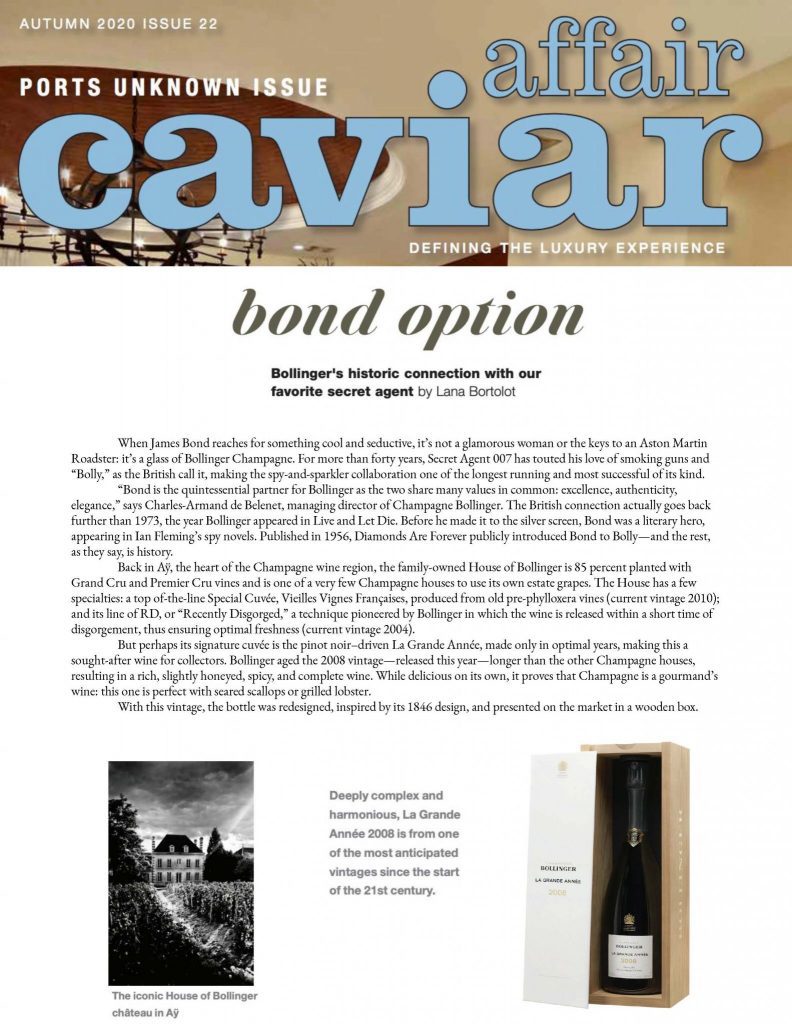 Champagne Bollinger

Champagne, France

La Grande Année: The Great Year. This Champagne is the embodiment of everything that makes Bollinger the producer that stands apart in Champagne. La Grande Année, or LGA, preserves the traditions of the past and symbolizes the word "hand-crafted" so strongly that an overused word suddenly becomes the only appropriate definition. 
Champagne, France

Bollinger is one of the rare Grande Marques that's still family owned. Known for its rich, elegant and polished style of Champagne, their outstanding wines are the result of rigorous attention to detail and incredibly labor-intensive practices that few houses are willing to undertake. Underscoring its excellence, Bollinger has remained British secret agent James Bond's Champagne of choice since 1973.