JustLuxe included Chateau Montelena in an online gift guide for the gourmand in your life. The piece shares background on the historic estate and its place in pop culture following the release of the 2008 film Bottleshock, a whimsical portrayal of the events leading up to the 1976 Judgment of Paris blind tasting.
The piece tells readers that Montelena's Estate Cabernet Sauvignon continues to "shine as one of the best representations of Napa Valley's viticultural artisanship." Going a step further, the writer suggests purchasing a set of the estate's flagship wines, including "the winery's most quintessential and sought-after varietals, the 2016 Estate Cabernet Sauvignon, 2017 Napa Valley Cabernet Sauvignon, and 2017 Napa Valley Chardonnay. Each is as enjoyable now as they will be in years to come."
You can read the story HERE, which was also syndicated to Haute Living online.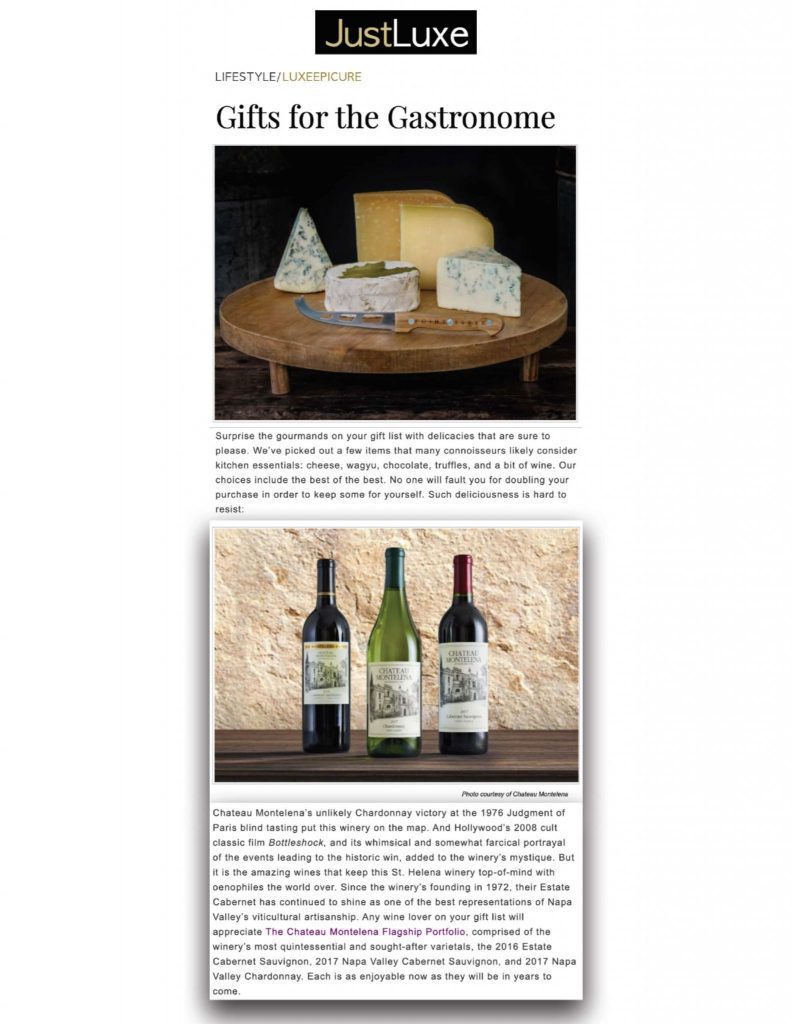 Chateau Montelena

Calistoga, Napa Valley, California

The Estate Cabernet Sauvignon is Chateau Montelena's flagship wine and a quality icon of Napa Valley. The winemaking team works obsessively and passionately with each vintage to capture the best expression of their historic terroir. This is a show-stopper that reveals the perfect blend of flavors, aromas and textures to reach the pinnacle of balance.

Chateau Montelena

Napa Valley, California

The Napa Valley Cabernet Sauvignon is a medium-bodied wine offering notable raciness up front, compelling freshness and depth of flavor. The earthy, complex and concentrated Cabernet Sauvignon is softened by the judicious addition of Merlot. This is a wine that delivers immediate pleasure upon release.

Chateau Montelena

Napa Valley, California

A true icon. The Napa Valley Chardonnay is the wine that put Chateau Montelena and Napa Valley at the forefront of the wine world in 1976, in what is now memorialized as "The Judgment of Paris." To great disbelief, the Chateau Montelena Napa Valley Chardonnay was the top-ranking wine against four white Burgundies and five other California Chardonnays. And as they say, the rest is history.
Calistoga, Napa Valley, California

In 1976 Chateau Montelena put California at the forefront of the wine world. That year a who's-who of the French wine establishment gathered in Paris for a blind tasting of French and American wines. When the scores were tallied, the top-ranking white wine was Chateau Montelena's 1973 Chardonnay. Montelena today continues to be a quality benchmark in Napa Valley, producing some of the finest Cabernet and Chardonnay in California.