Palm Beach Illustrated provided a great snapshot of Champagne Ayala's rich history and that the House is known for its freshness, elegance and craftsmanship. The feature continues by spotlighting three of Ayala's benchmark wines: Brut Majeur NV, Rosé Majeur NV and Le Blanc de Blancs 2013.
Brut Majeur is described as having "a brilliant straw color and a fetching nose of citrus, vanilla, limestone and minerals." Continuing, writer Mark Spivak adds, "the wine enters the mouth forcefully, displaying flavors of lemon zest and hints of tropical fruit; the flavors amplify considerably in the mid palate and carry over to the finish, which is exceptionally long." He suggests pairing this with fish and poultry.
Rosé Majeur is a beautifully expressive wine displaying a "pale salmon color and a sumptuous nose of red fruits. It delivers all the fruit promised on the nose—flavors of wild strawberry, red raspberry, cherries and red currants—but also exhibits a rich texture and firm mineral backbone." He challenges readers to pair this wine with game and red meat.
Lastly, the 2013 Blanc de Blancs produced exclusively from Grand Cru and Premier Cru vineyards offers a nose "with deep, rich aromas of toasted almonds, poached pear and vanilla. Despite its mellow introduction, the wine is fresh and lively in the mouth, exhibiting vibrant citrus flavors which are accented by good acidity. The finish is long, tart and mouthwatering." Read the full reviews of each of these wines HERE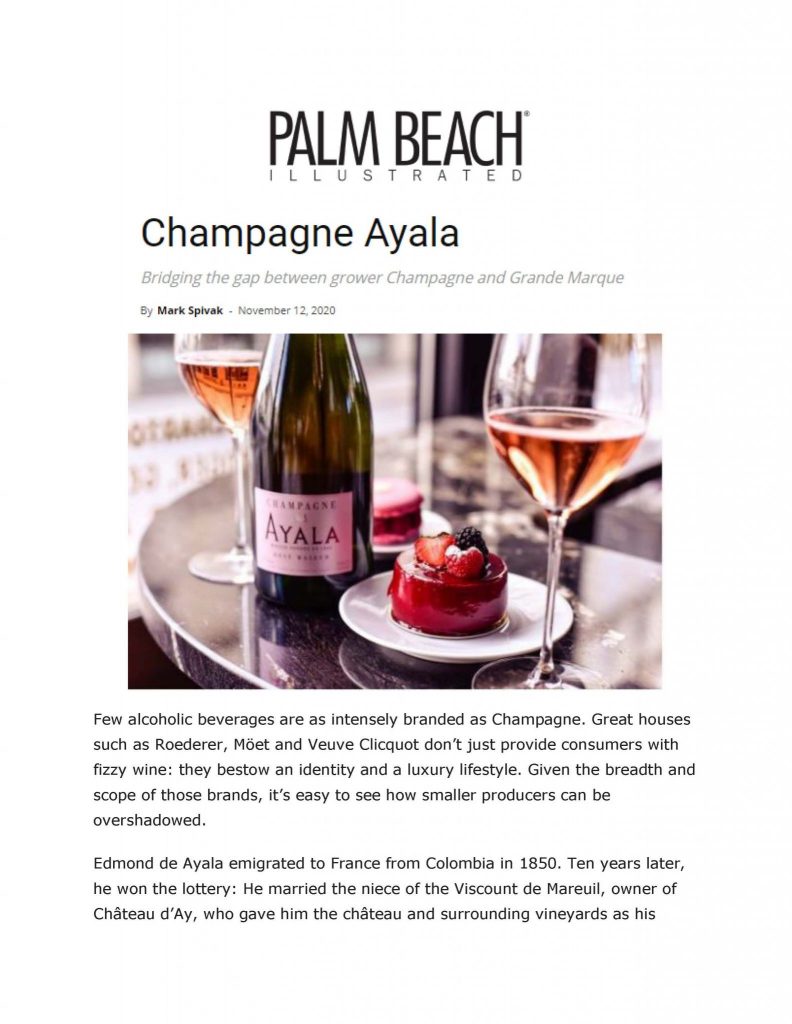 Champagne Ayala

Champagne, France

Brut Majeur is the epitome of a non-vintage brut from a great, historic House and is the finest ambassador for the House's freshness and elegance. A blend of Chardonnay, Pinot Noir and Pinot Meunier grapes, coupled with extended aging in Ayala's cellars and a low dosage, make this wine suitable for any occasion.

Champagne Ayala

Champagne, France

Rosé Majeur is the perfect embodiment of the originality and finesse of the House's wines. Made predominantly from Chardonnay, it is crafted with the addition of a small proportion of still Pinot Noir from the best crus of the Montagne de Reims. A low dosage enables it to express the House style, both feminine and generous, with great elegance.

Champagne Ayala

Champagne, France

Ayala's Blanc de Blancs is 100% Chardonnay, produced in small quantities in exceptional years only, fully expresses the superb caliber of great Chardonnay from the best crus of the Côte des Blancs. After 6 years of aging in Ayala's cellars, remarkable minerality and low dosage make this an outstanding wine.
Champagne, France

Ayala is one of the most exciting stories in Champagne today, almost the definition of a boutique Champagne producer. Independently owned, a small, young and dynamic team handles every step of production from grape reception to labeling in their jewel of a facility with incredible precision, crafting Chardonnay-focused wines that deliver immense pleasure, freshness, and elegance.