Forbes columnist Brian Freedman selected Champagne Bollinger PN VZ15 as his white wine of the week. He leads with the significant detail that PN is the first new addition to the "legendary house's portfolio" since the release of rosé more than a decade ago. Explaining the wine's concept, he writes that this wine "is going to be an ongoing exploration of Pinot Noir. So while the PN VZ15 relies on Pinot from Verzenay that was harvested in 2015 (hence the VZ15) for 50% of its blend, subsequent releases of the non-vintage PN line may lean more heavily on other great crus of Champagne."
The wine is described as a "baby brother" to Bollinger's highly sought-after vintage Champagne, Vieilles Vignes Françaises, which is also 100% Pinot Noir. Freedman describes PN VZ15 as "a remarkable wine, elegant and powerful at the same time, with bass-note aromas of dried cherries, fresh-dug mushrooms, dried flowers, coffee beans, and challah French toast, preceding a palate of laser-point bubbles, wild red berries, summer stone fruit, caramel-coated red apples, and rooibos, all seamed through with vivid minerality and a hint of spice, finishing with the subtle lift of flowers."
Read the rest of his write up and additional tasting notes HERE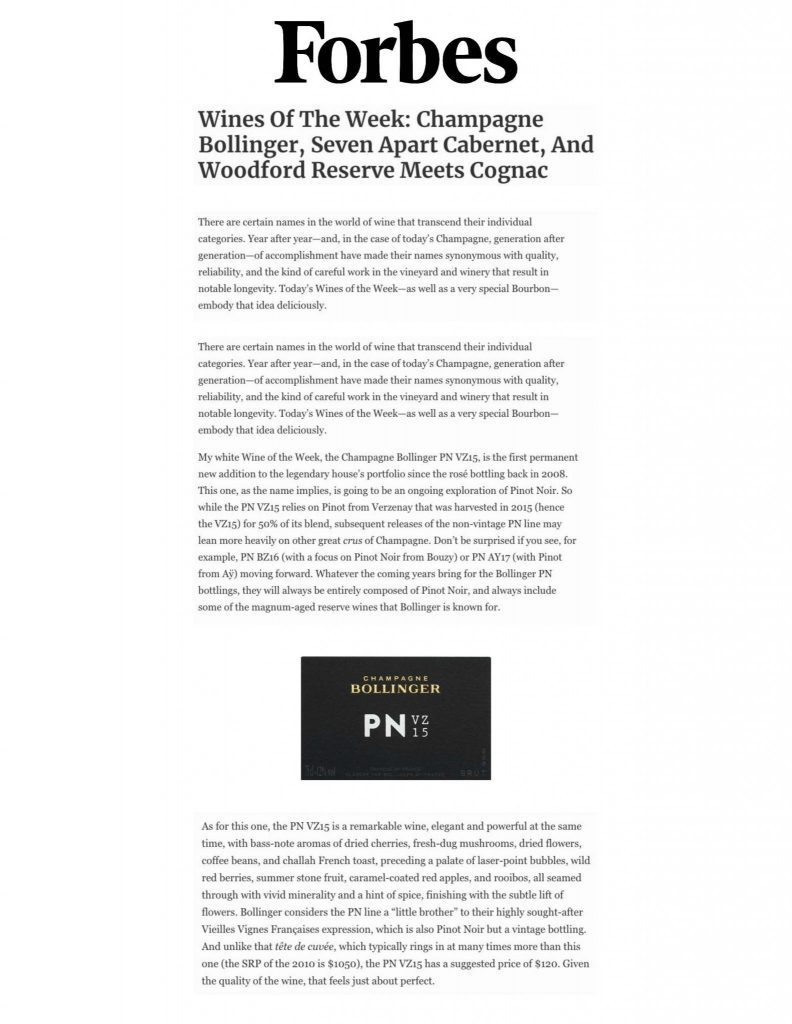 Champagne Bollinger

Champagne, France

PN, made entirely from Pinot Noir to underscore the very essence and DNA of the House style, is the first new cuvée added to Bollinger's permanent range since rosé in 2008. Each release of PN, developed as a series to bring Bollinger's unique vision of Pinot Noir to light, will showcase a different cru from the base year that highlights its distinctive terroir and taste. The first edition of the series, PN VZ15, explores the interpretation of Pinot Noir from Verzenay 2015 and features reserve wines dating back to 2009.

Champagne Bollinger

Champagne, France

Vieilles Vignes Françaises is one of Champagne's most mythical cuvees, produced from miraculously preserved and ungrafted 100% Pinot Noir vines. Phylloxera destroyed the vines of Champagne in the early 20th century, but amazingly enough two of Bollinger's classified Grands crus plots, Chaudes Terres and Clos St. Jacques, survived and are still grown the traditional way. Madame Lily Bollinger first had this wine produced in 1969 as an anniversary cuvee to commemorate her 70th birthday. Following the wine's launch in 1974, Vieilles Vignes Françaises promptly became a collectible and a symbol of a bygone era. Over the decades, its uniqueness and scarcity have made it one of the most sought-after and expensive Champagnes.
Champagne, France

Bollinger is one of the rare Grande Marques that's still family owned. Known for its rich, elegant and polished style of Champagne, their outstanding wines are the result of rigorous attention to detail and incredibly labor-intensive practices that few houses are willing to undertake. Underscoring its excellence, Bollinger has remained British secret agent James Bond's Champagne of choice since 1973.