Wine columnist Gus Clemens featured Champagne Bollinger and the legendary Lily Bollinger in a syndicated story about powerful women behind sparkling wine estates. Clemens rightly credits the late Lily Bollinger as a visionary, and responsible for helping to modernize the House. He highlights her multiple breakthroughs in the industry, mentioning that she "introduced Vieilles Vignes Françaises, the first Champagne made with 100% pinot noir," created Bollinger Rosé and "so charmed Ian Fleming that his character James Bond would only drink Bollinger Champagne." Read the full story in the Abilene Reporter News, which also appears in the Lubbock Avalanche-Journal and Go San Angeleno, HERE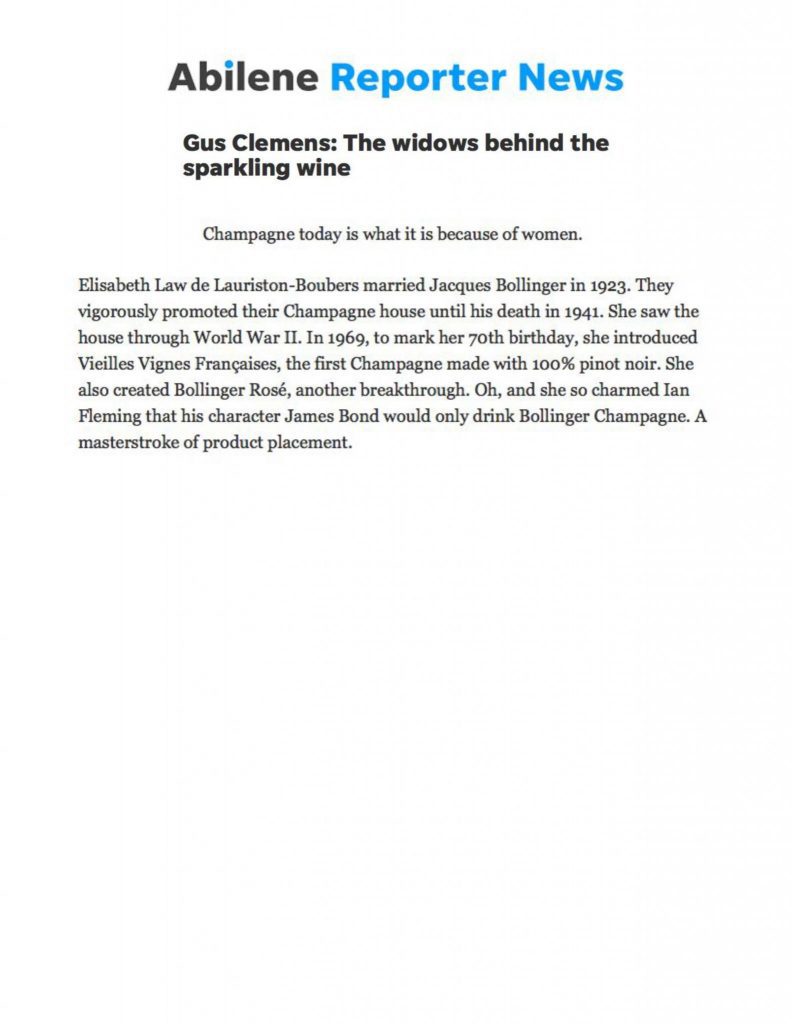 Champagne Bollinger

Champagne, France

Vieilles Vignes Françaises is one of Champagne's most mythical cuvees, produced from miraculously preserved and ungrafted 100% Pinot Noir vines. Phylloxera destroyed the vines of Champagne in the early 20th century, but amazingly enough two of Bollinger's classified Grands crus plots, Chaudes Terres and Clos St. Jacques, survived and are still grown the traditional way. Madame Lily Bollinger first had this wine produced in 1969 as an anniversary cuvee to commemorate her 70th birthday. Following the wine's launch in 1974, Vieilles Vignes Françaises promptly became a collectible and a symbol of a bygone era. Over the decades, its uniqueness and scarcity have made it one of the most sought-after and expensive Champagnes.

Champagne Bollinger

Champagne, France

In the same way that Special Cuvée stands apart from non-vintage Champagnes, Bollinger Rosé is an exception for Rosé Champagnes. What is more, it is a relative secret, as Bollinger did not release a non-vintage Rosé until 2008 and the quantity produced is quite limited. The wine begins as Special Cuvée and then Bollinger's specialty as the Pinot Noir producer in Champagne takes center stage, as the red fruits that join the conversation dance vibrantly, the finish has just a hint of perfectly repeat tannin, and the deep complexity of the wine shines through transparently.
Champagne, France

Bollinger is one of the rare Grande Marques that's still family owned. Known for its rich, elegant and polished style of Champagne, their outstanding wines are the result of rigorous attention to detail and incredibly labor-intensive practices that few houses are willing to undertake. Underscoring its excellence, Bollinger has remained British secret agent James Bond's Champagne of choice since 1973.