The Chicago Wine Press recommended two Château Minuty wines, Prestige and 281, in columnist Peter Hoyne's summer rosé feature. In addition to offering background on the family-owned estate, Hoyne notes that the "expressions of the wines are influenced by the abundant sunshine of this region and the breezes from the Mediterranean Sea."
The piece provides vineyard and grape varietal specifics, and also describes Prestige 2019 as wine possessing "a pinkish-coral color with an attractive scent of framboise. The core is pure red raspberry overlaid with nectarines. This rose is balanced and built for aging."
Hoyne's review of 281 2019 jumps off the page so much so that we can *almost* feel as if we are tasting it, and have included the full write up here: "The creation of this rose´ was inspired by the influence of sea and sky of Saint-Tropez in summer. This wine is sourced from Grenache vines that average 25 years of age with the addition of some Cinsault and Syrah. There are accents of saline and field flowers. It explodes on the palate with fresh peach blossoms and blood orange that coalesce into a juicy core. There is a hint of garrigue that will remind of the Mediterranean Sea. This charismatic rose´ has an amazing mid-palate richness and is extremely complex throughout leading to a bright, long finish."
Read the rest of his write up HERE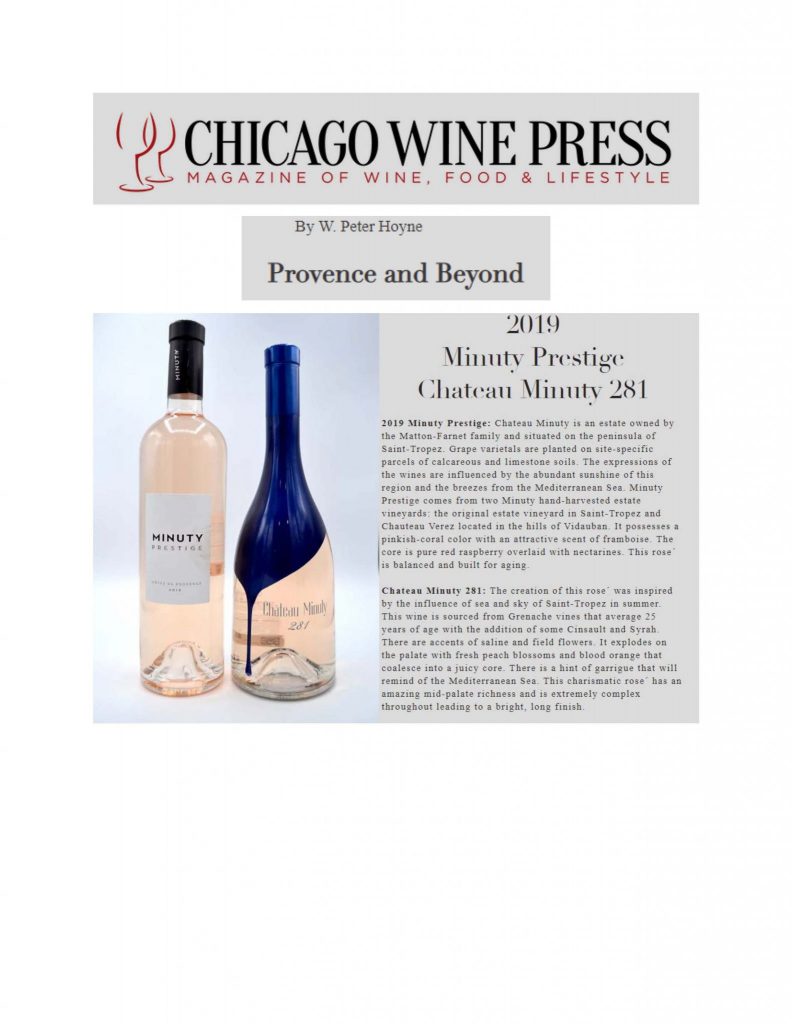 Château Minuty

Côtes de Provence

281 refers to the Pantone number for this royal blue color that elegantly cascades in a glaze down the side of the bottle.  It evokes the sky and the sea of Minuty's French Riviera home, in particular the deep blue that appears everywhere after the strong afternoon wind.  100% estate from a single old plot of Grenache whose clone is exclusive to Château Minuty, it is the ultimate reflection of their special seaside vineyard and Provence.

Château Minuty

Côtes de Provence

If you notice just one wine on the beach and seaside restaurants in the south of France, it is almost certainly Minuty Prestige. This wine has become the emblem of the Riviera lifestyle, and it is place that has been earned through the unbelievable dedication to quality by the Minuty family.
Côtes de Provence

Château Minuty is the global leader in Côtes de Provence rosé, and beyond that it can be argued is the most important estate in the history of Provence rosé. The Saint-Tropez based, family owned estate has been, since its founding, one of the quality leaders for the region. Minuty then became one of the most visible producers in the second half of the 20th century, a result of quality production and commercial foresight when no one in the region could imagine the global phenomenon Provence rosé would become. And then in the last two decades, Minuty defined the vision for and led the unbelievable growth in Provence rosé around the globe.