Wine Enthusiast has highlighted a focused selection of high-end rosés from Provence to consider purchasing, including Château Minuty Rose et Or 2019.
Critic Roger Voss writes, "Grenache and a touch of Tibouren come together in this soft, rich and generous wine. Acidity is beautifully integrated into the fruits and rounded texture, making this a great food wine. Drink from late 2020." Read the full story HERE!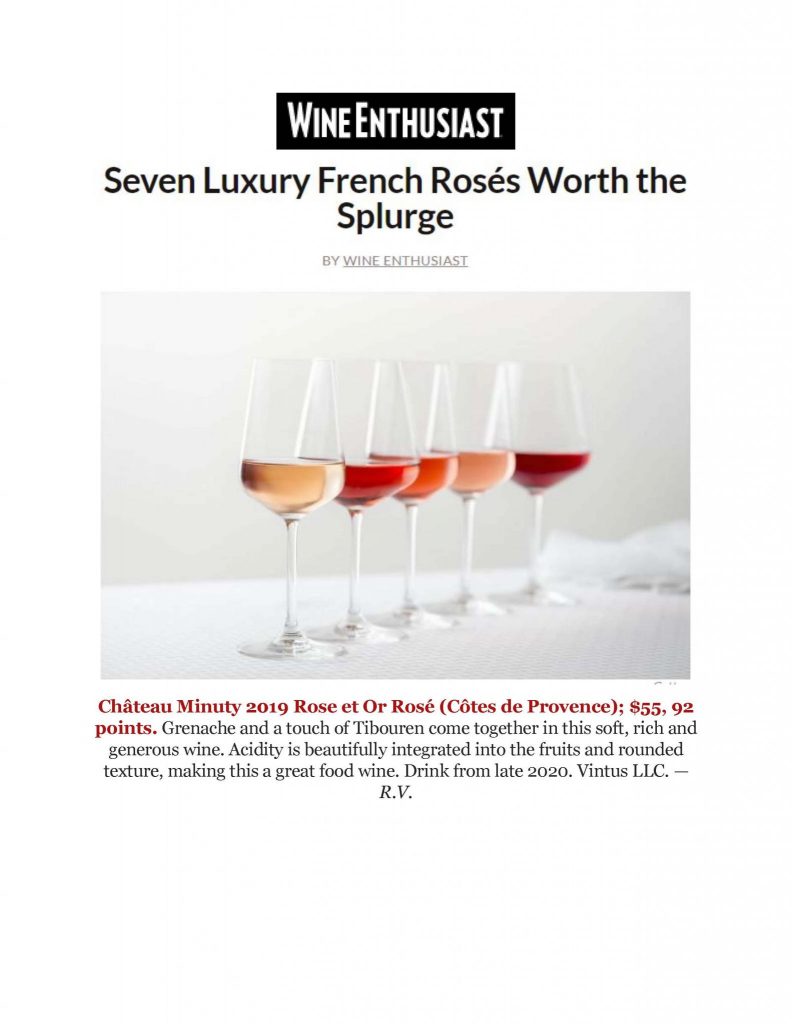 Château Minuty

Côtes de Provence

Rose et Or encapsulates the Chateau Minuty Saint-Tropez estate. It speaks of the seaside with its freshness and flavors, and represents the ultimate in what a quality Côtes de Provence rosé can achieve: it's gentle freshness giving way to concentrated, almost gourmet flavors.  It moves from the terrace to the white table cloth like no other.
Côtes de Provence

Château Minuty is the global leader in Côtes de Provence rosé, and beyond that it can be argued is the most important estate in the history of Provence rosé. The Saint-Tropez based, family owned estate has been, since its founding, one of the quality leaders for the region. Minuty then became one of the most visible producers in the second half of the 20th century, a result of quality production and commercial foresight when no one in the region could imagine the global phenomenon Provence rosé would become. And then in the last two decades, Minuty defined the vision for and led the unbelievable growth in Provence rosé around the globe.