Vindulge included Château Minuty in its roundup of best rosé brands to reach for this summer. In fact, two of the three wines from France featured are from Minuty, M de Minuty 2019 and Rose et Or 2019. See Vindulge's descriptions of the wines below, but take the time to read through the full story HERE to learn more about this wine category in general:
Chateau Minuty 2019 "M de Minuty" (Côtes de Provence, France)
Light dusty strawberries with some fresh lime. It's fresh and light, with nice minerality with a bright acidic finish. Easy going easy drinking solid Provence style rosé and would be great with salads, seafood, or while having a (socially distant) conversation with your neighbor. (Original review from our spring wine finds). 
2019 Château Minuty "Rose et Or" Côtes de Provence Rosé (Côtes de Provence, France)
Cinsault and Grenache are blended together for this elegant wine. It has a bright and fresh nose with mild strawberries, tropical fruit, and peach. Light. Fresh. Clean. Refreshing. Drink on its own, or with something light, like freshly prepared seafood, or salad with a mild dressing. This wine is definitely a splurge, but sometimes it's nice to see the wide range of elegance and styles that can be achieved with a rosé wine.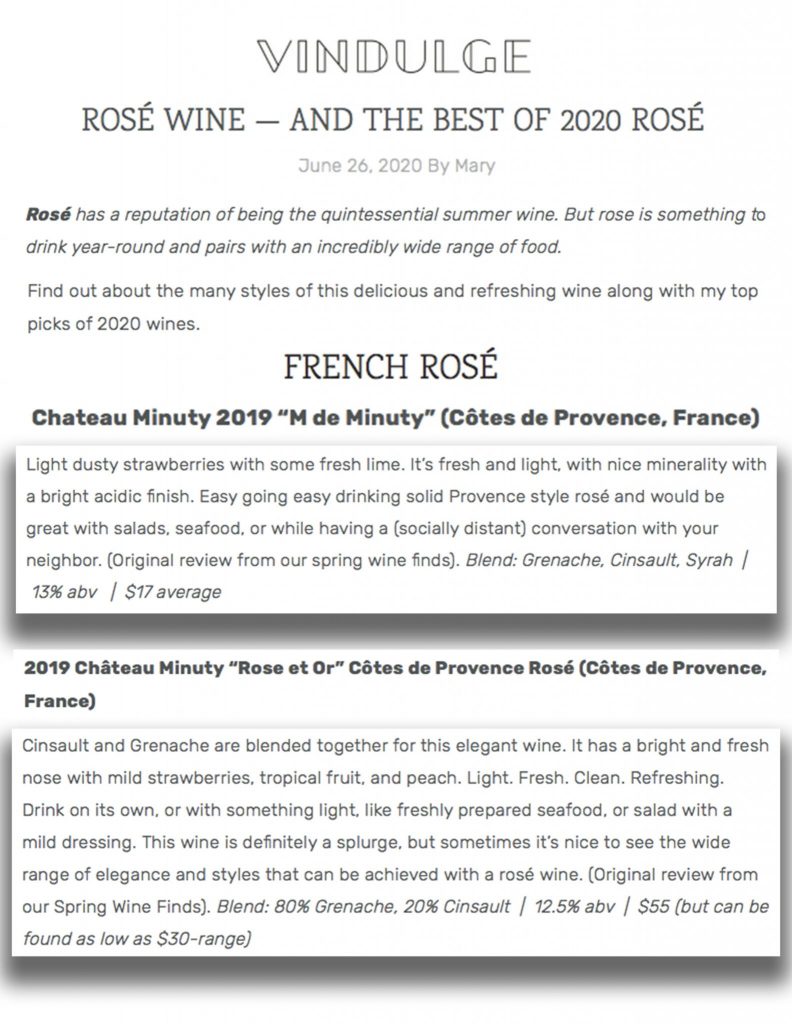 Château Minuty

Côtes de Provence

M de Minuty is the quintessential Côtes de Provence rosé, a style that Chateau Minuty defined,and is the reason behind their success as the world's top producer of premium rosé. Fresh, lively and perfectly balanced, fantastic quality, a glass in hand transports you to the seaside and the French riviera lifestyle, watching the sea and the sky, surrounding yourself with friends and family, and enjoying life to the fullest.

Château Minuty

Côtes de Provence

Rose et Or encapsulates the Chateau Minuty Saint-Tropez estate. It speaks of the seaside with its freshness and flavors, and represents the ultimate in what a quality Côtes de Provence rosé can achieve: it's gentle freshness giving way to concentrated, almost gourmet flavors.  It moves from the terrace to the white table cloth like no other.
Côtes de Provence

Château Minuty is the global leader in Côtes de Provence rosé, and beyond that it can be argued is the most important estate in the history of Provence rosé. The Saint-Tropez based, family owned estate has been, since its founding, one of the quality leaders for the region. Minuty then became one of the most visible producers in the second half of the 20th century, a result of quality production and commercial foresight when no one in the region could imagine the global phenomenon Provence rosé would become. And then in the last two decades, Minuty defined the vision for and led the unbelievable growth in Provence rosé around the globe.