Departures has published a roundup of their favorite champagnes to enjoy. Why? Contributor Jonah Flicker explains it pretty perfectly: "There's just something about champagne that just seems to make people happy (which we could all use right about now)." He includes Champagne Bollinger La Grande Année 2012 and Champagne Ayala Le Blanc de Blancs 2013 among his top recommendations.
An outstanding food pairing wine, Flicker suggests enjoying La Grande Année 2012 with a beautiful meal to allow "its silky palate and apricot and almond-infused nose to complement the rich flavors and slowly reveal itself."
Ayala is a smaller House than many of its peers in this article, so it is an exciting discovery for many Champagne lovers who prefer a drier style with low dosage. Le Blanc de Blancs 2013 "was aged six years on the lees, revealing notes of stone fruit, honey, passion fruit." Read the full story HERE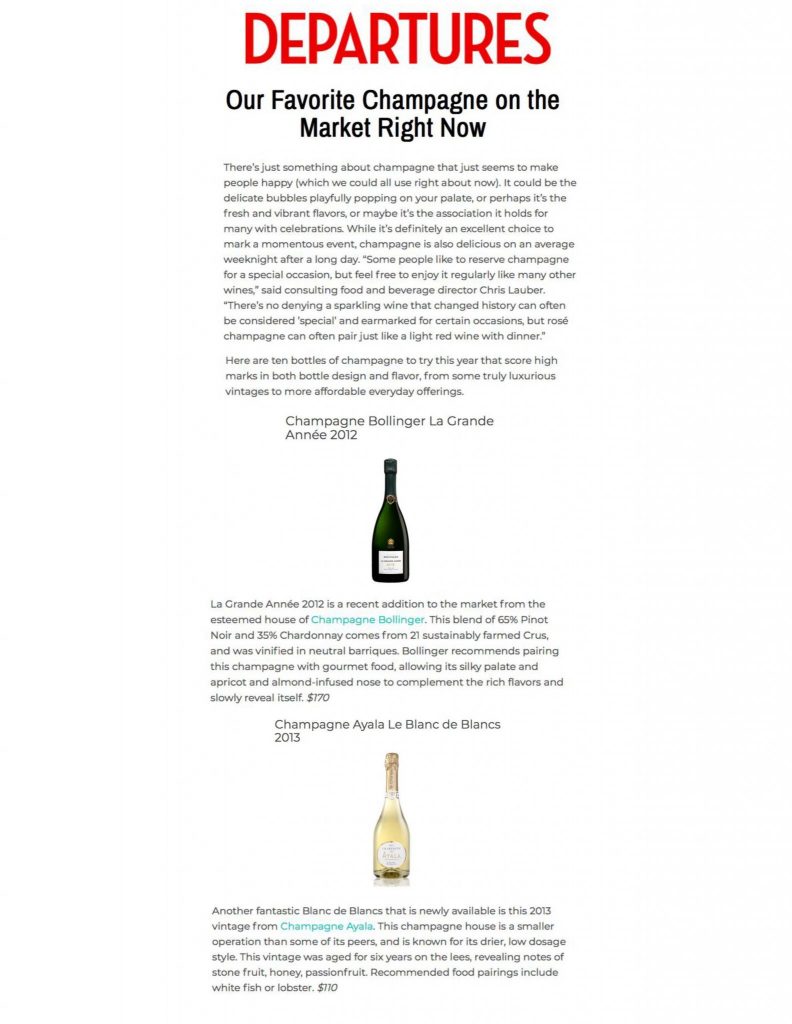 Champagne Bollinger

Champagne, France

La Grande Année: The Great Year. This Champagne is the embodiment of everything that makes Bollinger the producer that stands apart in Champagne. La Grande Année, or LGA, preserves the traditions of the past and symbolizes the word "hand-crafted" so strongly that an overused word suddenly becomes the only appropriate definition.

Champagne Ayala

Champagne, France

Ayala's Blanc de Blancs is 100% Chardonnay, produced in small quantities in exceptional years only, fully expresses the superb caliber of great Chardonnay from the best crus of the Côte des Blancs. After 6 years of aging in Ayala's cellars, remarkable minerality and low dosage make this an outstanding wine.
Champagne, France

Bollinger is one of the rare Grande Marques that's still family owned. Known for its rich, elegant and polished style of Champagne, their outstanding wines are the result of rigorous attention to detail and incredibly labor-intensive practices that few houses are willing to undertake. Underscoring its excellence, Bollinger has remained British secret agent James Bond's Champagne of choice since 1973.

Champagne, France

Ayala is one of the most exciting stories in Champagne today, almost the definition of a boutique Champagne producer. Independently owned, a small, young and dynamic team handles every step of production from grape reception to labeling in their jewel of a facility with incredible precision, crafting Chardonnay-focused wines that deliver immense pleasure, freshness, and elegance.