In preparation for her take-over of the "Text a Somm" fundraiser with VinePair sommelier Allie Nault, of the Michelin Three Star property The Inn at Little Washington, discusses her own "serious" quarantine food parings.
Nault, who is finding herself enjoying plenty of pizza, mentions the 2017 Masciarelli Montepulciano d'Abruzzo as the best wine she can get at the grocery or discount store! She gives is great praise, "It is a soft and approachable red wine that is balanced beyond belief for the price. With forest-fruit-like blackberries and cherries accompanied by cedar smoke and dried flowers, it is a show stopper and is perfect with a takeout pizza or any red-sauce pasta dish."
Read the full article HERE.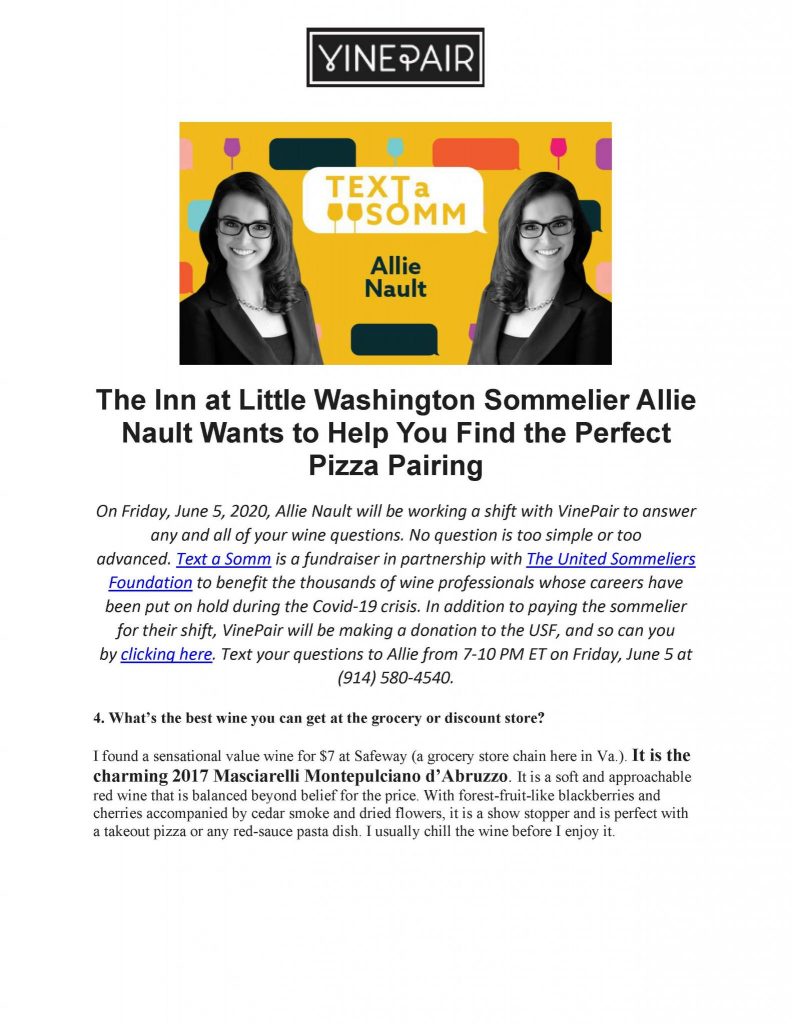 Masciarelli

Montepulciano d'Abruzzo

The first line created by Gianni Masciarelli has become over the years a landmark for the company and its customers, in addition to being the most consistent and known, in Italy and abroad. Its wines, Montepulciano D'Abruzzo DOC, Trebbiano D'Abruzzo DOC, and Rosato IGT Colline Teatine are today "a classic", which can reflect the genuine taste of tradition and the quality of Abruzzo native vines.
Abruzzo, Italy

Founded by Abruzzo native Gianni Masciarelli in 1981, Masciarelli and its wines have become the standard-bearer for the Abruzzo region, and an inspiration to all emerging Italian wine regions. After a summer in Champagne, Gianni Masciarelli became convinced that world-class wines could be produced in Abruzzo, and through tremendous vision and non-stop innovation, Masciarelli became one of the most admired wineries in Italy.