Wine Curmudgeon, a blog dedicated to showcasing affordable and accessible wines, features the 2016 Masicarelli Montepuclaino d'Abruzzo 2016 in his latest wine of the week segment.
The wine receives exceptionally high praise for its price-point, "Where has this wine been all my life? […] Wines from Italy's Montepulciano d'Abruzzo region have traditionally been terrific values, and this is no exception." Reviewer Jeff Siegel goes as far to say that the wine should go in his personal Hall of Fame and make the short list for the 2021 Cheap Wine of the Year!
Read the full story HERE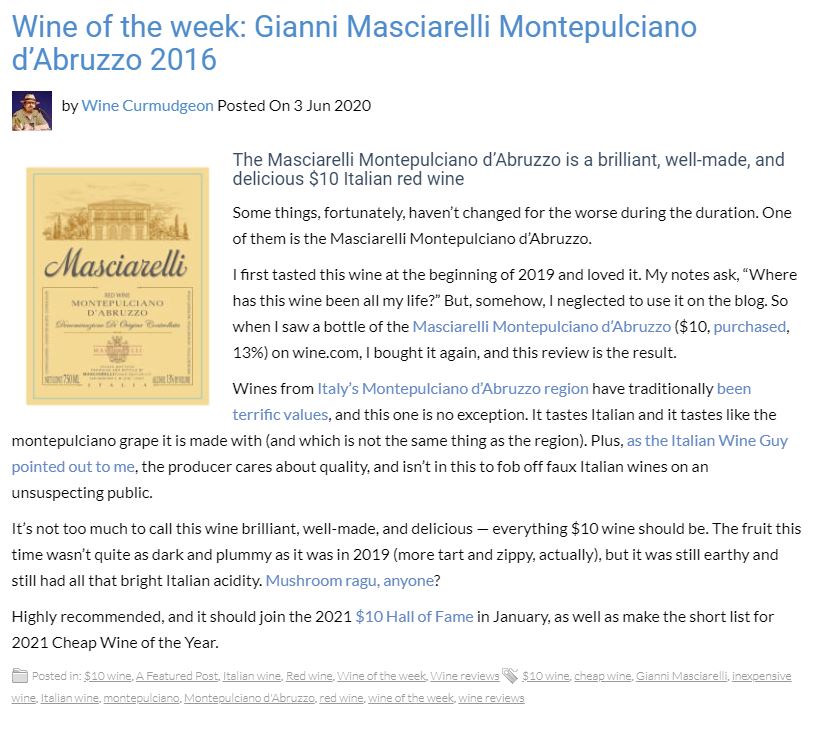 Masciarelli

Montepulciano d'Abruzzo

The first line created by Gianni Masciarelli has become over the years a landmark for the company and its customers, in addition to being the most consistent and known, in Italy and abroad. Its wines, Montepulciano D'Abruzzo DOC, Trebbiano D'Abruzzo DOC, and Rosato IGT Colline Teatine are today "a classic", which can reflect the genuine taste of tradition and the quality of Abruzzo native vines.
Abruzzo, Italy

Founded by Abruzzo native Gianni Masciarelli in 1981, Masciarelli and its wines have become the standard-bearer for the Abruzzo region, and an inspiration to all emerging Italian wine regions. After a summer in Champagne, Gianni Masciarelli became convinced that world-class wines could be produced in Abruzzo, and through tremendous vision and non-stop innovation, Masciarelli became one of the most admired wineries in Italy.