The editors of Wine Spectator have rounded up their favorite films and TV series influenced by wine and food, because "if we can't be out visiting wine regions or dining at our favorite restaurants, at least we can be learning, finding home-cooking inspiration and dreaming of better days to come." Senior editor Alison Napjus selected Bottle Shock as a movie to watch, as it chronicles the now iconic series of events where Chateau Montelena's 1973 Napa Valley Chardonnay beat out the great European wines in the famous 1976 "Judgment of Paris" blind tasting. Learn more about the movie and where you can watch it HERE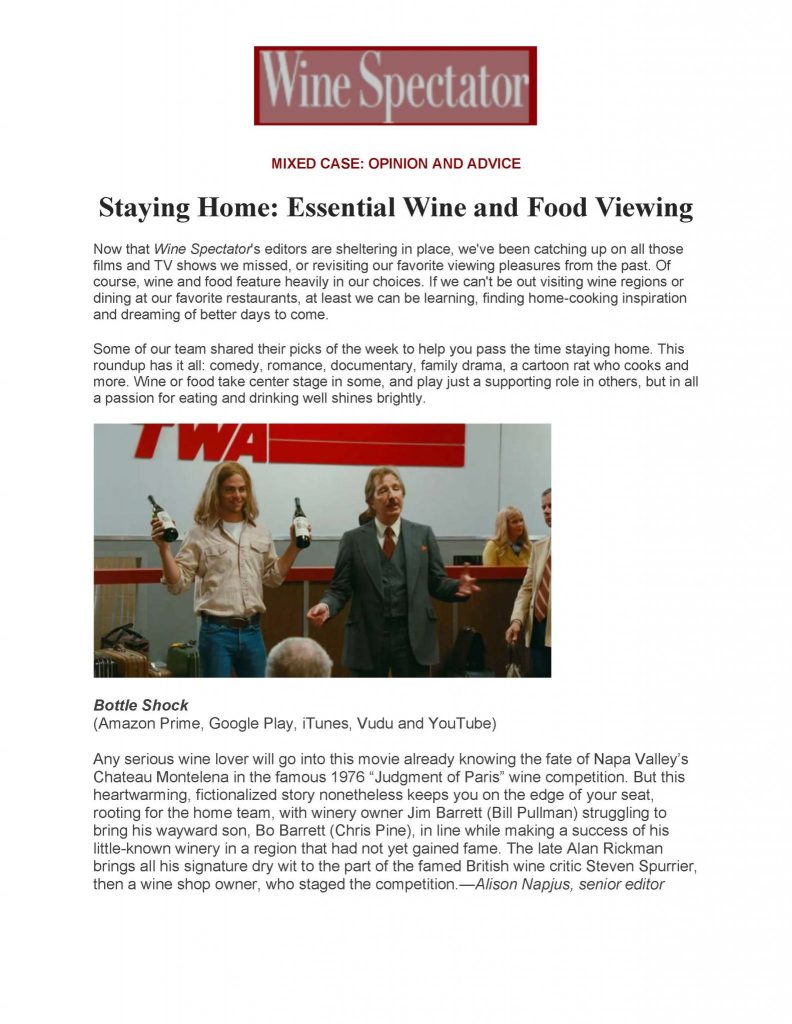 Chateau Montelena

Napa Valley, California

A true icon. The Napa Valley Chardonnay is the wine that put Chateau Montelena and Napa Valley at the forefront of the wine world in 1976, in what is now memorialized as "The Judgment of Paris." To great disbelief, the Chateau Montelena Napa Valley Chardonnay was the top-ranking wine against four white Burgundies and five other California Chardonnays. And as they say, the rest is history.
Calistoga, Napa Valley, California

In 1976 Chateau Montelena put California at the forefront of the wine world. That year a who's-who of the French wine establishment gathered in Paris for a blind tasting of French and American wines. When the scores were tallied, the top-ranking white wine was Chateau Montelena's 1973 Chardonnay. Montelena today continues to be a quality benchmark in Napa Valley, producing some of the finest Cabernet and Chardonnay in California.