VinePair reviewed the Chateau Montelena Estate Zinfandel 2016, awarding it with an "A" rating. The write up offers high praise, explaining, "The balance in this wine is incredible…It has intense, taut fruit with a mild viscous nature you just want to chew on. The aromas are earthy (forest in fall), savory (aged balsamic) and fruity (blackberry and plum) all at once, with an amazing acidity spreading out to keep everything in balance. " Read the full review and detailed tasting notes HERE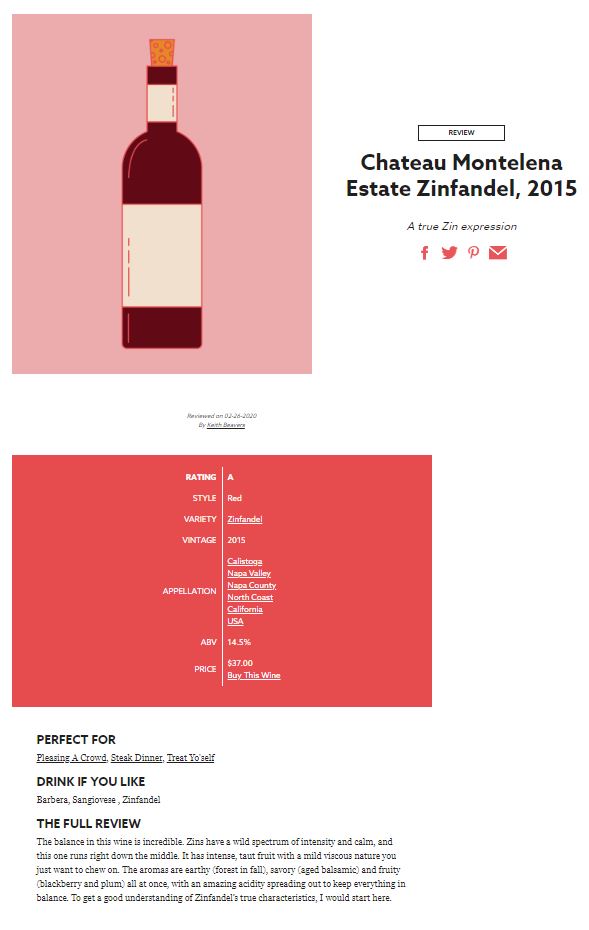 Chateau Montelena

Napa Valley, California

Produced from grapes grown on the Montelena Estate vineyard, the Zinfandel is a classically-structured, subtle and refined wine. Planted in volcanic soil, combined with 10-year-old vines in alluvial soil, this is a stunning wine known for its spicy, ripe berry flavor.
Calistoga, Napa Valley, California

In 1976 Chateau Montelena put California at the forefront of the wine world. That year a who's-who of the French wine establishment gathered in Paris for a blind tasting of French and American wines. When the scores were tallied, the top-ranking white wine was Chateau Montelena's 1973 Chardonnay. Montelena today continues to be a quality benchmark in Napa Valley, producing some of the finest Cabernet and Chardonnay in California.