Wine Enthusiast contributor Lauren Mowery had the special opportunity to visit Champagne Ayala and Champagne Bollinger during spring of 2019, and enjoyed the experience so much that she included both properties in her latest story highlighting 7 of the best wine travel experiences for 2020 in the region. She outlines a couple of the unique offerings at both Houses, noting that Bollinger has only recently started to accept visitor requests. Read the full descriptions HERE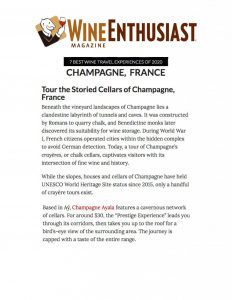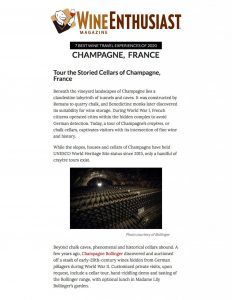 Champagne, France

Ayala is one of the most exciting stories in Champagne today, almost the definition of a boutique Champagne producer. Independently owned, a small, young and dynamic team handles every step of production from grape reception to labeling in their jewel of a facility with incredible precision, crafting Chardonnay-focused wines that deliver immense pleasure, freshness, and elegance.

Champagne, France

Bollinger is one of the rare Grande Marques that's still family owned. Known for its rich, elegant and polished style of Champagne, their outstanding wines are the result of rigorous attention to detail and incredibly labor-intensive practices that few houses are willing to undertake. Underscoring its excellence, Bollinger has remained British secret agent James Bond's Champagne of choice since 1973.