Writer Lindsay Tigar wrote a first-hand piece for Brides that offers a detailed overview to plan the ultimate romantic getaway or honeymoon for bubble-loving couples in the Champagne region. She offers several helpful tips and recommendations from transportation, lodging, experiences, winery visits and more. Though historically closed to the public, she confirms that Bollinger is starting to open its doors to a small number of guests – but that you need to book weeks or months ahead of time. She also suggests visiting Champagne Ayala as it is a terrific female-led House. Read the full story HERE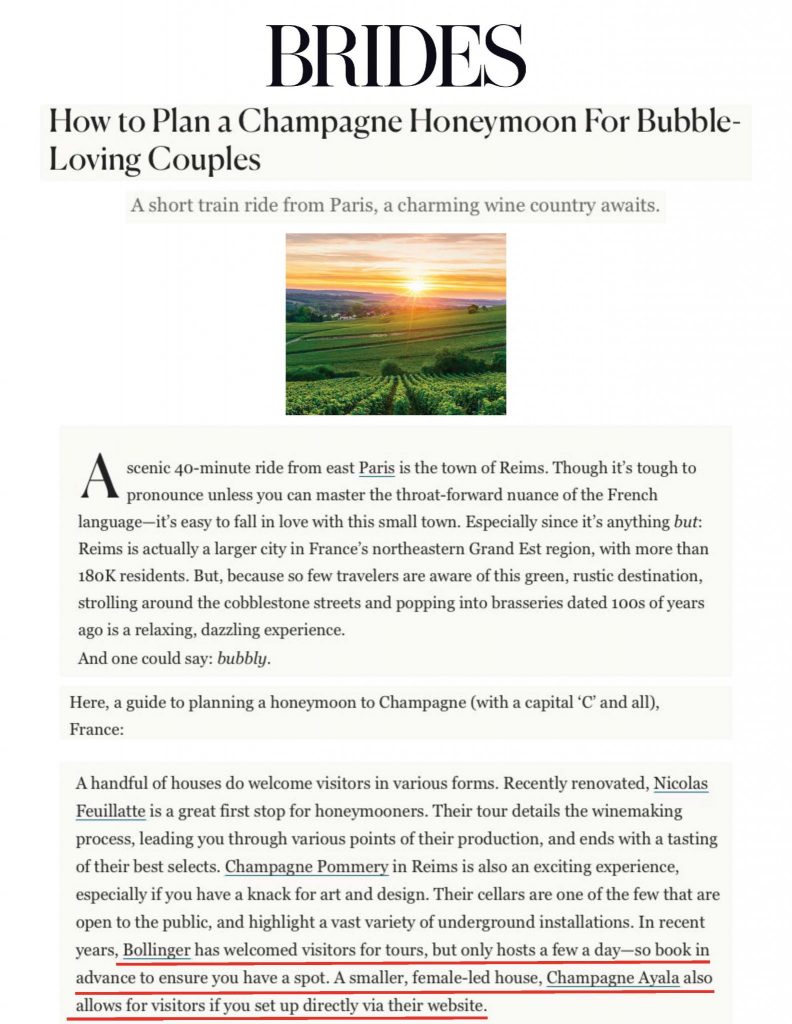 Champagne, France

Bollinger is one of the rare Grande Marques that's still family owned. Known for its rich, elegant and polished style of Champagne, their outstanding wines are the result of rigorous attention to detail and incredibly labor-intensive practices that few houses are willing to undertake. Underscoring its excellence, Bollinger has remained British secret agent James Bond's Champagne of choice since 1973.

Champagne, France

Ayala is one of the most exciting stories in Champagne today, almost the definition of a boutique Champagne producer. Independently owned, a small, young and dynamic team handles every step of production from grape reception to labeling in their jewel of a facility with incredible precision, crafting Chardonnay-focused wines that deliver immense pleasure, freshness, and elegance.