Town & Country published a food pairing story featuring a variety of different foods to pair with different styles of Champagne. A panel of industry experts weighed in, and deemed Champagne Bollinger R.D. 2004 to be an excellent pairing with lobster to show off its "natural, understated sweetness." The recently disgorged style of Champagne offers a lower dosage and a late disgorgement, "during which the yeast that gives champagne its bubbles, the lees, are removed later in the production process, giving the champagne less time to oxidize and in turn a more bracing finish." Read the full write up HERE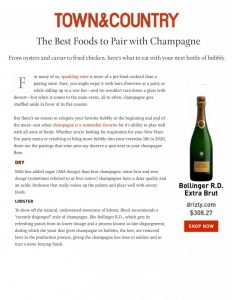 Champagne Bollinger

Champagne, France

A small revolution in the world of Champagne. In 1967, Bollinger releases R.D. 1952.  There is no comparable Champagne on the market at the time. This bold and brilliant Champagne takes the pillars of what makes Champagne Bollinger so unique, and pushes them to their ultimate level. It is, very simply, a masterpiece. 
Champagne, France

Bollinger is one of the rare Grande Marques that's still family owned. Known for its rich, elegant and polished style of Champagne, their outstanding wines are the result of rigorous attention to detail and incredibly labor-intensive practices that few houses are willing to undertake. Underscoring its excellence, Bollinger has remained British secret agent James Bond's Champagne of choice since 1973.