Regional Ohio newspaper, the Akron Beacon Journal has selected a mix of Champagne and sparkling wines to consider purchasing for the upcoming holidays. Champagne Ayala Brut Majeur was selected as the only true Champagne in the mix, as the writer notes it commands a higher price "but it worth every penny." He also adds that it is an excellent pairing with French fries. Read the full write up in the story HERE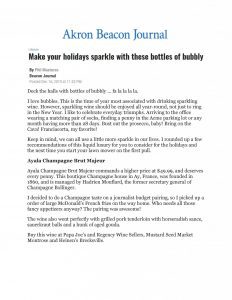 Champagne Ayala

Champagne, France

Brut Nature, cellar-aged for almost 4 years, demonstrates to perfection the high quality of grapes used by the House to craft its wines, and its remarkable expertise in vinification. Being non-dosage, its purity and precision make it an ideal partner for seafood, in particular raw fish and shellfish, or oysters.
Champagne, France

Ayala is one of the most exciting stories in Champagne today, almost the definition of a boutique Champagne producer. Independently owned, a small, young and dynamic team handles every step of production from grape reception to labeling in their jewel of a facility with incredible precision, crafting Chardonnay-focused wines that deliver immense pleasure, freshness, and elegance.