As many publications reflect on their most memorable bottles of the year, VinePair has released their top 50 for 2019.  Without further adieu, VINTUS is thrilled to share news that VinePair has selected Chateau Montelena Napa Valley Chardonnay 2016 as its #1 wine (of 50) for 2019! The writer offers a great historical overview of the estate and how this Chardonnay "shows that the estate is continuing to operate at the highest level." Noting that this is what the varietal should taste like, and isn't overly buttery, its "elegance and power shine through in the grape's mineral-driven flavors of fresh melon, apple, and honeysuckle. Meanwhile, careful and considered oak aging provides nutmeg notes and a soft, creamy texture." Read the full write up and learn about the other wines HERE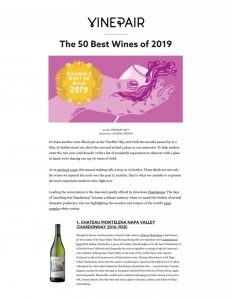 Chateau Montelena

Napa Valley, California

A true icon. The Napa Valley Chardonnay is the wine that put Chateau Montelena and Napa Valley at the forefront of the wine world in 1976, in what is now memorialized as "The Judgment of Paris." To great disbelief, the Chateau Montelena Napa Valley Chardonnay was the top-ranking wine against four white Burgundies and five other California Chardonnays. And as they say, the rest is history.
Calistoga, Napa Valley, California

In 1976 Chateau Montelena put California at the forefront of the wine world. That year a who's-who of the French wine establishment gathered in Paris for a blind tasting of French and American wines. When the scores were tallied, the top-ranking white wine was Chateau Montelena's 1973 Chardonnay. Montelena today continues to be a quality benchmark in Napa Valley, producing some of the finest Cabernet and Chardonnay in California.