As a follow up to the print gift guide, The New York Post's online gift guide has debuted and features Champagne Bollinger as one of the lead images. The Bollinger 007 Limited Edition, Vintage 2011 is the only Champagne featured. The writer adds, "A cinematic Champagne, this limited-edition 2011 vintage exudes glamour, and is made exclusively from pinot noir grapes, as it celebrates the new James Bond film, No Time to Die." Read more about it HERE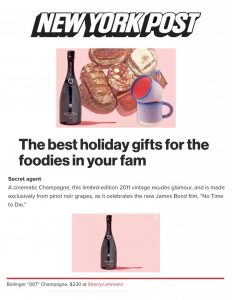 Champagne Bollinger

Champagne, France

This limited edition cuvée celebrates 2 important milestones. Firstly, it celebrates the historic partnership between Bollinger and Bond. Bollinger has been the exclusive Champagne partner of Bond since 1979, so 2019 marks the 40th anniversary of their relationship. Secondly, it celebrates the release of the upcoming movie, No Time to Die, which will be the 25th movie in the series (and Bollinger's 15th Bond movie since the start of the partnership).
Champagne, France

Bollinger is one of the rare Grande Marques that's still family owned. Known for its rich, elegant and polished style of Champagne, their outstanding wines are the result of rigorous attention to detail and incredibly labor-intensive practices that few houses are willing to undertake. Underscoring its excellence, Bollinger has remained British secret agent James Bond's Champagne of choice since 1973.