Forbes has rounded up their shortlist of eight top blanc de blanc champagnes to inspire holiday toasting, gifting and meal pairing.  There is a great overview of how these 100% Chardonnay grape champagnes are differentiated from more common blends, and how terrific they are when enjoyed with a huge range of fun holiday bites. Writer Karla Alindahao highlights the Champagne Ayala Le Blanc de Blancs 2013, noting "As with all Ayala Champagnes, the maison's blanc de blancs is characterized by vibrancy and freshness—clean, bright, and tastes of life. And that's all because of cellar master Caroline Latrive's genius." In terms of what makes this wine stand out, she continues "Not a lot is made because Ayala only creates blanc de blancs during good vintage years—from grapes in grand cru vineyards. But what really differentiates it from the rest is that it is quite the fizz bomb. It's as bubbly as a Champagne can get. So if extra effervescence is what you're after, this is the one for you. A bonus: You can leave the bottle uncovered over the course of a meal (as I have done for the sake of experimentation) and you will not see bubbles dissipate." Read more about this wine and her other recommendations HERE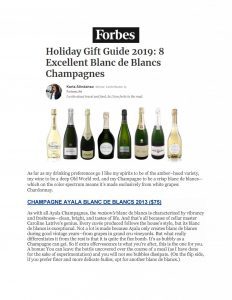 Champagne Ayala

Champagne, France

Ayala's Blanc de Blancs is 100% Chardonnay, produced in small quantities in exceptional years only, fully expresses the superb caliber of great Chardonnay from the best crus of the Côte des Blancs. After 6 years of aging in Ayala's cellars, remarkable minerality and low dosage make this an outstanding wine.
Champagne, France

Ayala is one of the most exciting stories in Champagne today, almost the definition of a boutique Champagne producer. Independently owned, a small, young and dynamic team handles every step of production from grape reception to labeling in their jewel of a facility with incredible precision, crafting Chardonnay-focused wines that deliver immense pleasure, freshness, and elegance.