Men's Journal spoke with some of their favorite industry insiders to see what those in-the-know have in their glass on Thanksgiving. Chateau Montelena Winemaker Matt Crafton is quoted as one of the experts in the piece, adding he "knows everyone will expect wine for the meal, but likes to start the evening with an Old Fashioned." As you might expect, he is pretty particular with his cocktail. "Whiskey is where I lean these days, so my pre-dinner cocktail of choice is a Spiced Old Fashioned that incorporates a blend of cinnamon, clove, and anise along with orange bitters. It's killer. Just please don't destroy it with a maraschino cherry." When it comes to the main event? "Wine is easy: Chateau Montelena Chardonnay. It will pair with anything on your table and shows your guests that you have incredibly good taste." Read the full article HERE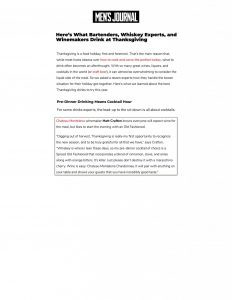 Chateau Montelena

Napa Valley, California

A true icon. The Napa Valley Chardonnay is the wine that put Chateau Montelena and Napa Valley at the forefront of the wine world in 1976, in what is now memorialized as "The Judgment of Paris." To great disbelief, the Chateau Montelena Napa Valley Chardonnay was the top-ranking wine against four white Burgundies and five other California Chardonnays. And as they say, the rest is history.
Calistoga, Napa Valley, California

In 1976 Chateau Montelena put California at the forefront of the wine world. That year a who's-who of the French wine establishment gathered in Paris for a blind tasting of French and American wines. When the scores were tallied, the top-ranking white wine was Chateau Montelena's 1973 Chardonnay. Montelena today continues to be a quality benchmark in Napa Valley, producing some of the finest Cabernet and Chardonnay in California.