The State Journal's new wine feature, "Zinfandel: A versatile wine to complement Thanksgiving dinner," that encourages readers to enhance their meal with this patriotic American wine. Chateau Montelena Zinfandel is mentioned as one of the terrific options to consider purchasing ahead of next week's festivities. Read the full story HERE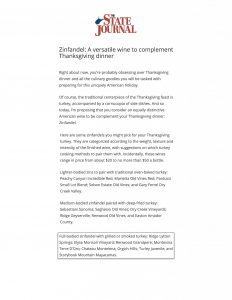 Chateau Montelena

Napa Valley, California

Produced from grapes grown on the Montelena Estate vineyard, the Zinfandel is a classically-structured, subtle and refined wine. More than anything, it hearkens back to the way that Zinfandel was made in the 1960s and 1970s, with completely distinctive, rich and spicy California berry fruit, but a balance that made them no heavier than their Cabernet counterparts.
Calistoga, Napa Valley, California

In 1976 Chateau Montelena put California at the forefront of the wine world. That year a who's-who of the French wine establishment gathered in Paris for a blind tasting of French and American wines. When the scores were tallied, the top-ranking white wine was Chateau Montelena's 1973 Chardonnay. Montelena today continues to be a quality benchmark in Napa Valley, producing some of the finest Cabernet and Chardonnay in California.