Grape Experiences wrote a Thanksgiving wine story, "Give Thanks for Family, Friends and Wines from Napa Valley," including Chateau Montelena.  The focus of the piece highlights wines from family-owned estates in Napa Valley that express a unique style and the spirit of the wineries within each bottle. The writer recommends the Chateau Montelena Estate Cabernet 2015 with great conviction. "On the nose, I discovered mesmerizing notes of blueberries, blackberries, currants, dark plums, purple florals, dried cherries, vanilla, coffee beans, tobacco and baking spice. The luscious, complex palate revealed elements of dark red and purple fruit compote, cocoa, licorice, mint, black pepper and smoke framed with soft tannins and vibrant acidity. Ever so balanced with a lingering finish, this incredibly special, not-to-be-missed wine has much ageing potential." Read more about what she said about Chateau Montelena and her other recommendations HERE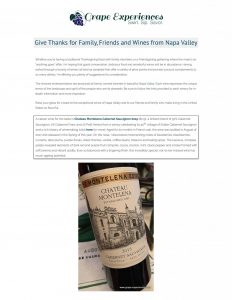 Chateau Montelena

Calistoga, Napa Valley, California

The Estate Cabernet Sauvignon is Chateau Montelena's flagship wine and a quality icon of Napa Valley. The winemaking team works obsessively and passionately with each vintage to capture the best expression of their historic terroir. This is a show-stopper that reveals the perfect blend of flavors, aromas and textures to reach the pinnacle of balance.
Calistoga, Napa Valley, California

In 1976 Chateau Montelena put California at the forefront of the wine world. That year a who's-who of the French wine establishment gathered in Paris for a blind tasting of French and American wines. When the scores were tallied, the top-ranking white wine was Chateau Montelena's 1973 Chardonnay. Montelena today continues to be a quality benchmark in Napa Valley, producing some of the finest Cabernet and Chardonnay in California.